As our consumer census showed, 75% of customers are still feeling misunderstood by the retailers who engage with them. To create memorable marketing campaigns, personalisation needs to feel truly centred around the customer and their needs and interests, and add to their overall experience.
But when it comes to newsletters in particular, for many marketers there is a worry that it may create an extra workload to get all the multiple templates created to go out to your specific customer groups.
But we think it's totally worth it, because a) there are simple ways to be both innovative and efficient b) your customers will love it and c) the below examples are proof of this.
1. Feelunique
Now Europe's largest online beauty retailer, Feelunique, wanted to make sure its newsletters are relevant to their customers as possible. As the online retailer offers a range of beauty and cosmetic products, it would be very easy to send the same email to everyone, and leave the onus to customers to decide what they wanted to browse. As they realised that the added personal touch would make the difference and add ease to the customer experience, the beauty and cosmetics retailer changed the order of items on offer based on what was most recently browsed or purchased by the recipient. 

2. Lovehoney
Lovehoney, the online adult toy retailer, wanted to personalise their newsletters to match the relationship status of the recipient. Given that different products will appeal to certain customers based on whether it was for a commemorative occasion or their specific tastes, the added recognition of being in a relationship (or not), helped to create an added layer of personalisation to an already very personal shopper experience.                    
3. Sigma Sports
Sigma Sports, the bike retailer catering to cyclists of all levels, wanted to send newsletters that were tailored to the shopping habits of the recipient. The brand segmented its marketing messages so that customers who were interested in mountain biking or had recently purchased a cycle with them saw emails with equipment that reflected this. With the added incentive of a discount – which appeared from a previous automated email if it had not yet been used by the recipient –  the email encouraged spend but also worked to increase loyalty; because of this added level of personalisation, content sent by Sigma Sports felt relevant to shoppers and their individual customer journey.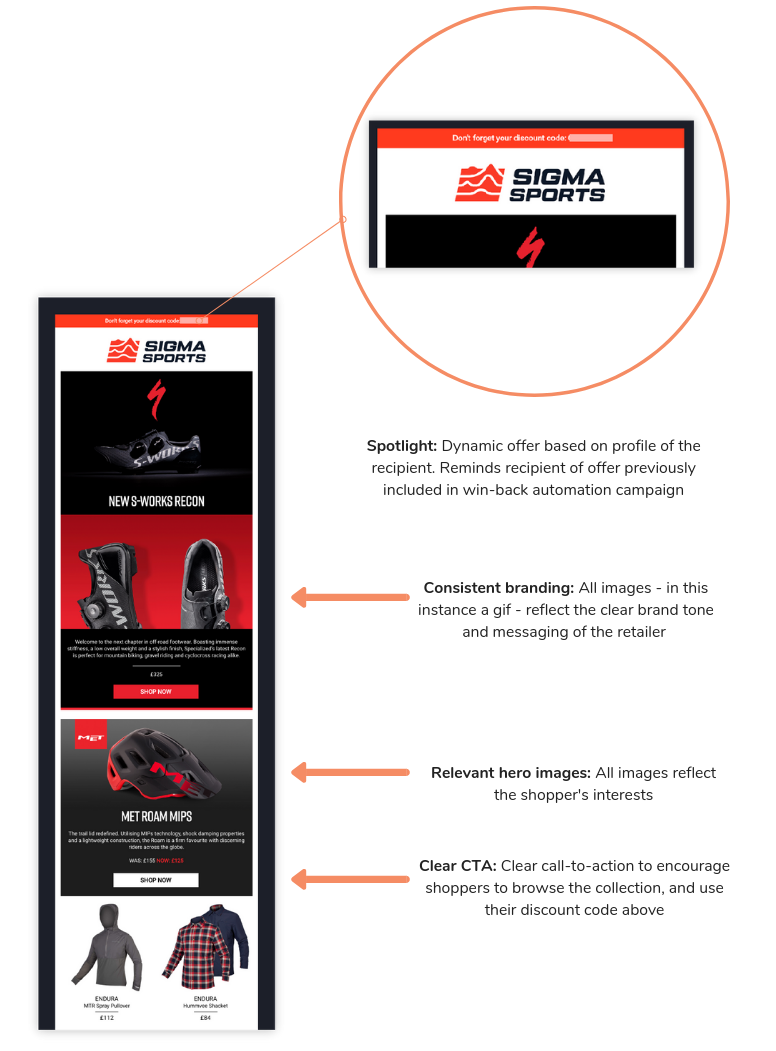 Conclusion
Changes to your newsletters don't have to be large scale projects to make them feel more personalised to the customer. The use of dynamic content means that images automatically change to reflect the tastes of the recipient making the newsletter feel crafted to suit that customer as opposed to a general email. By focusing on relevance to the recipient and making sure that the retail marketing they receive reflects what they enjoy from your brand – shoppers will feel more understood and offer you repeat purchases in return.