You walk into the wedding party of a close friend; you know that you're going to have to speak with people, so you get ready. 
Some of the guests are close friends, some you've met once or twice before and a few you have never met. Imagine if you were to walk up to one of your oldest and dearest friends and formally introduce yourself as though they were a stranger. Or go to a guest you have met for the very first time and, without any introduction, proceed to launch into the gory details of a particularly unpleasant bout of food poisoning you'd just experienced – chances are they'll be avoiding you for the rest of the nuptials.
The way you greet each of the guests will differ, because the relationship differs – it's all about context.
How you communicate with your customers is much the same; dependent on where they are in the customer journey, the way you interact needs to be specific to who they are. When you talk in a way that makes sense in the context of your shared history, it strengthens the relationship and makes you seem more human; when you don't, it can damage relationships.
Automated email campaigns are essential to keeping in touch with your customer-base. And while cart abandonment or welcome campaigns are nothing new, having a cohesive, personalised strategy that functions across the customer lifecycle is something every retailer should be aiming for.
But are you sending the right message at each touchpoint? Or are you the bothersome wedding guest? In this post, we'll explore eight campaigns that retailers can employ throughout the customer journey to engage shoppers with relevant messages.
(p.s. read our Advanced Guide to Marketing Automation in Retail for a comprehensive guide to each type of campaign, and some advanced tips and tactics for taking these campaigns to the next level)
1) Welcome campaigns
Welcome emails are a prime opportunity to encourage a customer to align with your brand and its story. They introduce the recipient to your core values (key selling points) and can lead them to make the first purchase of many.
They also provide a chance to inform the customer of other channels to engage you on (social, apps etc.) and ask for a more information about your customer so you can ensure the experiences they have with you are truly in-line with their interests and preferences.
Advanced tip: Try segmenting your welcome campaign depending on whether the recipient has made their first purchase or not. This can be reflected in the subject line, copy and incentives you offer them.
2) Cart abandonment campaigns
Cart abandonment is still a hurdle for retail marketers with current abandonment rates sitting at over 70%. This type of campaign will encourage those have have left the checkout to come back and complete their order with you, and possibly further increase by up-selling or cross-selling an alternative suggestion.
Advanced tip: Try using dynamic product recommendations based on what your recipient had in their cart, or incorporating a dynamic hero image relevant to the item abandoned.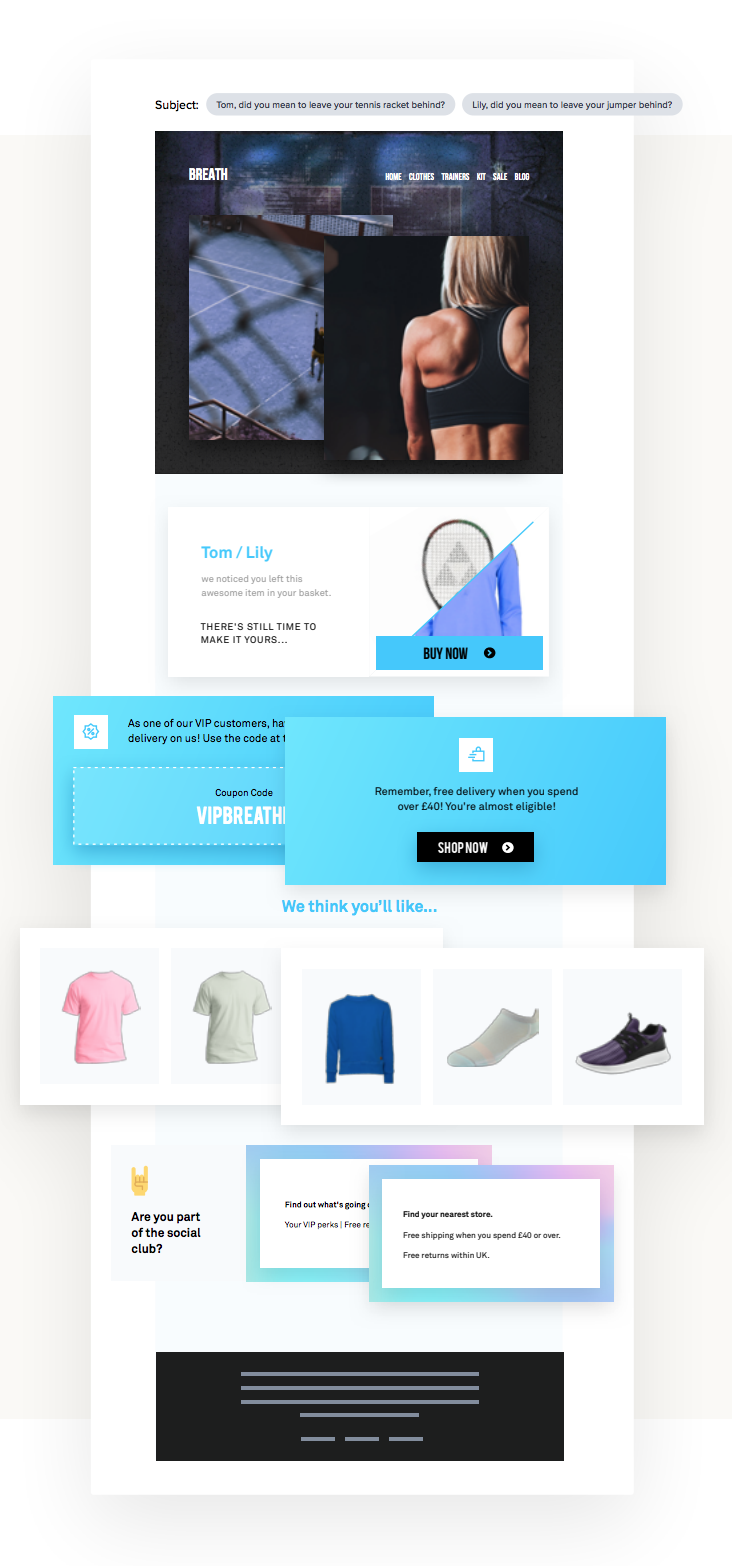 3) Browse abandonment campaigns
Much like cart abandonment these campaigns provide a way to reach out to customers who have left part-way through their online shopping journey. This is a simple and effective way to remind customers of what they have been looking at; you can encourage them to make a purchase or continue browsing on site. 
Advanced tips: 
– Try incorporating dynamic content into your email, for example, using a dynamic hero image that changes based on the category browsed.
– Try personalising any incentive offered based on the recipients lifecycle stage. For example, you might want to offer lapsed or at-risk customers an incentive to come back and browse, whilst not offering any incentive to active shoppers.
4) Post-purchase campaigns
Whether following a first-time purchase or sent to a repeat shopper, post-purchase campaigns are a great opportunity to keep customers engaged after they've bought something – whether that's encouraging a follow-up purchase, encouraging them to leave feedback or providing helpful aftercare content.
5) Replenishment campaigns
By informing customers that their perishable or consumable item will soon being in need of replacement, replenishment campaigns encourage repeat purchases and create a personalised customer experience.
Advanced tip: Use personalised product recommendations to up-sell or recommend higher-value items.
6) Win-back campaigns
If you have a customer that your feel is at risk of 'lapsing', a win-back campaign is a great way to revive that relationship. This easy-to-do reengagement can involve a perk that is specific to them and make them feel valued, encouraging them to spend.
Advanced tip: If someone doesn't engage with your emails, try retargeting them on social (say, Instagram or Facebook) instead.

7) VIP / loyalty recognition campaigns
It's more than likely that a small percentage of your customer base are driving a disproportionate amount of revenue for your brand, recognising that loyalty with a VIP campaign is an incredibly important to encourage them to keep coming back and shopping with you. Looking after your VIP customers and reiterating their importance to you will maximise their revenue potential. Reward them by with perks or delivery discounts and encourage them to remain with you for the long-haul.
Advanced tips: 
– For luxury brands, if a shopper isn't engaging with your campaigns, follow up with a phone call to check on the customer's overall experience.
– For non-luxury brands sending a follow-up email – possibly accompanied by a personal card via direct mail – can be a great way to express your gratitude for customer loyalty. 
Ometria client Papier's loyalty recognition email below is a fantastic example of targeting loyal customers to make them feel special.
8) Anniversary campaigns
Celebrate milestones with your customers is a great way of making them feel special and increasing loyalty. Whether a birthday, anniversary or commemorating the date they first made a purchase with you, add to a great customer experience by making the recipient feel valued with this highly-personalised added touch.
Advanced tip: For your highest-spending recipients, try following up your automated emails with a card via direct mail or a personalised incentive to celebrate the occasion.
Conclusion 
Customers expect more from marketing and want each interaction to be delivered with them in mind. As marketers, it is key that you continue to build great customer experiences; and this includes those customers who may ventured offline too! The days of batch-and-blast emails are behind us, with these 8 campaigns you can maximise customer experiences regardless of where they are in their journey with your brand; making you one of the five emails they open everyday.
For a more in-depth how-to guide, read our latest download and accelerate your current automation strategy.