What do Emma Watson, Pharrell Williams and Will.i.am all have in common?
That's right—they're all strong advocates of sustainable, eco-friendly fashion.
But it's not just celebrities that are waking up to the importance of looking after the world we live in. According to Credit Suisse, millennials (famous or otherwise) are the most sustainability-conscious generation and are willing to pay "more for products and services seen as sustainable or coming from socially and environmentally responsible companies".
With such a growing interest surrounding brands that take their corporate social responsibility very seriously (more in terms of their responsibility to *society* at large than stakeholders), we figured it was high time to take a closer look at how they're promoting these brand values in their marketing messages.
From eye-catching website popups to summits to social media campaigns, here's how ten retailers are using their marketing for the greater good.
1) Naja
It's all in the micro-copy ✍
You've probably noticed us talking about this eco-conscious, fair-trade lingerie, activewear and swimwear brand before. That's because we think it's pretty ace.
A cursory google of the brand's name brings up the following link to its website in the search engine results page (SERP):
As you can see, the brand's ethos is clearly communicated in the headline and meta description, skipping any mention of seasonal sales or must-have pieces.
Once on the site, new browsers are met with the following popup—again informing them of their purpose (to empower women) and "do good" – a good way of making a lasting first impression.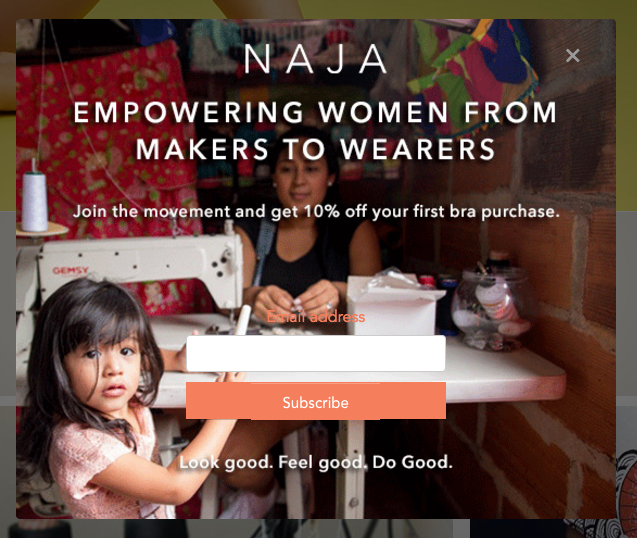 2) Reformation
They do the math ➕
In at number two is Reformation, the Los Angeles based label whose mission is to "lead and inspire a sustainable way to be fashionable".
Aside from a stellar "who we are" page, strong hashtag game (#jointhereformation) and hypnotising "stories" tab (as self-confessed francophiles we particularly like this one), Reformation is seriously skilled at spreading its eco-friendly message via its product pages.
Each garment has a dedicated "everything you always wanted to know about me" section, where it's given what they call the RefScale:
As you can see in the example above, the RefScale tells a customer exactly what impact each garment has on the environment, looking at carbon dioxide savings, water savings and waste savings.
Inspiring stuff, right?
3) Warby Parker
The storyteller extraordinaires
Where would a blog post on corporate social responsibility be without Warby Parker?
The eyewear brand has become famous for its "buy a pair, give a pair" initiative, which is explained with the utmost detail on its ecommerce site.
Whilst the whole page is far too big to squeeze into this section of our blog post, below are a few key snapshots to show you how they communicate their story with ease: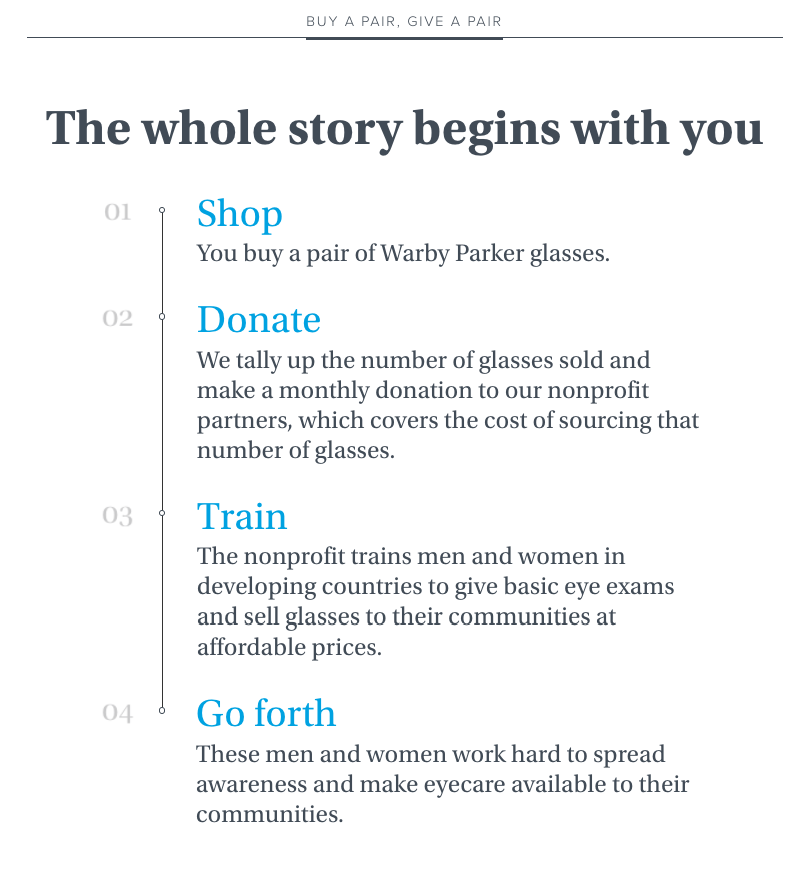 From the evocative, intriguing headline: "The whole story begins with you" to the clear as day infographic taking a reader through the four stages of their initiative (shop glasses, donate monthly to nonprofit partners, nonprofit trains people in developing countries to give basic eye tests and sell glasses and eyecare spread awareness), it doesn't take long for those reading to understand how the whole thing works.
But what if a browser heads straight to the "shop" section of the site, not making it to the "buy a pair, give a pair" page? How will they learn about Warby Parker's great initiative?
Using its welcome email, the brand includes a dedicated CTA encouraging new customers to read its story (as shown below).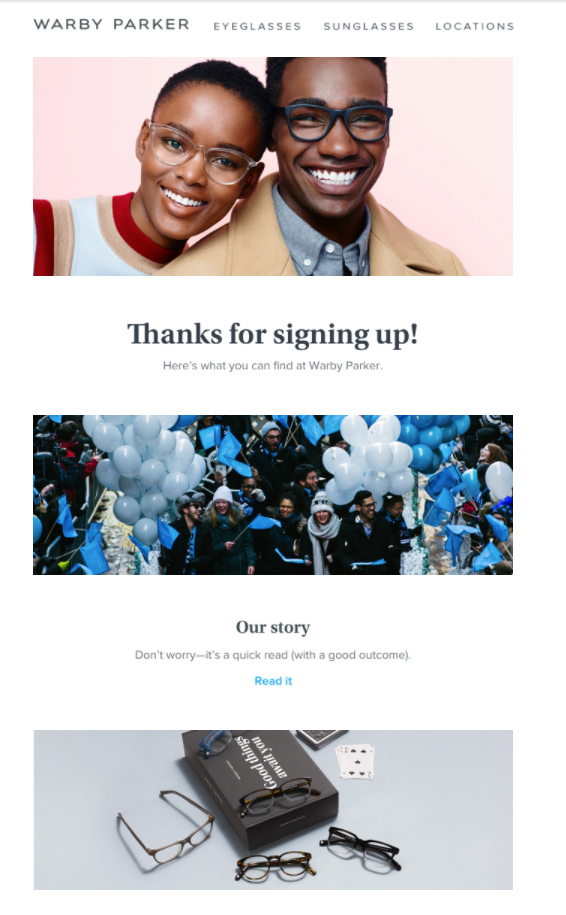 The side note: "Don't worry—it's a quick read (with a good outcome)" nudges a recipient to click through and discover how Warby Parker is doing its bit for mankind.
4) Pura Vida Bracelets
Spreading the word little and often
Another brand using email marketing as a way to spread awareness about a good cause is Pura Vida; Spanish for "pure life".
The brand has a fascinating story which you can read about in detail here, but to summarise it all started when two Californian graduates befriended two local jewellery makers on a trip to Costa Rica.
The jewellery makers were struggling to make ends meet, so, to try and help out, the two grads requested 400 bracelets to take home with them, so that they could try and sell them from local shops in San Diego.
Lo and behold, the bracelets sold out in weeks and a retail business was born.
Today, every Pura Vida Bracelet is carefully handcrafted by artisans in Costa Rica, ensuring the two locals and hundreds of their friends now hold full-time jobs.
Whilst including this entire story in a single email would be a challenge to say the least, Pura Vida manages to catch a recipient's attention with a simple banner, found at the bottom end of the newsletter template: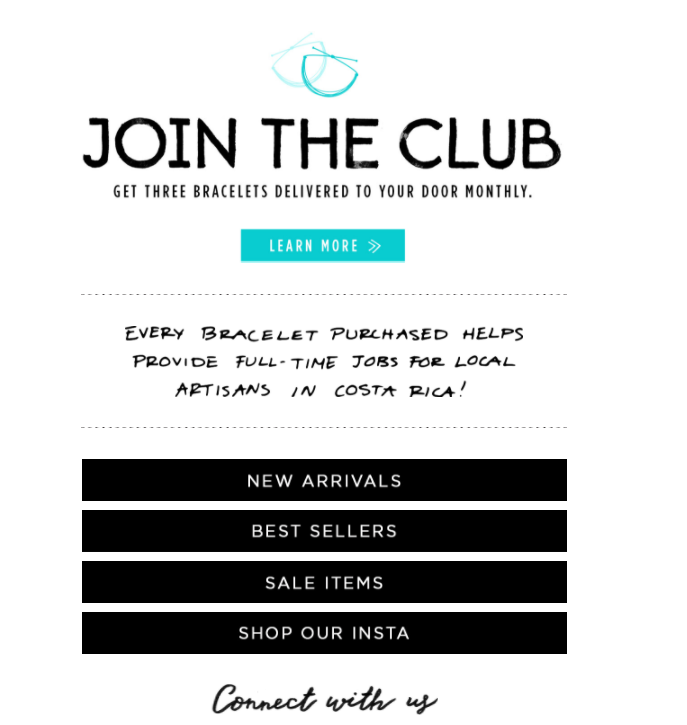 PS: Pura Vida has a "charity" collection on its site, which you can check out here.
5) Patagonia
Established thought leaders
Founded way back in the 70s, outdoor clothing brand Patagonia has always been ahead of the curve with its environmental activism.
The brand's ecommerce site has a slideshow of images on its homepage, immediately giving a visitor a taste of its sustainable outlook:
However, it's only if and when a reader clicks on the tab "Inside Patagonia" in the navigation bar that they really learn what this brand is all about.
The site has a whole section dedicated to "environmental and social responsibility", delving into its ethos, activism and impact with impressive finesse.
But Patagonia doesn't just talk to its visitors about what it, as a brand, is doing for the environment, it also takes to social media to retweet news and feature articles relating to issues (e.g. global warming) as a whole:
Other ways Patagonia has managed to communicate its brand ethos to the rest of the world include:
a) Via its Instagram account, which has amassed over two million followers with its incredible collection of videos, slideshows and photographs.
b) By financially supporting grassroots organisations.
Last year, Patagonia made industry headlines when it announced it was donating 100 per cent of its Black Friday 2016 sales to organisations that benefit the environment. This enabled the sustainable brand to get in front of more readers (and potential customers) and raise awareness for issues such as climate change.
PS: Fun fact: Patagonia's logo is the skyline of Fitz Roy—a mountain found in the region.
6) LUSH
Getting heard
On the subject of brands taking their environmental activism beyond the realms of retail, let's take a look at one of the biggest players in the ethical buying world: Lush.
Most people associate Lush with sweet, flowery smells and technicolour bath bombs, but there's a lot more to this cosmetics brand than looking and smelling great.
100 per cent vegetarian, the retailer is also famous for fighting animal testing, using eco-friendly packaging and just generally doing whatever it can to look after Mother Nature.
So, how does it spread the word about its hardcore values and overall purpose?
One way is through Lush Player: a forum of TV clips and podcasts where philanthropic figures discuss a wide range of topics—from Brexit to reverential ecology. (To have a listen, click on the image below!)
One other thing to mention here is the Lush Summit 2017.
According to Time Out, the two-day summit—which took place in January this year—brought together charities, speakers and grassroots organisations interesting in conservation, human rights, energy and environment to celebrate ten years of the Lush Charity Pot (mentioned in the podcast above!).
7) Rêve En Vert
Making sustainable stylish
From eco-friendly veterans we fast forward a few decades to "the Net-a-Porter of sustainable fashion": Rêve En Vert.
Founded in 2013, this online luxury boutique has a very vogue "ethos" page on its site, spelling out its three core values: sustainable style, quality with consciousness and longevity.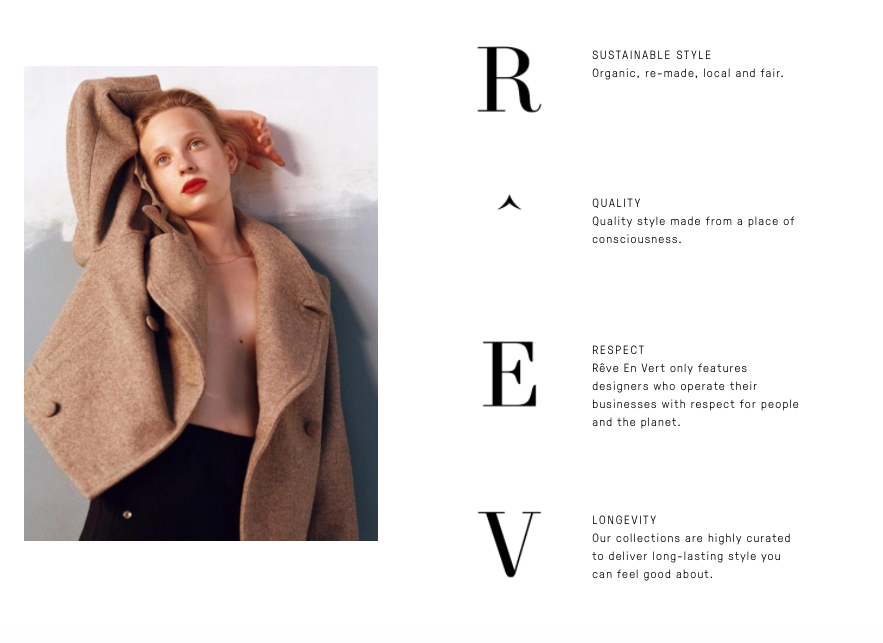 Similar to Warby Parker, Rêve En Vert also uses a strong welcome email to drive home its ethical stance, referring to itself not as a luxury label but a "sustainable fashion & lifestyle movement".
PS: For those eager to learn more about Rêve En Vert and what it represents, it's worth checking out the brand's blog which is bursting with interesting and inspiring content.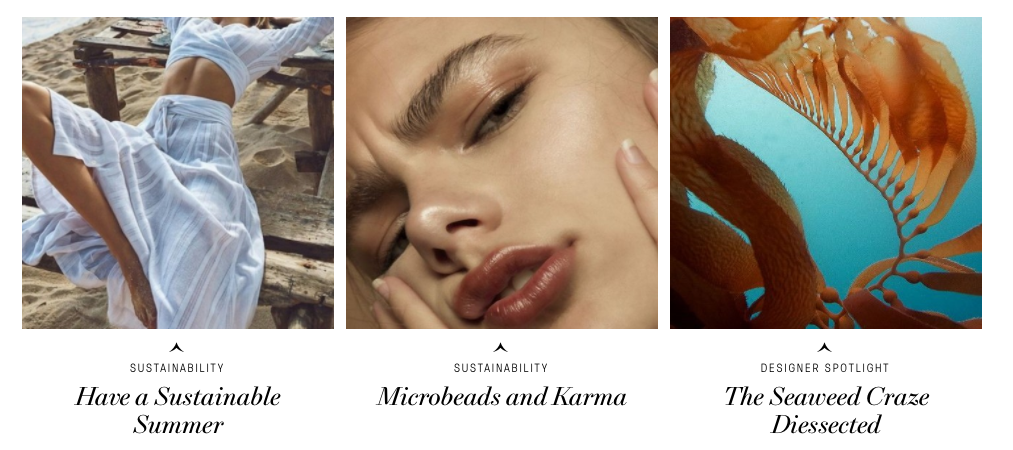 8) People Tree
Sharing on social
Last but not least we have People Tree, the London based sustainable and fair trade brand producing "fashion that's good for the planet".
For us, People Tree stands out for its social media strategy, using channels such as Instagram and Pinterest to spread the (sustainable) word.
For example, the brand has a photo-sharing campaign on Instagram, where people across the globe can share their eco-friendly style with one another using the hashtag: #lovepeopletree. For example:
People Tree is also making waves on Pinterest, with an eclectic range of boards that have been curated to engage (and not just sell). For example, check out this collection of inspirational quotes, encouraging Pinners to shop ethically:
9) Finisterre
Sea-ing change
Ometria customer Finisterre is another successful, sustainable brand to know about. The Cornwall based retailer sells outdoor apparel that's not just functional, but also good for the environment.
Recognised as a cold water surf company, Finisterre has certainly been making waves in the retail industry since its inception over ten years ago—in part thanks to its distinctive brand identity and incredible content.
The sea-loving brand won the ethical fashion award at the Observer Ethical Awards in 2008, as well as the RSPCA good business Award in 2010. It continues to
To keep abreast of what Finisterre is up to, and see some stunning coastal photography, check out its page The Broadcast here.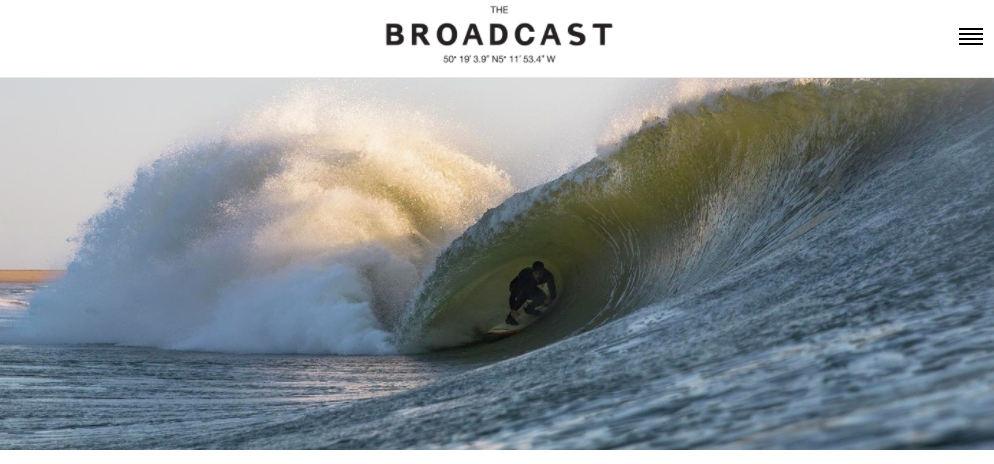 10) H&M
Harnessing the power of email marketing
Retail giant H&M is also doing its part to make eco-friendly practices fashionable.
In a recent email marketing campaign, the store invites recipients to "be a fashion recycler" by dropping off unwanted textiles at their local branch.
The copy concludes with a CTA to "read more", which once clicked redirects to a feature on its Garment Collection Program, explaining its goal to "set out for a sustainable fashion future" before delving into how it works.
By incorporating this positive and sustainable message into its regular email marketing, H&M proves being environmentally-friendly and being stylish are one and the same.
Conclusion
So that's it for this post; feeling inspired?
With sustainability a "growing priority" for young customers, we believe all of these marketing tactics are paving the way for a future where eco-friendly shopping reigns supreme.
But, aside from their philanthropic endeavours, there's another reason we applaud the brands featured in this post: for their power to tell their brand's story.
Not every brand will have the time, resources or room to focus all of its efforts into corporate social responsibility and/or sustainable fashion, but—if nothing else—we hope this post offers valuable insight into how all marketers can go about communicating their brand's core values in an interesting, inspirational and innovative way.
Oh, and …
As always, we'd like to finish this post with a piece of expert advice.
To keep subscribers updated on your story (or just what you're up to) without repeating yourselves, use dynamic content blocks in your email marketing. This will enable you to adjust your message (and/or piece of news) according to where a subscriber is in their journey with you.
For example, a newsletter sent to a new lead might offer a full overview of your brand's story so far, whereas a newsletter sent to a hero customer might just offer an update on your latest initiative.
International Women's Day is just around the corner (8th March). Check out our Pinterest board to see how awesome retailers celebrated the global event last year: