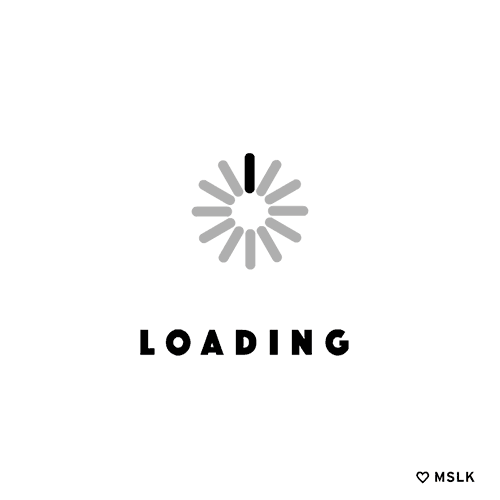 Saturday morning seemed like a peculiar morning indeed.
First there was the "Instagram" filter on Snapchat (bit strange). Then came the text messages from friends, discussing a new marmite on the block that would cease to divide people: Meh-mite.
Shortly after, news spread about Google gnome. An AI-powered ornament that could play fetch with your dog by "throwing squeaks thither and hither via 3-D sound" seemed a bit implausible, even for Google.
The final straw came with an expose in The Guardian about George Osborne's new clothing line: Georgio.
Now that could not be true.
That's when it dawned on us: April Fools' Day. A day that has been celebrated in the UK since at least the nineteenth century, but still manages to get us every.single.time.
Last year, retailers across the globe spent the day channeling their inner Jim Carrey, with ecommerce marketing pranks appearing left, right and centre.
This year, our retail friends seem to have become more tame—with many opting for the "this discount is no joke" strategy instead. Luckily, however, there were a couple of dozen brands delivering the lols.
From subtle jest to more ridiculous tomfoolery, here are our top 12 April Fool's Day pranks of 2017.
(P.s. If you're still watching the gif at the top, it's time to stop!)
Boden: scratch and sniff clothes
Remember those really cool scratch and sniff books your mum bought you when you were little? Endless fun. Which is why we struggled to contain our excitement when we saw this email from Boden announcing a new range of scented fabrics. Accepting the range was fake wasn't easy.
Wayfair: voice-activated smart sofa
Jumping on the technology bandwagon, Wayfair decided to fool consumers into believing it had created the world's first voice-controlled smart sofa: Sofia.
In a video on the retailer's website, the couch is filmed reminding its owner when they had their last glass of wine (before agreeing to give them a massage) and reprimanding the owner's children for jumping up and down on it. Click the image below to watch!
Oasis: printed paint
On Saturday, Oasis announced it would be taking on the world of interior design with "printed paint". According to the brand's email, shoppers would be able to choose from polkadots, petals and parakeets —all of which would appear on their wall in the stroke of a brush.
One Ometrian actually believed this.
Zappos: invisible delivery boxes
In a bid to combat the ongoing issue of parcel fraud, Zappos took to YouTube to reveal its brand new creation: the in secure box. But, for all its perks, is an invisible box really that practical? Video = laugh out loud good.
Boohoo: food delivery service
Boohoo couldn't resist tricking its army of loyal followers into believing it was launching a food delivery service to cater to all their "hangry needs". From template design to tone of voice, the spot-on marketing in this email had us signing up pronto.
ASOS: model delivery
April 1st marked the first day of ASOS' new delivery option: Model Delivery. You can even choose which model you want at your door, parcel in tow. (We'll have Joshua, please).
Analog Watch Company: furry watches
Super Furry … watches? This video introducing Analog Watch Company's The Companion Collection had us cryin' with laughter. Brownie points for attention to detail.
Wilko: hot tub for birds
Thought your ceramic bird bath was swish? How about splashing out on a hot tub for birds.
Wilko asked its consumers to "share snaps of the little starlings enjoying a dip in the hot tub on Twitter" before admitting it was a prank. Judging  by the retweets at at least six people believed it—not bad!
Missguided: Whoops juice
A wine called Whoops Juice, carefully crafted using grapes from … Benidorm.
Need we say more?
Moleskine: docking station
And there we were thinking Moleskine was more trees than technology.
The Italian papermaker announced on Facebook it had created a docking station that could let users take notes and charge their phone all in one place, with "no USB needed thanks to new PaperTricity™ technology".
PaperTricity—brilliant.
GlassesUSA: invisible glasses
Finally, an alternative to uncomfortable contact lenses and nerve racking laser eye surgery? We wish. *Sigh*
Bonobos: distressed chinos
Distressed chinos, anyone? What we love most about this April Fools' email is the round up of quotes from the folks over at Bonobos HQ (shown on the right handside below).
P.S. Bet your bottom dollar at least one poor blighter tried to add these to his basket.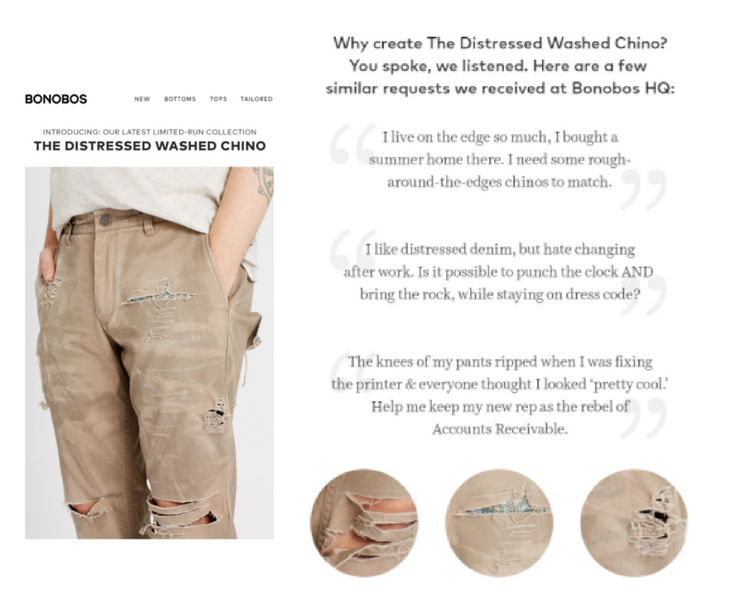 Some Tomfoolery advice for April Fools 2018
When it comes to comedy, we're no experts. But after spending the weekend monitoring the ecommerce industry's April Fools' game we'd offer the following advice:
Think it through: The more thorough and planned your April Fools' the better. People like detail. People like effort. The cleverer the joke, the funnier it is. And that's not to say slapstick can't be funny!
Make it amusing to *your* audience: Different brands gave different demographics, who in-turn will have a different sense of humour. What might make one die hard M&S fan chuckle may fail to raise even a smile from a Missguided girl. Think about it.
Give something back: If your April Fools' joke requires interaction (such as clicking-through, signing up or retweeting etc), make it worth each person's while. For example, you could offer some extra funny content (such as your team leaving a video message), let them in on a private joke or even offer a (fun) prize.