According to the latest eRetail Sales Index from Capgemini and IMRG, online retail sales in the UK topped £133 billion last year— five per cent higher than initially expected.
And with ecommerce sales predicted to grow 14 per cent in 2017, it's clear that the ecommerce industry is expanding. Fast.
This poses the question: how can today's ecommerce brands cut through the growing competition and stand out from the crowd?
One answer is by harnessing the power of great storytelling.
A good story can turn a lifeless brand into one that has meaning—one whose image and values resonate with its target market. Whilst communicating your brand's unique, personal story with the rest of the world is not easy to achieve, some of the fastest-growing and most successful ecommerce stores of the last five years have pulled it off.
Listed below are 10 brands that we believe are nailing it.
 Key points
Sell an experience. Backcountry, we are told, began in 1996 with two guys, a "stack of avalanche beacons", and a garage in Park City, Utah. Their goal? To provide the best outdoor gear (and to "be the best at doing it"). Backcountry's story is all about going out and doing cool stuff. Being adventurous. The gear they sell is just related to the experience they are selling. That's key. People connect with an experience or lifestyle much more than a product.
Share your core values. The values depicted in the video not only reinforce their brand image, but resonate with their target market.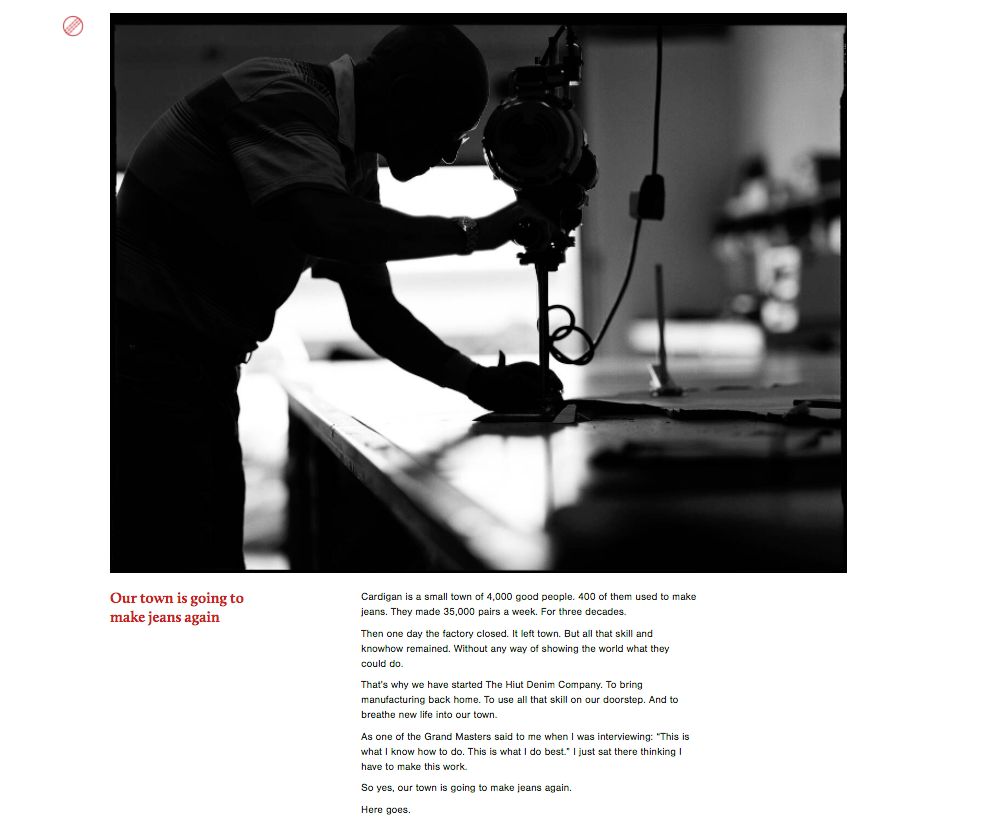 Key points
Rally behind a cause you believe in. With an honest, earnest tone of voice, Hiut tells visitors to its site how and why it first came about: to re-employ skilled people who had lost their jobs when the denim factories closed. This key information not only establishes the premise of the brand, but generates awareness of the cause behind it. Consequently, by supporting Hiut, customers are indirectly supporting all these individuals that almost lost their jobs, which makes each purchase that much better.
Focus on one thing. Through their dedication to denim, visitors are made to believe that these guys are specialists: they are different and better than other jean manufacturers because they spend all their time improving one type of product, rather than trying to be good at many different ones.
"As one of the Grand Masters said to me when I was interviewing: "This is what I know how to do. That is what I do best."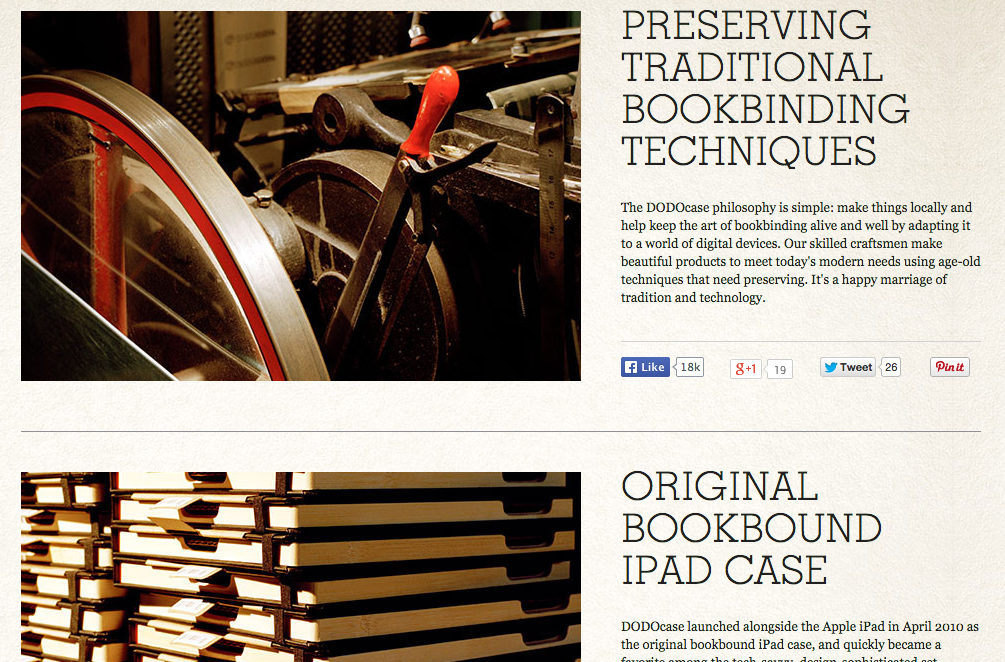 Key points
Provide visibility into your manufacturing process. By offering a tour of the journey each unique Dodocase product goes on, site visitors can witness just how much time and effort goes into the brand's manufacturing process. This also enables consumers to see, first-hand, just how much it means to the brand's founders to create a good quality product.
Key points
Solve a problem. On the Harry's homepage, a visitor is greeted with the simple albeit powerful line: "Try the shaving company that's fixing shaving." This sets the tone for the rest of the ecommerce site, which is adorned with succinct, factual and focused copy reminding a visitor of the brand's purpose (to provide "a quality shave"). This problem-solving theme is revisited on the brand's "story" section, which offers an overview of its: business model, USP ("a great shave at a fair price"), construction process and founders.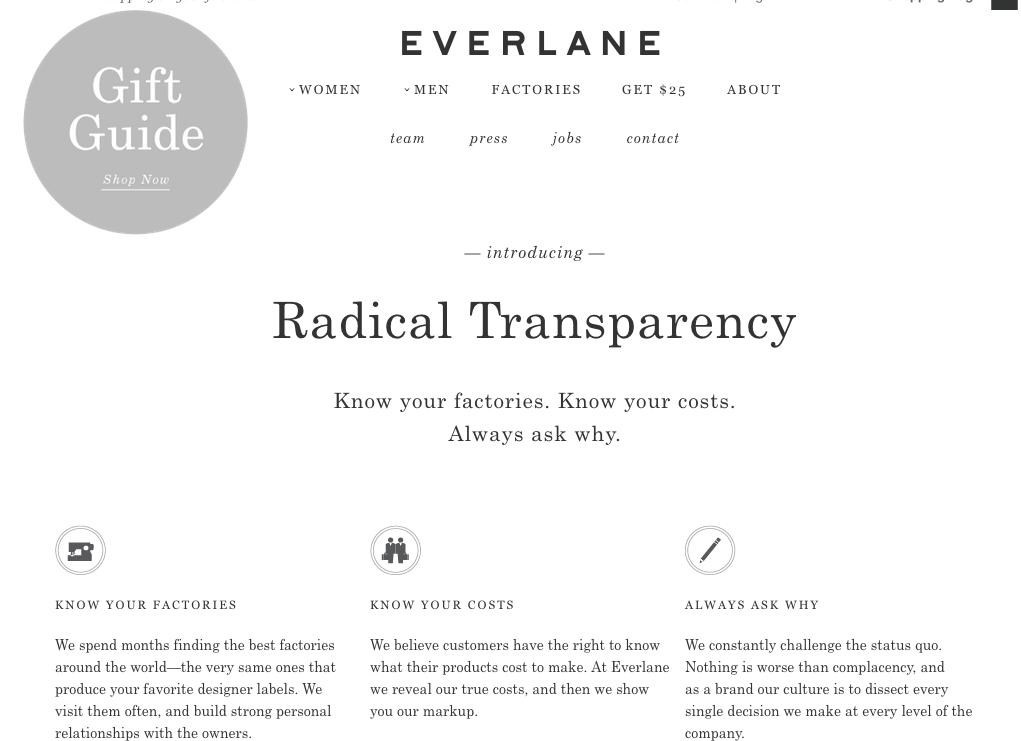 Key points
Be transparent. With three simple mantras (know your factories, know your costs and always ask why), Everlane communicates a clear, strong message: that it provides a higher value to a customer for a lower price. The little logos accompanying each point successfully break up the page and make it appear less text-heavy.
6. Nasty Gal 

Key points
Nasty Gal has now been acquired by Boohoo.com for $20 million, but how did the brand harness storytelling to find success early on?
Humble beginnings. It's easy to appreciate and connect with a founder that started their business out of passion (in an ex boyfriend's apartment!) and built it into an empire.
Become the face of the brand. While many founders stay away from the limelight, Nasty Gal's founder Sophie Amoruso quickly became an icon herself.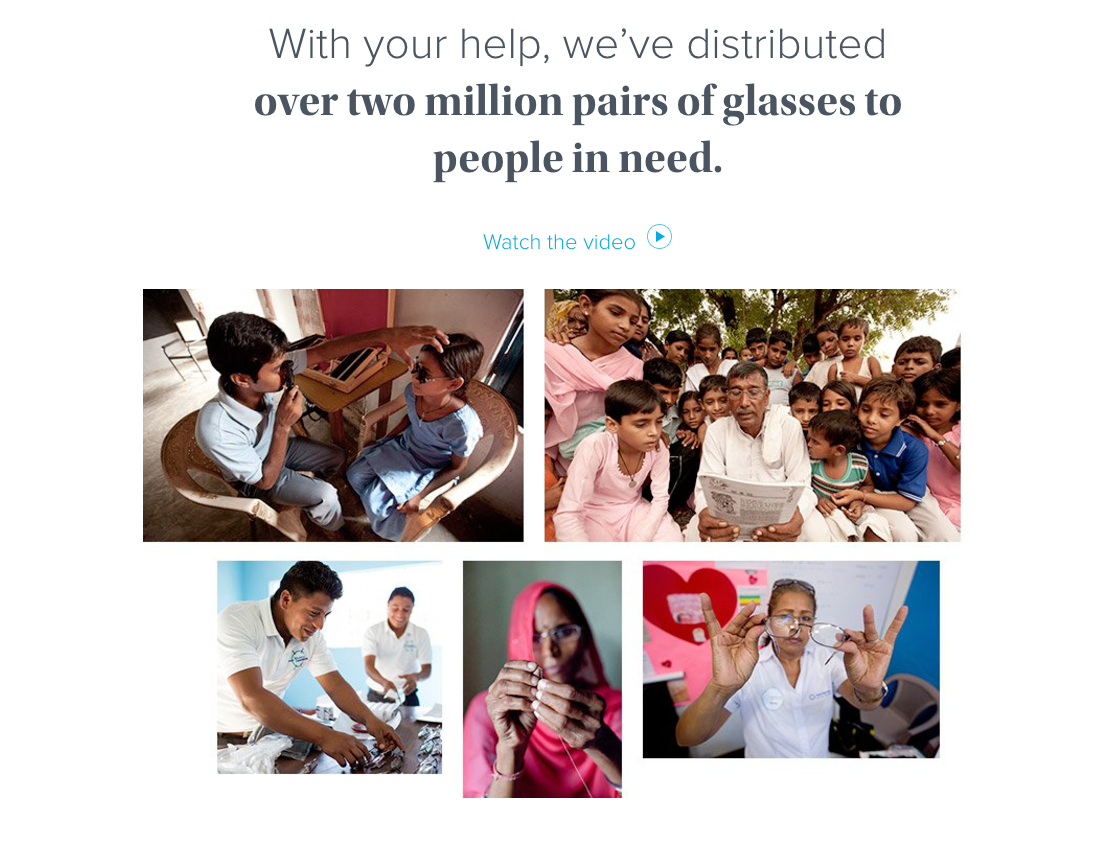 Key points
Be Socially conscious. Another example of how a brand can gain a level of respect and credibility by thinking of others and not just themselves. What's great is that Warby Parker really do make a huge difference as well by giving away millions of pairs of glasses to people in need.

Key points
Have a story. By having an "our story" tab in the main navigation bar, Alex and Ani immediately invites new visitors to learn about the brand, get to know its founder (Carolyn Rafaelian) and hear its core company beliefs.
Be clear about your company ethos. Through great storytelling, Alex and Ani communicates the fact that all of the materials it uses are sustainable and derived from eco-conscious processes. This is likely to appeal to its target market, and reinforce the brand's overall identity.
Key points
Hark back to the very beginning (if it's interesting!). Highlighting the origins of a brand brings it life and makes it seem more "real". Remember that human stories stir emotional connections: the holy grail of brand loyalty.
Harness your location. With the headline "Born in Brooklyn" on its "our story" page, GREATS aligns itself/ brand identity with the borough's notoriously cool image.

Key points
Explain your business model. The folk over at Bonobos identified a common problem – that it's really hard to find pants that fit – and made it their mission to "fix" this.
Be chatty. The colloquial style of lines such as "they were either way too tight or too boxy" creates a friendly, informal tone of voice.
Remember, design is also key to great storytelling. Thoughtful design can really give brands an edge, and Bonobos clearly puts a great deal of thought into every element of its website and marketing efforts.
Now it's your turn 
Telling a story that your prospects really buy into is undoubtedly a difficult task. Get it wrong and it can damage your brand and create disconnect with your customers. Get it right, however, and it is an incredibly powerful means of building your brand and winning over new people.
Here is a list of things to think about when telling your brand's story |
Focus on a key proposition: e.g. answer  the question 'why us over them?'
Language and copy: is what you say emotive? Does it sound authentic? Is it in line with the rest of the brand?
Values: does your story get across what you stand for?
Authenticity: if you really believe in your brand, make sure that translates
Great design: how can your layout/ ux/ presentation help tell your story?
Humble beginnings: instilling a sense of 'hey, I'm just like you!' can make your brand seem a lot more personable
Built out of passion: people will only get excited about your products if you're excited about them too
Solving a problem: solving a common problem creates a great story line

Detail the manufacturing process: show people how the products they're buying are made

Founder is brand ambassador: bring out the personality of the company founder(s)