The concept of "customer experience" is as old as the hills, but – in the age of ecommerce – what does it actually mean?
In some ways, it means the same thing as it did 10 or 20 years ago: face to face interaction, good customer service, paid advertising and word of mouth – but it has also evolved into something far more complex.
Today, customer experience also takes into account a customer's online journey, namely: web usability, content, email marketing and social media.
New research shows that 60% of customers are willing to pay more for a better experience, proving that, now more than ever, retail is not just about buying and selling, but building and maintaining relationships designed to enhance consumers' lives.
In this blog post, we'll look at the customer experience specifically within an ecommerce context, evaluating 7 contemporary brands we think are getting it right.
Who are they?
Unisex brand offering clothes that are "easy like a summer afternoon" and "tech-forward".
Customer experience USP: awesome product pages
Why does their customer experience kick ass?
Kit Ace's product pages are a dream come true for online buyers. As well as a range of high-quality images, each product description comes with a "Details" section, explaining the material, size and usability of the item, and a "Fabric and care" section, telling you how to wash and dry the item. They're killin' it.
Certain product profiles also come with a "how to wear it" box-out, which link to interviews with – and photographs of – customers sporting that particular item. This enables Kit Ace to make the most of user-generated content (UGC), as well as give visitors to their site something interesting and informative to read (not necessarily relating to the brand).
Kit Ace's customer profiles also promote a certain ethos and mind-set that reflects the values of the brand itself; for example, their profile of an enterprising shop-owner who likes to practice mindfulness. This gives customers a lifestyle to buy into, as well as the products on offer.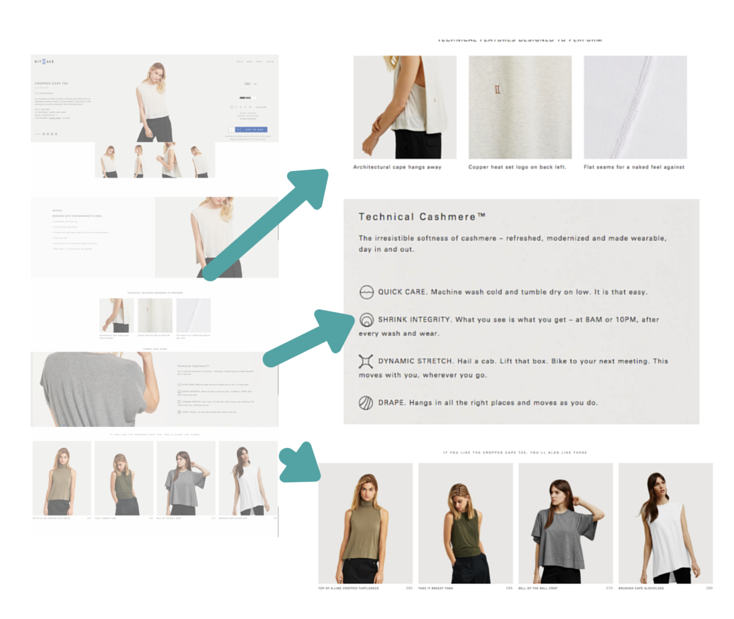 Lesson from Kit Ace:
Put as much valuable information as possible on your product pages to push through those conversions
Who are they?
Walker and Company's flagship brand, Bevel is the "first and only end-to-end shaving system for men with coarse and curly hair".
Customer experience USP: identifies pain points and tackles them
Why does their customer experience kick ass?
When you enter the Bevel website, you are met with crisp and cool images of the brand's products, as well as a brief introduction of what the brand stands for and what it can do for its customers (in this case, a "smooth shave"). This storytelling technique draws a reader in and kick starts some kind of rapport.
The website's homepage is also home to an informative video, letting a visitor learn about what the brand has to offer in a quick and easy way. It also includes a customer testimonials section, entitled "But don't just take our word for it", showing that the brand is trusted and reliable.
Lessons from Bevel:
If you're a brand designed to combat a certain problem – for example, acne, dry hair or sensitive skin – use your website's homepage to identify your customer's pain-points and show how you can help
If your customers are willing to give testimonials, make the most of them!
Who are they?
British contemporary clothing brand with headquarters in Cheltenham.
Customer experience USP: savvy at social
Why does their customer experience kick ass?
Let's start with Olive's awesome website. Clearly laid out and easy to navigate, entering the site is walking into a welcoming, whitewashed, high-ceilinged sanctuary. The products are well presented and spaced out nicely, and the clothes are even split into different sections such as "At Work" and "Embroidery" (or SALE for those on a budget).
What's also great about the site is its notification system; if something is out of stock, you can enter your email address to be notified when more are available.
Olive has developed a cult following simply through its social media. It's perfectly curated Instagram account is home to over 50k followers. Why? Because it has uniformity and a distinct character. Followers of the account know what to expect: pastel coloured clothes laid out on a wooden floor in soft, iridescent lighting, accompanied by light-hearted, descriptive captions. This is the same for every single post, on both Instagram and Facebook. This consistency – not just in style, but also frequency and timing – enables subscribers to feel part of the overall Olive experience.
Lesson from Olive:
Olive has got a great thing going with its eye-catching 'knolling' in its social media posts – creating consistent, high-quality images that combine several of your products is a great way of getting followers' imaginations going.
Who are they?
With no physical stores and no "middlemen", Made.com is a design website/furniture company that only manufactures what's been ordered. The company collaborates with new design talent and then finds craftsmen to create it.
Customer experience USP: makes the most of user generated content (UGC).
Why does their customer experience kick ass?
Firstly, we applaud Made for enabling its website to be changed into different languages – a simple but great way to nurture overseas customers.
As with Olive's website, Made offers visitors to the site the opportunity to "chat" with them. We decided to put this widget to the test and ask the team a question: Do you sell French rustic bedside tables? Whilst their response was a disappointing – albeit expected – "no", they were very speedy, helpful and friendly in their response.
We also appreciate the way Made cleverly adopts a personable, fun tone on its website, even when promoting its social media links (as shown below). This gives it a modern edge and makes a customer feel right at home with the brand.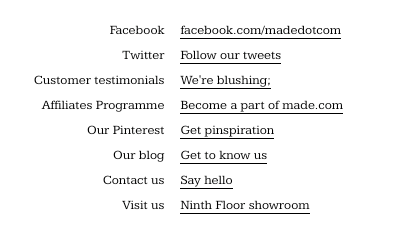 And now onto Made's strategic social media, specifically its brilliant blog. Using its blog, the brand cleverly makes the most out of user-generated content (UGC), with videos featuring case studies of those who have bought from the site. This not only enables the brand to move beyond the retail mould and stand out from the crowd, but also gives customers the reassurance they need to make a purchase.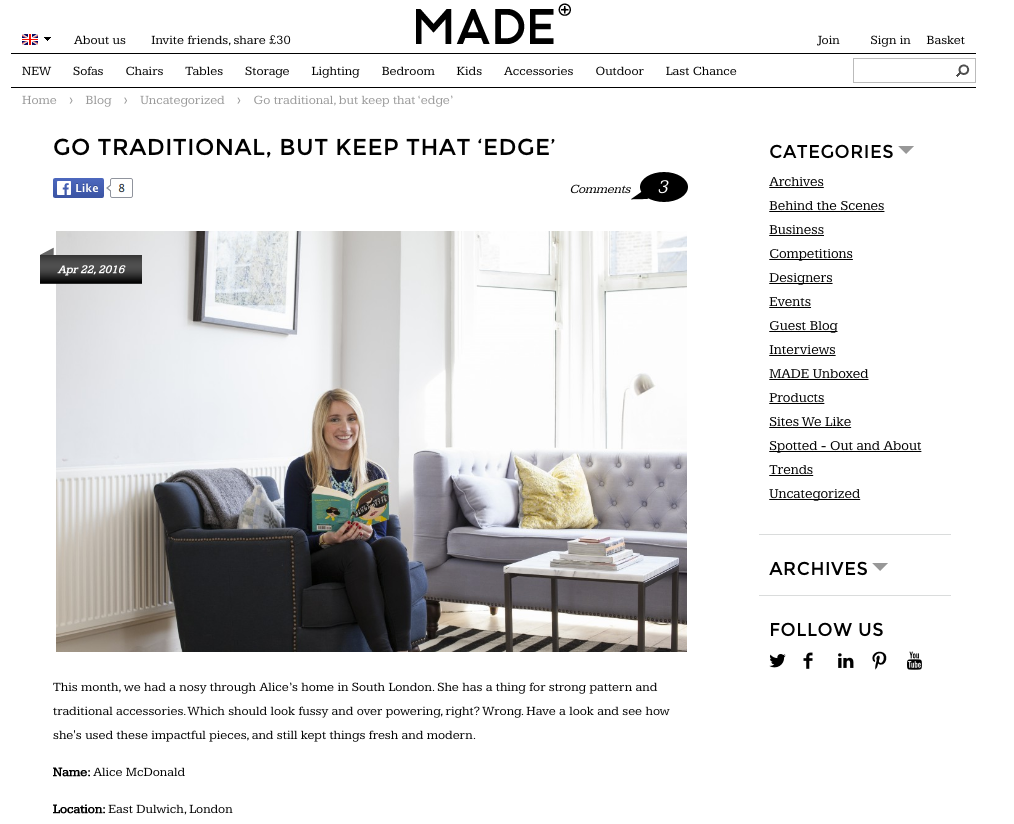 The brand also uses its social channels and product pages to promote its customers' pictures, increasing social proof and trustworthiness.

Lessons from Made:
A conversational, consistent tone will make your site more relatable and trustworthy
Content generated by your customers is incredibly valuable – build this into your website and marketing messages to get the most out o fit.
Who's Annoushka?
Handmade fine jewellery and designer jewellery for women, established in 2009
Customer experience USP: promoting celebrity endorsements
Why does their customer experience kick ass?
One really cool thing about the Annoushka's website is its "About" section –  a section most new customers will check out when they first stumble across the site. Why do we like it? Because it's familiar. Opening with a quote, it gives a brief biography of the brand's founder and namesake, Annoushka Ducas. This makes customers feel closer to the brand, reminding them that there is a person – or a team of people – behind the screen they're looking at.
Another thing that makes Annoushka a fierce contender in the quest for excellent customer experience is its well researched and well curated "As Worn by Section", where the brand brings together celebrities that have been snapped wearing Annoushka pieces. Love it.
Lessons from Annoushka:
Use your site to introduce the people behind your brand
Keeping an eye out for celebrities or consumers wearing your products, and then ensuring that you promote this pays off
Who are they?
Upscale leather goods mastered in Italy, sold direct to consumer. UK based.
Customer experience USP: super slick website
Why does their customer experience kick ass?
Founded in 2007, Hard Graft has a slick, modern website that is easy peasy to navigate. We particularly enjoy the navigation bar's "What we're about" tab, which showcases the high-quality materials that go into the company's products.
A stylish brand, it's no surprise that Hard Graft's social media is on point. The team use channels such as Instagram to showcase their products in an artistic, visually pleasing way, as well as communicate directly with their customer base. Like Olive, Hard Graft respond to customer enquiries online, showing they care.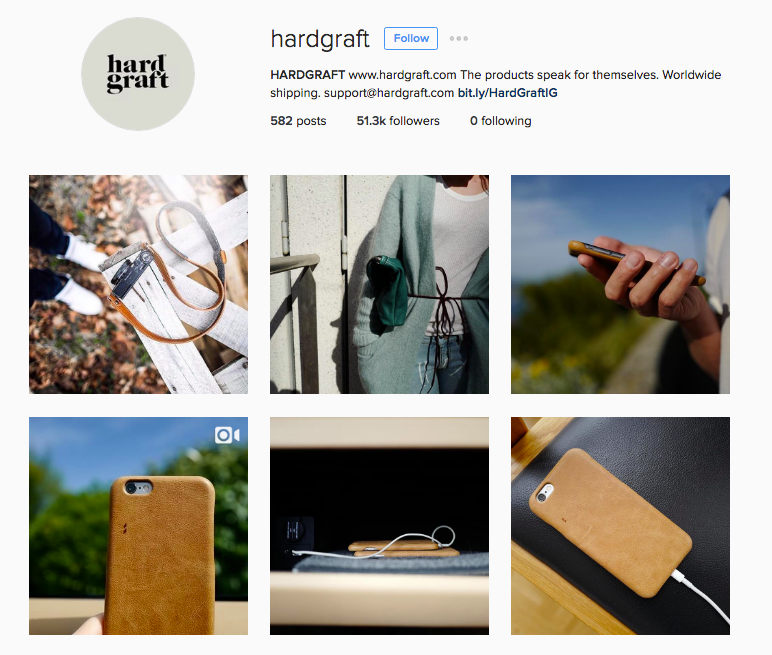 Lessons from Hard Graft:
Being consistent across all channels is key – Hard Graft conveys the quality and stylish design of its products not just on its equally high quality, stylish website, but also across its social channels.
Who are blow LTD?
London based beauty salon offering "fast beauty on demand".
Customer experience USP: great at communicating their product proposition
Why does their customer experience kick ass?
Offering not just a beauty salon but also expert mobile beauty therapists and an impressively stocked online shop, blow LTD is a growing beauty company that seems to add another string to its bow every time we check it out.
As well offering an awesome customer experience by way of blow dries and manicures in person,  blow LTD also knows how to make its customers feel wanted online.
We commend blow not just for its innovative, fast working technology and service, but also its marketing strategy. From its well-written, informative blog to its myriad of makeup tutorial videos,the website is pleasure to explore, even if you're not necessarily looking to book a treatment.
With a multi-faceted business model, communicating exactly what it does to its customers must be something of a challenge. However, we were impressed to witness how the company gets around this via it's introductory email to new subscribers.
With a simple introduction of "Let us give you a brief introduction into the world of Fast Beauty at blow LTD", the company uses limited copy and an abundance of images to tell a customer their story so far.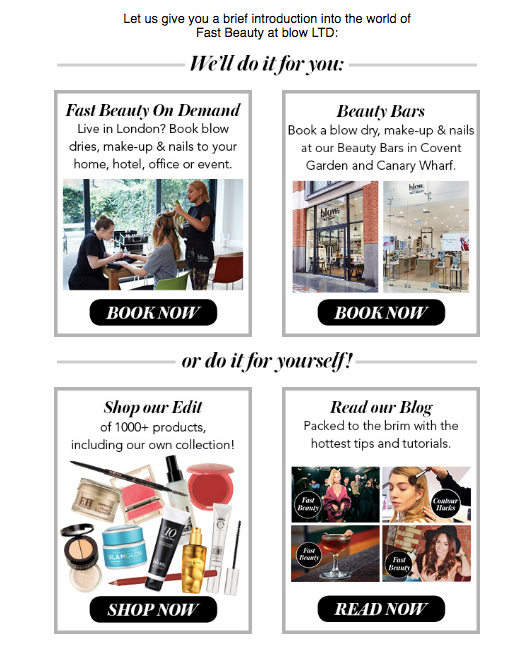 Lessons from blow LTD:
An easy to use app can go a long way if you're offering your customers an on-demand service
Having a blog, videos and quirky/funny articles on your website shows your brand's personality
Use your email as a way to reach out to customers and tell your brand history, it will make them feel more confident investing in your products or service
Customer first 
In an industry dictated by social media, brands cannot afford to displease their customers. Opinions that were once shared with just a couple of friends over a cup of tea or a pint are now broadcasted across the globe in the click of a button. Consequently, the customer is more empowered than ever.
If the customer is more important, ecommerce marketers need to perfect the customer journey as much as they can. One way to do this is by understanding your customer and their behavior: who is this person looking at your site? How old are they? Man or woman? What are their interests? Which products do they like? When do they like to shop? You can find out telling details such as these using Ometria – click here for more information or to book a demo.