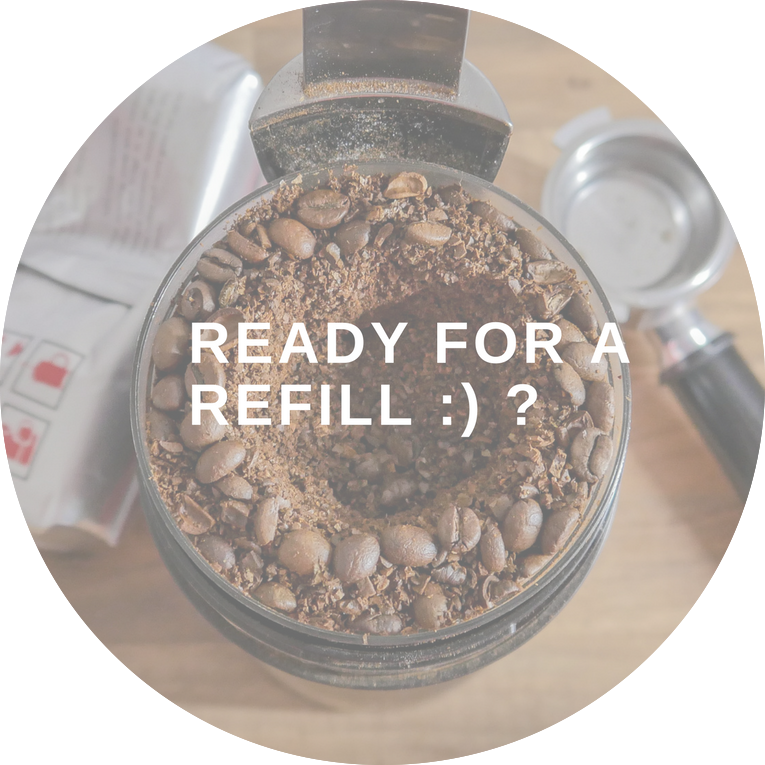 In the summer of 2016, we published a blog post on replenishment emails, looking at:
what they are (automated, data-driven emails reminding a customer to reorder consumable product/s w

hen they are about to run out) 

the customers they are targeted at (those who have bought consumable products) 

why they're so important (they have an average open-rate of roughly 40 per cent) 

top-notch examples from leading brands sending them
Fast-forward a couple of years and some things have stayed the same: replenishment emails are still incredibly important, helping retailers retain existing customers (and not lose out to competition!) by making it easy as pie for them to shop again.
Other things, however, have changed. (For the better, of course.)
The level of personalisation consumers today expect from all forms of ecommerce marketing has rocketed (according to our research, 72 per cent of consumers find it frustrating when they receive emails featuring products that are not of interest).
In this blog post, we offer an update on the art of the replenishment email, taking a look at:
Subject line, preheader text, content and product recommendations
Calculating the optimal send-time

1) Subject line, preheader text and content
Using the single customer view, your replenishment email's subject line, preheader text and content should all be personalised as much as possible (without making a recipient feel like they're living in a world akin to 1984).
Today, you can achieve a high level of personalisation—at scale—by using segmentation, dynamic content (content that changes according to each recipient) and/or, in some cases, artificial intelligence.
S

ubject line:
Use your subject line to communicate to a recipient why you're getting in touch; this isn't a content-filled newsletter or random promo, it's a helpful reminder that they need to reorder.
Here's an example of a simple, to-the-point subject line from hero herbalists Baldwins:
As well as using a recipient's first name, you can also personalise a subject line by lifecycle stage. For example, online drinks retailer 31 Dover uses the following for new customers: 
Preheader text:
Next up comes preheader text.
To recap, this is the text that comes after the subject line when an email is viewed in an inbox.
Often overlooked, this part of your email is a great to way to communicate key messages or complement your subject line; for example, in the case of a replenishment campaign, it could be something simple but effective such as:
"Stock up o'clock – it's time to reorder your gin. "
"A little reminder from us to you "
(…Or, if you wanted to offer a reward for a repeat purchase:)
"Reorder now and get 20 per cent off! "
Email content: 
Now for the content in the body of the email.
Again, this can be personalised on an individual level (first name, purchase history, taste profile) or via segmentation. To show you how this can be done, below are a few examples:
Baldwins
Personalised by: recipient name and products purchased
Visible in: copy, main images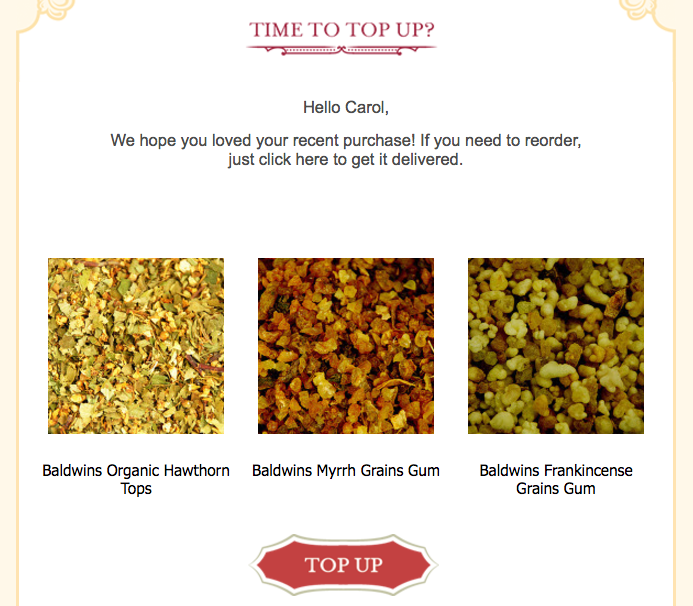 Top tip: Check out the colloquial CTA "top up", opposed to the more formal/predictable "Shop now". Read more about making your microcopy fun here. Baldwins also makes sure it includes the recipient's first name and a friendly headline ("time to top up?") to make the overall tone more personal and warm.
31 Dover
Personalised by: recipient name, category purchased
Visible in: purchase-specific hero image, copy ("we hope the champagne went down well")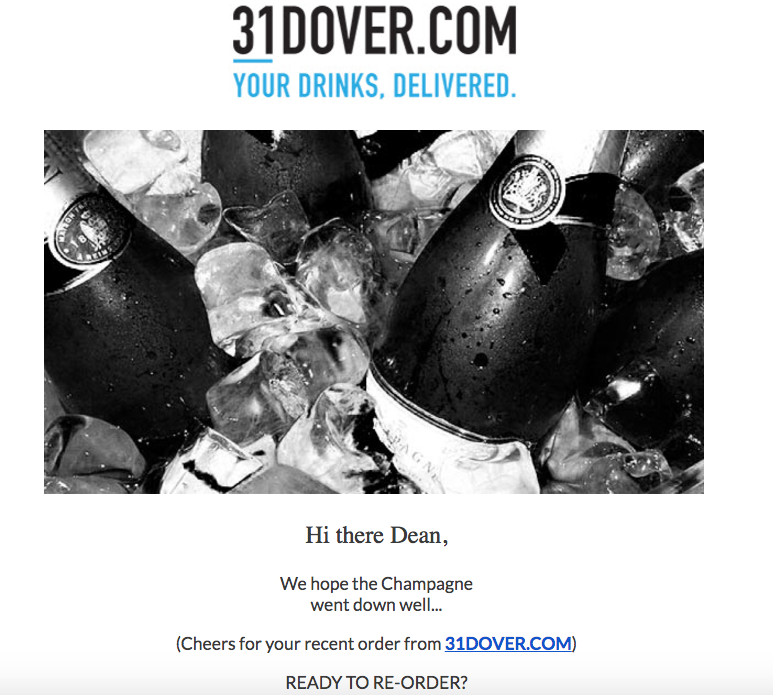 31 Dover
Personalised by: recipient name, lifecycle stage
Visible in: hero image/headline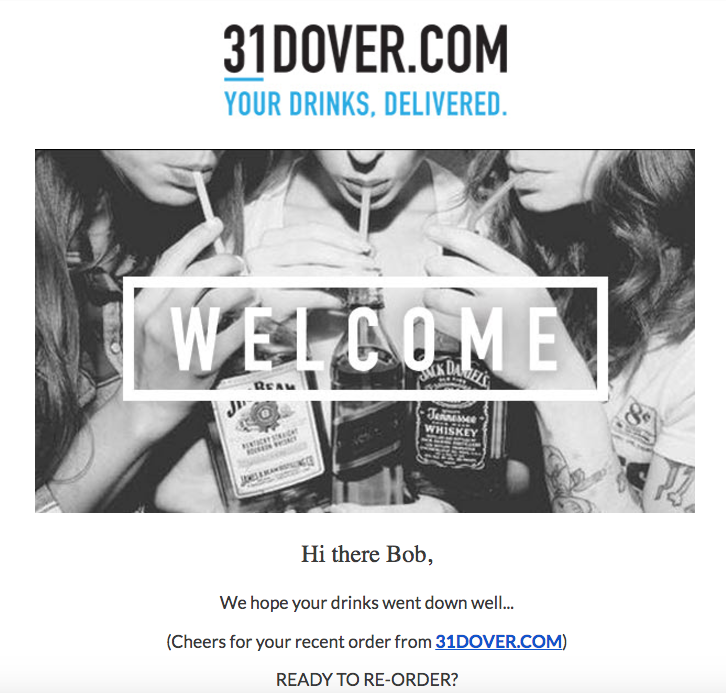 Product recommendations:
Using segmentation and/or 1:1 personalisation, you can include tailored product recommendations in your replenishment emails (as shown at the bottom of the 31 Dover example below):
2) Calculating the optimal send-time
Now we know what to include in a replenishment campaign, the next question is: how to calculate the best time to send it?
Replenishment campaigns as a concept are centered around being predictive: figuring out when a customer is likely to run out of a product and remind them to reorder.
In terms of how you go about predicting, however, can be achieved via two methods: one not including artificial intelligence and one including artificial intelligence:
a) Order gap analysis (not powered by AI)
The more traditional way to approach predictive replenishment is via order gap analysis (OGA).
We have a whole blog post dedicated to this topic here, but, in brief, this technique is used to calculate the average time between consecutive orders of the product or category made by each shopper, leaving you with an average time it should take your customer to repurchase. (This type of analysis will also take into consideration the average lifespan of each particular product; e.g. toothpaste is likely to run out quicker than a large candle).
b) Predictive replenishment powered by AI 
Now for the more tech savvy approach.
Using AI-powered algorithms, replenishment emails can be based on individual customer purchase patterns (opposed to average rates). If there isn't enough data on a customer, an algorithm can draw on historical data of customers who have a similar profile and have bought the same item.
AI also makes it easier to incorporate factors like the size or volume of products purchased, and can even make decisions on how to group items so as to avoid sending too many repurchase reminder messages to one recipient. For example, if a customer has previously purchased moisturiser and foundation and they are both due to be replenished in the space of a week, a retailer can send just *one* email prompting them to top up on both.
Other benefits to using AI to power predictive replenishment include: greater efficiency (machine learning algorithms are able to process data much quicker than a human), higher level of accuracy and freeing up a marketer's time so they can focus on the more creative, strategic elements of an automated campaign.
Extra tips 
To conclude this post, here are a few more things to consider when putting together your replenishment campaigns:
☀️ Consider giving your replenishment campaigns (and the rest of triggered your emails) a seasonal makeover – whether it's a banner with pumpkins and ghouls or a GIF displaying sunflowers swaying in the breeze. Find out how you can do this here.
Cross-channel: the whole point of sending replenishment emails is to be useful, so if a recipient (that's due to top up) never uses this channel then what's the point in sending one? Instead, put each customer first and use their favourite touchpoints to communicate your replenishment message.