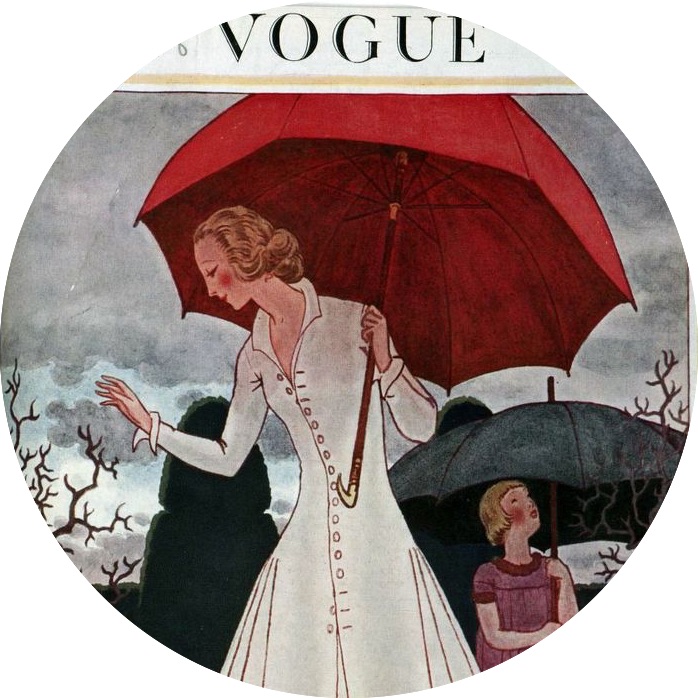 You only have to flick through century-old copies of fashion magazines like Vogue and Harper's BAZAAR to know that content and commerce have always gone hand in hand. It's obvious why: the two industries complement one another, commercially and financially.
But there's a big difference between the mutually beneficial relationship editorial and retail shared during the early twentieth century, and what we have today: ecommerce sites creating their own content as a way to form more meaningful relationships with customers.
Having been on the retail agenda since at least 2012, we have now reached the point where editorial is not just a "bonus" for retailers, but, in some instances, the lifeblood of a brand.
From a makeup brand born out of a blog to a consumer magazine's own online store, below are five editorial-first ecommerce sites—and what they can teach us about the art of content marketing.
The Main Players
1) Endource
Lesson: Don't compete with fashion journalists, work with them
Described as an "exclusive destination for editor-approved style", Endource brings together fashion finds from across the online retail space that have been ratified by some of the world's favourite journalists and bloggers.
To help newbies understand how the site works, Endource's "Who we are" page breaks it down into three steps: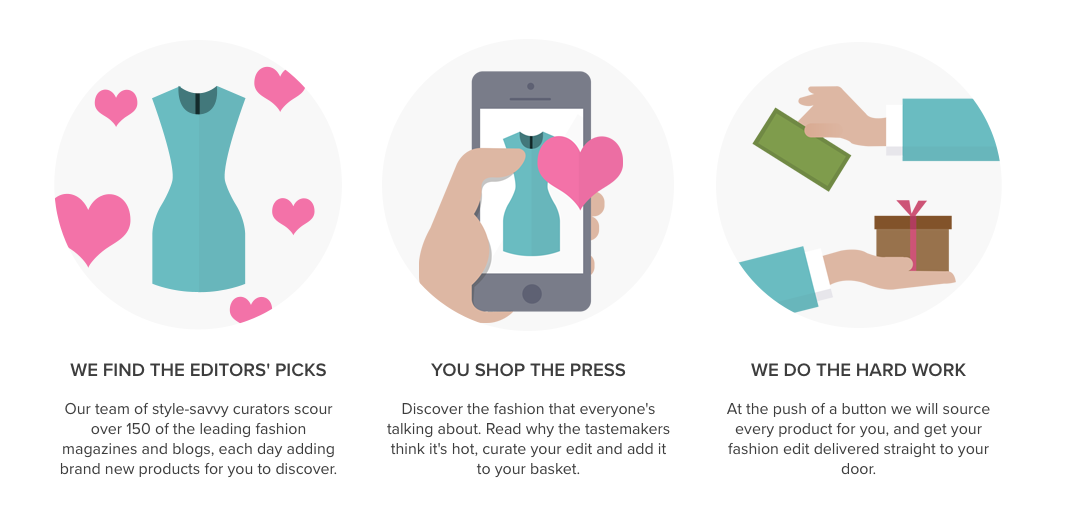 Source: The Endource team finds the editor's picks
A team of "style savvy curators" scour top fashion publications, adding the best products they see to the Endource site every day.
Shop: A customer "shops the press"
A visitor to the site learns about which products and styles are trending, curates their "edit" and adds it to their basket.
Buy: Endource does the hard work
Endource "sources" every product a shopper has chosen and delivers their "fashion edit" straight to their door.
As you can see, the skeleton of Endource is that of an ecommerce service (products are added, online shoppers add items to their basket and the products are delivered), but what brings the process together and gives the company a real sense of character is editorial content.
But as well as fashion influencers determining what makes it to the site, Endource itself is also formatted like an editorial publication—particularly under its "Inspiration" tab (found in the navigation bar):
The page is split into different lifestyle categories (e.g. Workwear, Holiday…), as well as different pieces of individual content themed around each one.
For example, under the "Everyday Style" category is a post entitled: "The comfiest dress you'll wear all summer", accompanied by the call-to-action (CTA) "read more". Once clicked, this page looks, feels and reads like a piece of editorial content, with a quote from Vogue at the very top and an invitation to "Shop the Edit" sitting atop a list of product recommendations.
Which brings us to what is arguably the most important aspect of any ecommerce site: the product pages.
Taking this Topshop Unique skirt as an example, each product is given a well-written, witty and engaging description, as well as an "Editor's' note" and "Featured in" section where Endource quotes a well-respected publication's verdict too (in this case, Refinery29):
What's nice about Endource is the fact that customers can shop straight from the site, rather than being redirected to the retailer's product page. That said, the site does list retailers that sell the item.
2) Semaine
Lesson: Remember that editorial is often about human interest
Next up is Semaine, an online magazine-meets-concept store that, each week, interviews a different tastemaker (this could be an actor, designer, musician etc) and offers readers "shoppable insight" into their world.
Founded by Michelle Lu and Georgina Harding, the site has essentially founded a whole new way to shop online, encouraging website visitors to "Forget the look. Shop the life".
Let's take the brand's interview with fashion entrepreneur Jeanne Damas as an example.
The article starts with an eloquently written overview of Jeanne (offering readers both a short and long version via a handy "read more" CTA). This is followed by a "Shop Profile" section, which lists product recommendations based on Jeanne's outfit in the interview:
This structure, of including snippets from the interview before embedding shoppable links based on what has been said, ensues throughout the post, covering Jeanne's:
Sources of inspiration
Handbag essentials (screen grab below)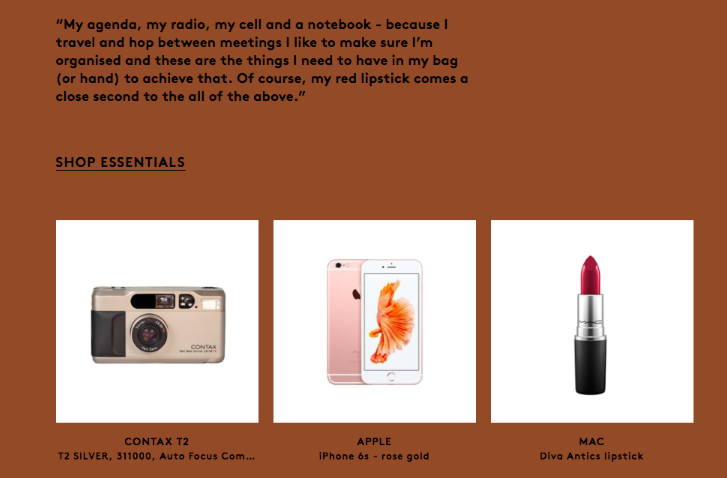 Once a browser clicks on a product they fancy, they're taken to a clear and crisp product page that offers more information *as well as* pictures of Jeanne sporting the item.
Semaine also has a dedicated shopping site, for those less bothered about reading the interviews and more keen to find an item direct.
3) ShopBAZAAR
Lesson: Experiment with online formats (…click and drag moodboards, anyone?)
Writers have always had an interesting relationship with fashion, as is demonstrated in the recently published book Legendary Authors and the Clothes They Wore by Terry Newman.
It makes sense, then, that the key players in the fashion journalism industry are taking measures to make the content they provide shoppable.
One of those players is Harper's BAZAAR, America's first fashion magazine which, over the years, has played host to the likes of Virginia Woolf, DH Lawrence and Nancy Mitford.
Not only is the publication, which was founded in 1867, linking any items it features in its online magazine to the retailer selling it, but also running its very own ecommerce store as a side project.
Curated by the editors of Harper's BAZAAR, "ShopBAZAAR" enables consumers to shop "exclusives and the latest in designer fashion". This premise is summarised nicely in the store's welcome email, shown below:
Once on the site, it quickly becomes clear that, whilst it's an ecommerce site, it's still very much editorial-first. Let's take the site's August feature, "Tiptoe through the tulips" as an example. The header image is full-bleed and definitely worthy of a full-spread in a coffee-table magazine:
So where does the "commerce" part come in?
Zooming in on the captions below the images, a reader is invited to explore a "mood board" which brings together all of the items used in the tulip feature, and has a functionality allowing them to "click and drag" products they like the look of.
Once a consumer spots something they like the look of, all they have to do is click on it and a popup appears giving them the option to add it to their basket (i.e. shop straight from the site):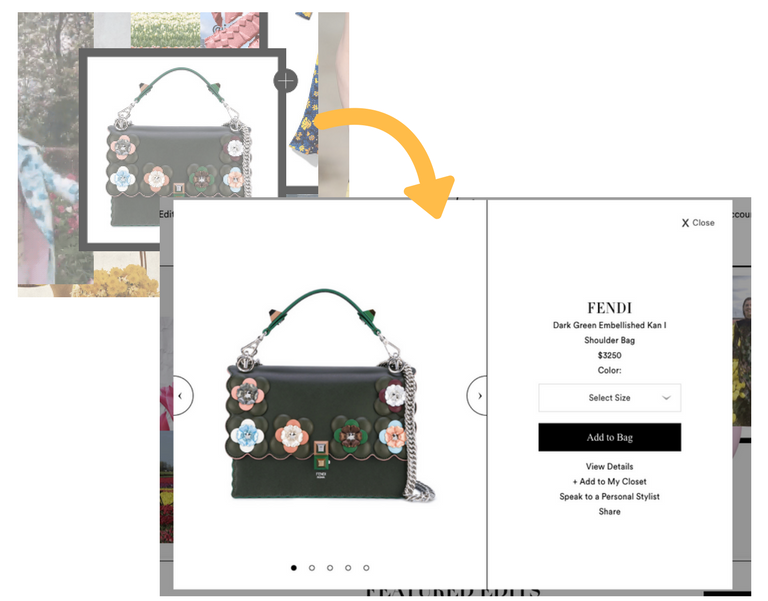 This is an innovative technique to enable consumers to shop as they read, which wouldn't be possible in a print magazine.

4) Farfetch
Lesson: Use storytelling to set the style agenda
In case you missed the headlines last month, Farfetch recently announced a "global content and commerce partnership" with Condé Nast (resulting in the closure of the publishing house's Style.com platform). So it's safe to say it's leading the way when it comes to editorial-first ecommerce.
Founded in 2007 by Portuguese entrepreneur José Neves, Farfetch is a global luxury fashion online platform selling products from hundreds of boutiques and brands across the globe.
So how does it differ from other leading ecommerce sites? As spelled out in its "Our History" section, Farfetch aims to not just give consumers the products they want but also a wealth of style inspiration via its cutting-edge editorial (for example, its "wardrobe tips" and trend-let edits).
Farfetch has a dedicated "Editorial" tab in its navigation bar for the consumers who do want this editorial-first approach (opposed to those who want to head straight for the category and product they need).
Similar to Endource's "Inspiration" tab, Farfetch's "Editorial" page is laid out in a similar way to today's leading lifestyle and fashion blogs (for example, WhoWhatWear and Refinery29). 
All of these blog posts feature a mix of content and commerce; exploring a trend, idea or interview before providing a perfectly curated "Shop Now" CTA.
Taking the "Wonders of the World" post as an example, copywriter Ashleigh Gribbon lists some of the globe's "trailblazing boutiques", talking to the founders/employees of each (about, for example, the city's style and future trends), before inviting a reader to shop items from the store:
5) Glossier
Lesson: Whatever happens, keep it authentic 
Glossier, strictly speaking, is not a 100% "editorial" first ecommerce site, but (thanks to its origins) it's definitely worth including in a blog post on the symbiotic relationship between content and commerce. 
The beauty startup was created in 2014 by the founder and editors of the highly successful beauty blog IntoTheGloss.com —and the two websites appear to still be closely affiliated today (despite existing on separate domain names). 
On its homepage, Glossier references Into The Gloss as its source of "inspiration and information":
The ecommerce site also includes a link to the blog in its main navigation bar:
Meanwhile, Into The Gloss has a permanent "Shop Glossier" call-to-action (CTA) on the right-hand side of its navigation bar, always reminding blog post readers of its ecommerce counterpart:

As for the blog posts themselves, Into The Gloss writers are content marketing pros. Instead of bombarding readers with offers and deals for its sister site, the blog's famously good content is not compromised. Ever. 

Glossier products are mentioned if and when a post requires it, and a wide range of other makeup brands are featured on a regular basis. (Check out this candid interview with Glamour UK's Beauty Director, Alessandra Steinherr, to see what we mean.)
But just like Into The Gloss retains its own identity as first and foremost a blog, Glossier is fast-becoming an editorial-first site in its own right. 
Each of its product pages is packed full of useful content, the majority of which reads like a top-notch consumer publication. For example, instead of a traditional salesy heading for a it's do-everything salve, Glossier opts for a more natural (and journalistic) sounding "Our cult favourite…": 
As every marketer knows, good content isn't just about words; it's a combination of copy, images, videos, social media—whatever else people might find engaging. The above gif is a case in point: instead of generic product images, Glossier creates a mix of fun, colourful snaps that wouldn't look out of place on Instagram. 
Roundup: 5 Lessons in Content Marketing 
So, to summarise, here are the biggest content marketing lessons we've learned from five editorial-first ecommerce sites:
Don't compete with fashion journalists, work with them 

Remember that editorial is all about human interest 

Experiment with online formats (…click and drag moodboards, anyone?)
Use storytelling to set the style agenda
Whatever happens, keep it authentic