Mother's day campaigns are going to be sent by every brand, and well, their mum. So how do you make sure yours stands out?
Ensuring you have insight on your customers means not only will you be able to increase your open-rate and encourage them to spend on their mums but you'll further endear them to your brand overall.
It's a challenge as everyone wants to show some appreciation to the matriarch in their lives – and you want to share campaigns that will do them all justice. Not an easy feat, but not impossible with these few tips.
How to advance your Mother's day campaigns 
To really create memorable Mother's day campaigns, they need to feel tailored especially as customers will be shopping with someone else in mind. It's important to use what you know about shoppers to make sure your campaigns feel truly relevant and engaging.
Giving customers the chance to opt-out 
Mother's Day can be a sensitive day for some customers. By offering an opportunity for shoppers to opt out of marketing messages related to the holiday, you are able to not only make them feel understood but learn more about your customers and can note this preference for future marketing campaigns. This example from personalised stationary retailer Papier highlights how to show empathy and send a clear marketing message. The plain text email simply asks for customers to note whether they would prefer to be excluded and notes how the brand is aware of the sensitivity of the day for many.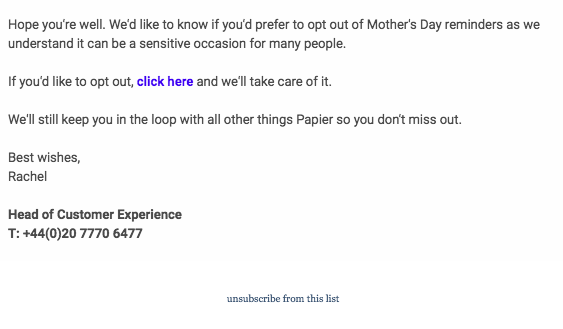 Using what you know about shoppers to craft your messages 
Use cohort analysis to determine whether you have a segment of gift-shoppers that only shop with you around Mother's Day. If they're signed up to your marketing messages, use this information to send them useful content – to learn more about cohort analysis and how to get the best of it, read this blog post.
Add product recommendations 
Whether personalised (based on the customer-data available and to truly be advanced, the foundation you want to have for all your campaigns), generic (based on factors such as "top products" or "latest range"), or category specific (e.g. only displaying products within your Mother's Day gift-guide range), product recommendations remind your customers what your brand has to offer them. You can learn more about product recommendation engines and how to use them effectively here.
Take things offline
Use your emails as an chance to invite your customers to brick-and-mortar stores. The customer journey also includes the experiences they have with you when physically trying and experiencing your products – for an occasion as special as Mother's Day, encouraging customers to come in-store will not only further align them with your brand but create opportunities for social proof as they share images across their social profiles.
Cross-channel 
For customers who may not be as responsive to your emails, especially those who shopped with you last Mother's Day, take your campaigns cross-channel. You can try social media campaigns that capture their attention or if a luxury brand, use direct mail to send a personalised message
What your campaigns should include 
A clear message that highlights the purpose
Emotive language that resonates with the recipient and adds a personal touch
Clear incentives and CTAs to encourage spend
Dynamic content so you can suit the tastes of the recipient

Rose & Grey
This old but brilliant Mother's Day campaign from furniture and interiors store Rose & Grey works so well because it's creative, original and evocative.
The email made us not only reminisce about our childhood (as soon as you see the business founders' classic photograph, you immediately want to start searching for your own old family pictures), but also start thinking about the different ways to give a Mother's Day present a vintage twist.
What we love about this campaign: 
A personalised touch with a nostalgic hero image and clear message
Emotive copy which focuses on recognising the importance of the day and encourages customers to treat their mothers, without explicitly noting it
An incentive 10% off throughout the month of March so customers can purchase something at any point
Lush
Some retailers have created gift guides for the occasion, bringing together a carefully curated selection of the perfect gifts for mum. These are great for product bundling and cross-selling, if we think of the 'shop the look' trend in ecommerce stores. Bear in mind that these campaigns must be well executed, with links to every product within a guide or the ability to add a whole selection of products to basket.
A quick visit to the Lush website reveals that the brand is encouraging visitors to "give the gift of time". The CTA links through to an excellent blog post on unique ways to help mums wind down.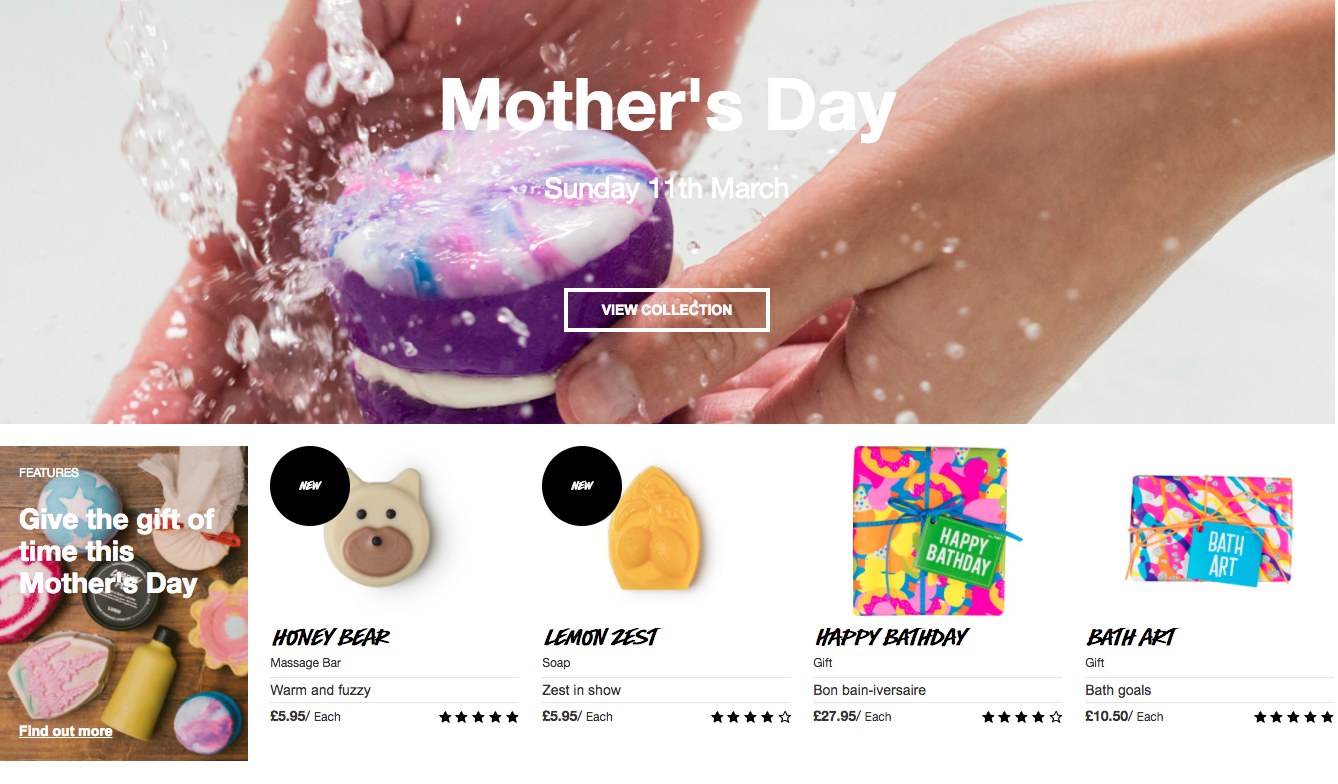 The handmade cosmetics brand has used social media to promote its products for Mother's Day in the past, with a few amazing marketing campaigns under its belt: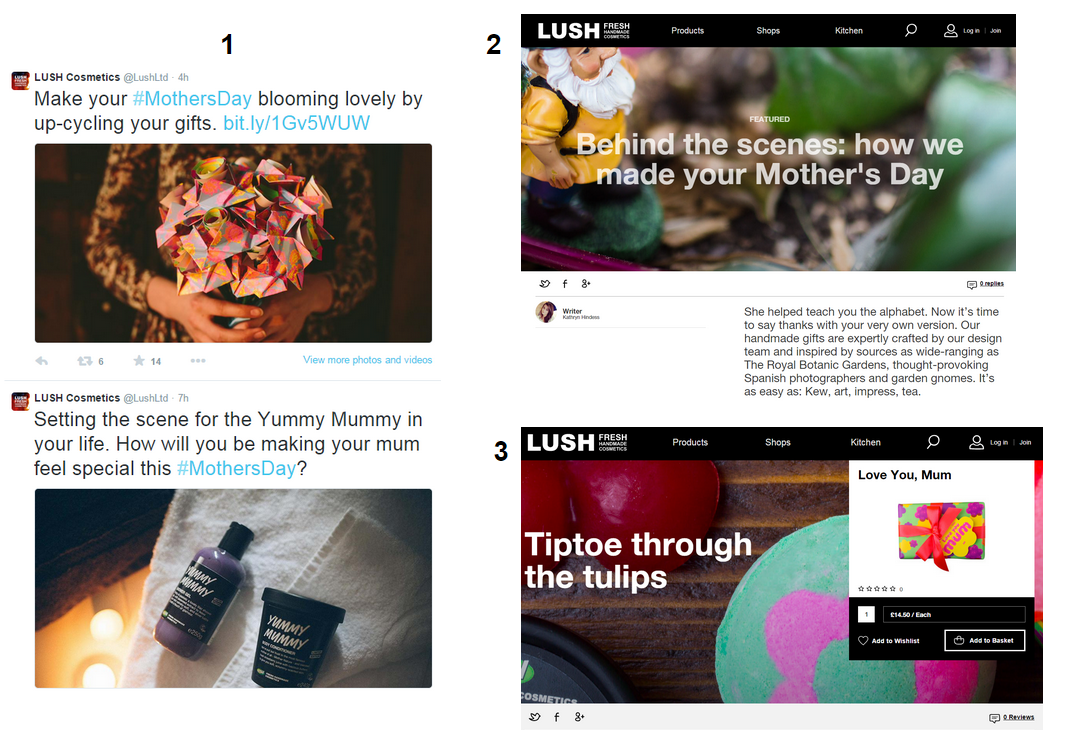 What we love about this campaign 
The clear and consistent branding with a clear message of "giving the gift of time" and how LUSH can help to do that
Product recommendations on the homepage, encouraging customers to shop the collection
Additional content, a blog post, which further cements the brand identity and adds a personal touch to the campaign
 Wolf and Badger
The online marketplace, supporting independent designers, prioritised events in the month of March to vicariously encourage spend around Mother's Day.
What we love about this campaign 
Provides shoppers with multiple options to gift their mums with and creates an element of exclusivity as they can RSVP
Encourages shoppers to engage offline and attend events in brick-and-mortar stores, focusing more on experience gifts than products
Ties in well with the brand identity and continues to align customers to the brand supporting independent brands and retailers, CTAs highlighting the different locations showcases the global identity of the brand.
Conclusion 
Mother's Day is a great opportunity to use insight about customers to provide them with content they want. To really leave a memorable mark, remember to try these tips:
Check that they want to receive content from you around sensitive holiday periods
Reach out to customers who last shopped with you around Mother's Day
Suggest gift ideas and use this as an opportunity to up-sell or with dynamic content share new products
Take things offline and suggest experiences that your brand can provide that may also encourage social proof and sharing across shoppers' personal channels