Every marketer, regardless of industry, knows they need to be personalising their campaigns. With an average of 7 screens per home, there is a consistent stream of engagement, most of which is already tailored to the tastes of the consumer – what they watch, what music is suggested to them and where to stay on holiday. Their expectation is that all their email messages will be crafted with them in mind.
So where do you start? What do you focus on? Personalisation is hard, and looks like it'll continue to become tougher.
For retail marketers, especially, the challenges seem to pile up alongside customer expectations.
Lots of manual work
This often involves the manual and daunting task of matching up data from across multiple systems just to build out the segments for personalisation, otherwise known as "not another flipping spreadsheet". Then there is the creation of the multiple templates for your customer segments and trying to do this all when you may not have enough insight on your customer's individual tastes to create campaigns that are personalised in a meaningful way.
As much as this may sound off-putting, it's the difference between adapting and remaining a customer favourite or falling foul to the fate of the bigger brands who don't reflect the timely needs of their shoppers.
What's more, personalising the customer experience isn't an all or nothing game: the good news is that as a retail marketer you can start taking incremental steps to give your customer experiences the personal touch. This article aims to give you a starting point.
Where to start
Personalising the entire customer journey might seem like a really daunting task, and the most difficult of them often seems to be where to start. The best way around this is to start by focusing on the areas that will have the biggest impact for your brand.
"What does personalisation look like for me?" Is a question you'll likely ask yourself. With so many differing retail brands, knowing what a tailored experience for a customer journey within your brand can feel overwhelming. A step to starting is to start at the top level and ask yourself questions that will help you understand your brand, your customers' experiences with it and slowly refine, as your knowledge and comfort grows.
Think about the average customer journey, before you decide where you focus and ask yourself a series of questions to help you discover the best opportunities for introducing personalisation in your chosen campaigns.
Some questions to be asking are:
Which stages of the customer journey can I make the quickest wins with personalisation in the context of my business model? (e.g. if you're a mattress retailer, it may make more sense to focus on personalising the immediate post-purchase experience rather than reactivating lapsed customers 5 years down the line).
Which of my automation campaigns are seeing the largest send volumes right now?
Where are the biggest drop offs in my customer journey? (for example, lead to first time customer; first to second purchase etc.)
What're engagement/unsubscribe rates like with my newsletters and broadcast campaigns? Are trends upwards or downwards?
Are there any obvious opportunities to personalise that might be causing customers to disengage? (e.g. you sell to both men and women and are sending general newsletters to both genders)
The elephant in the room: content creation
A big challenge of personalisation is content creation, especially if you don't have an in-house design department, a very small team or multiple stakeholders who need sign-off. Currently, content creation is still very manual, which can be daunting if you're short on time or ideas and can't tell if the ROI is worth the effort.
Admittedly, we are still some time away from AI completely creating all content for your campaigns, and if the current standard is anything to go by you might want to wait until it doesn't reference red-meat-human-hybrids, but this doesn't mean what is available can't work to elevate your current templates to really resonate with recipients.
There are two ways to work out whether the effort you put into your content creation will give back worthwhile returns (although we believe that personalisation will always work to better your customer engagement in the long term).
Testing (low to medium effort) – light touch ways to increase the impact of your marketing messages without a reliance on too many other people (for example, creating control groups in your regular automation campaigns / broadcast sends that get sent generic, unpersonalised versions of the campaign, so you can monitor uplift).
Pilots (more resource intensive) – analysing the biggest challenges and running experiments to validate the simplest solution that drives the most value
Let's talk tactics
The success of personalisation very often rests on resource so there isn't a one size fits all approach getting your strategy off the ground (as our latest download breaks down in detail). So what's a resource-light but impact-heavy way to begin. This chart highlights where you can place your efforts dependent on how much time, staff and creation-fuel you have.
Personalising things like copy and subject line tend to be less resource-intensive than having to generate visual assets like hero images
Personalised product recommendations are a great quick win as they're so easy to implement and have a positive impact on the customer journey
Segmenting your customers into different groups, based on demographic data, although a little more effort, makes a big impact on the customer experience and helps to create hyper-personalised experiences.
So, what is the future of personalisation?
Feel Unique: Predictive segmentation
Europe's largest online beauty retailer wanted to continue to ramp up the digital-first experiences it was creating for its customers and wanted to innovate the ways they engage with their customers via newsletter.
With thousands of products on offer, it would be a difficult task for any one individual to try and personalise the experience for all of the brand's shoppers, this is where Ometria Labs came in.
Using the platform Feelunique were able to segment customers based on criteria such as:
Purchasing and browsing behaviour
Relationships between similar people and products
Temporal correlations: the buying cycle of each product
Reinforcement learning: whether the AI's predictions are accurate
Using AI-powered segmentation created a significant uplift for the brand, which achieved:
95% uplift in revenue per email
33% increase in click to open rate
12% increase in average order value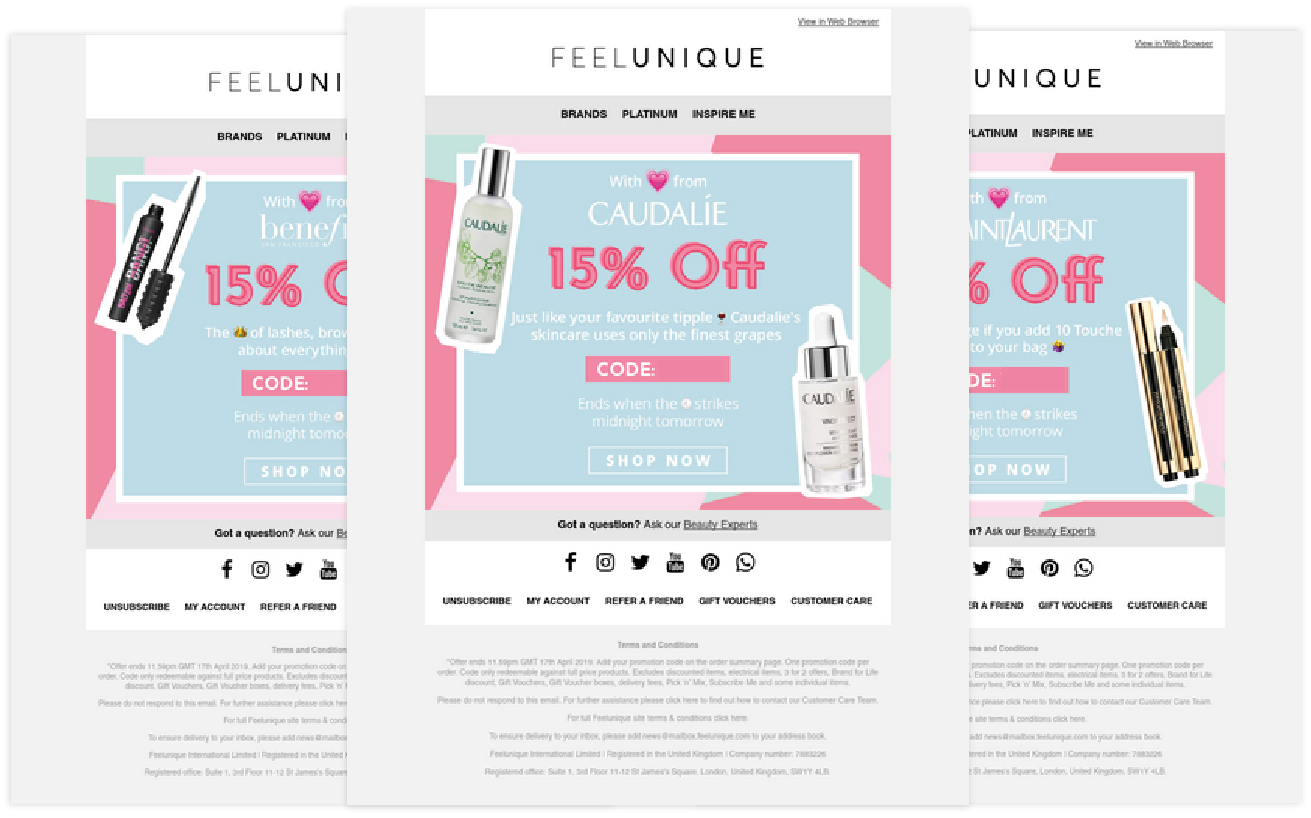 We could potentially reach a stage where there are tools in place that handle the frequency of the messages you send out. Using the data about your customer, their preferences, shopping habits – it is poised to send messages to them at a time when they would most likely be engaged and willing to purchase.
This would enable further predictive capabilities with campaigns, such as automated campaigns like replenishment messages based on when customers last purchased a perishable or refillable items, and as marketing becomes more cross-channel is able to engage with the across all channels, or their preferred channel, to ensure they see the campaign.
This will all lead to automated campaigns which run to achieve a shared initiative. Regardless of the preferred channel or the timing that best suits the specific customer, the end goal will be the same and the AI capabilities of the platform, using the insights on your customers, will know how best to engage with them. This will lead to hyper-personalised messages for individuals with newsletters being reserved for seasonal periods like Black Friday and Christmas.
Conclusion
Knowing where to start with personalisation is often the biggest hurdle. Starting at the top level and learning about your customers will enable you to become more granular and advanced with your tactics, which will endear your customers to you in the long-term. Although we are quite some time away from AI creating all your campaigns for you, using the insights that you have to hand now can empower you towards taking the steps to being future-proof in your marketing.