Does your brand sell replenishable items? If you just said "yes", read on. If you answered "no", read on anyway, because you might one day.
To clarify, a replenishment email is an automated email reminding a customer to re-order consumable products when they run out; for example: prescriptions, make-up, pet food, alcohol, e-liquid, chocolate fudge pop-tarts… whatever you (or you cocker spaniel) need to keep going and stay happy.
Why bother sending them? We all know that retaining customers is the key to a healthy customer base, and replenishment emails are the perfect opportunity to encourage customers to buy again with you, not a competitor.
According to our data, replenishment emails have an average open-rate of 50-60% and an average click-rate of 40-50%. In other words, they are a golden opportunity for your brand to generate recurring revenue.
For more key stats, including the amount of revenue replenishment emails can generate, download our replenishment email cheat sheet.
So, how do you pick the right moment to send the email? You could take a guess at it, but using data is the only real way to ensure that your emails arrive bang on time.
One way to figure this out is through order gap analysis (OGA). This technique is used to calculate the average time between consecutive orders of the product or category made by each customer, leaving you with an average time it should take your a customer to repurchase the product (don't panic, this is something that you can do in a few clicks with Ometria). Then you can drop them an email around this time to remind them to purchase again (possibly including a cheeky incentive).
Another way is to harness the power of AI. Predictive replenishment uses individual customer purchase
patterns to identify when they're likely to need to repurchase specific items. You can read more about it and what it entails on p.15 of our No-Nonsense guide to AI.
So that's timing, but what about the content and design of your replenishment campaign?
Creating the perfect replenishment email template is an art, and there are a number of boxes that you need to tick before yours will be good to go. To give you an outline of what's required, we've broken down 6 rocking replenishment emails that have been sent to repeat customers by leading brands.
Teapigs
Why we love it: With 55% of email now opened on a mobile device, a number of your recipients will read your replenishment messages whilst on-the-go.
Consequently, aim to communicate the point of your email as quickly and efficiently as possible (this way, even those skim-reading will understand that you are reminding them it's time to re-order).
Teapigs is very good at this. As shown in the example above, the brand uses succinct, informal copy and short sentences to get its message across straight away. This minimalism is mirrored in the email's pared back, clean design.
Baldwins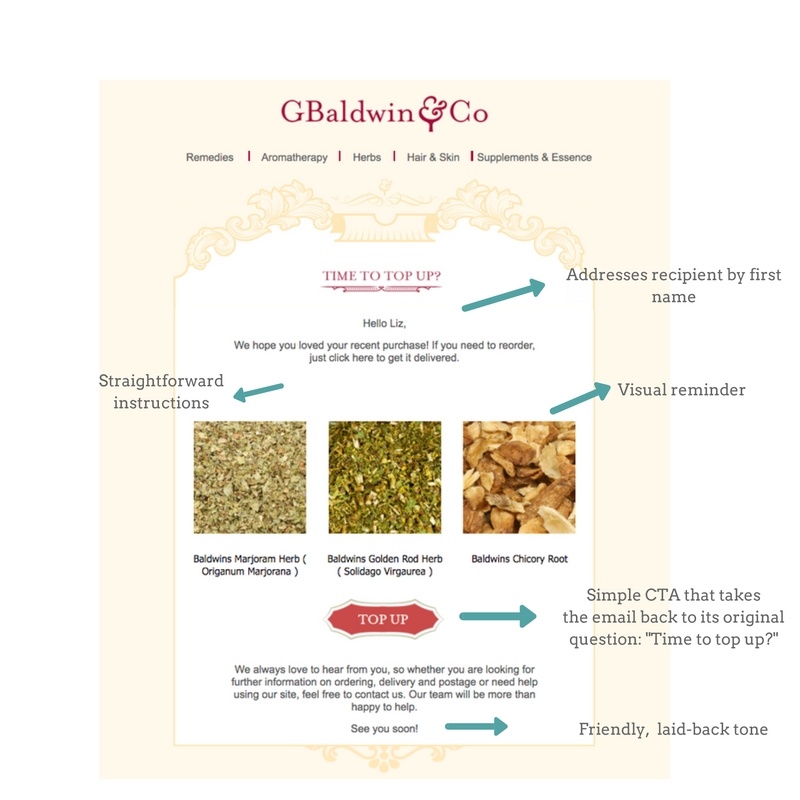 Why we love it: Baldwins is one brand with the perfect replenishment remedy.
The above email, sent from the London based herbalist, is helpful, friendly and, most importantly, really easy to read.
With a soft, neutral backdrop and short, succinct copy, a reader's attention is instantly drawn to the images, which act as an instant, visual reminder of what needs to be topped-up.
31 Dover
Why we love it: Funny. Understated. Gender neutral. 31Dover nails the replenishment email. From the vintage, nostalgic header image to its friendly, quirky tone, this template exemplifies how you can remind customers to repurchase in an informal, fun way.
Lancôme
Why we love it: This brand clearly knows its customer base down to a T. If you're investing money in make-up, it's because you want to look good. This email cleverly links repurchasing Lancôme products with having a good, solid beauty regime. The email is clear, to-the-point and includes a cutout image of the product being promoted, 'teint miracle', as well as those being cross-promoted.
Warby Parker
Why we love it: We're usually a sucker for bold, inspiring images, but Warby Parker's clean, minimalistic layout somehow works – even if it is coming up to two years old.
Simple and straightforward, this replenishment email enables the brand to show a customer that it has done its homework and figured out when his or her prescription is due to expire . This denotes care and consideration, making a returning customer feel wanted.
Still got it.
drugstore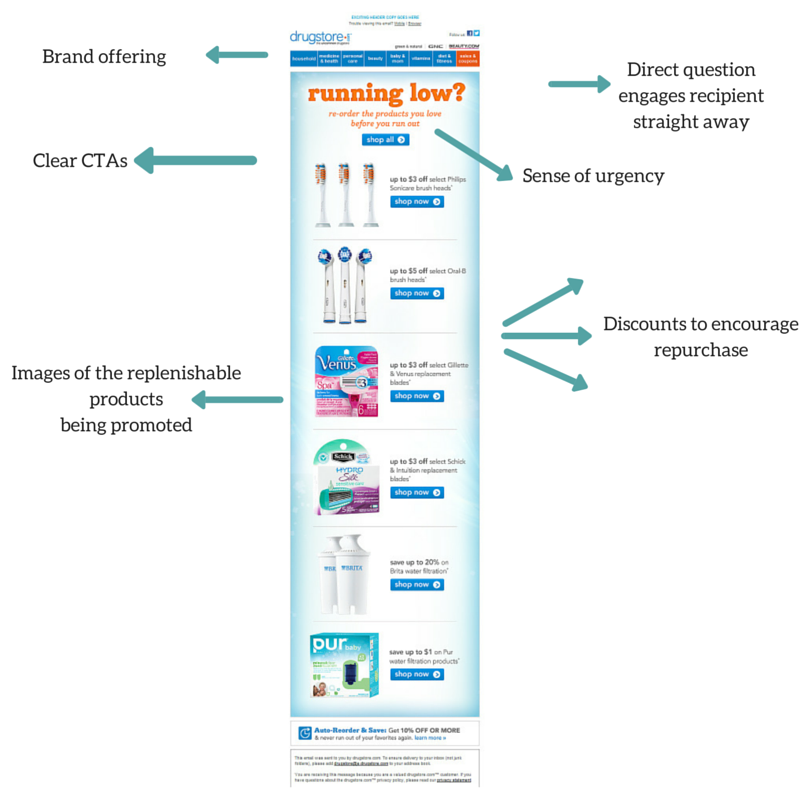 Why we love it: Starting with the laid-back, colloquial question "running low?" allows drugstore to initiate a relaxed, one-to-one conversation with a recipient straight away. This is the perfect example of a more pragmatic replenishment email that appeals to the recipient's need for more practical products, such as toothbrush heads.
JAC Vapour
Why we love it: Being able to capture your brand's personality in just a few sentences is no mean feat, but this is something JAC Vapour manages to do time and again. The voice of the email is cool, nonchalant and whimsical. Take note: there isn't too much copy, just a couple of questions that have been worded in a polite but unstuffy, chilled-out way. This is a useful template for brands that have a wide customer base, made up of men and women of different ages.