Twenty years ago, 'same-day delivery' for an online purchase didn't exist.
We quivered at the idea of using our debit card number on 'the cloud'.
There was no such thing as Facebook, let alone shoppable Instagram posts.
Fast-forward to 2018 and my grandmother buys on Amazon. Regularly. She also writes product reviews and complains when her (free) delivery is late.
Online retailers should give themselves a pat on the back: they've created a two-trillion dollar industry in just 20 years.
And yet, while the addressable market keeps increasing, the barrier to entry keeps decreasing—cue fierce competition.
And, as in any industry, the impact of increased competition always leads to innovation.
Over the past couple of years, next week delivery has turned into free, same-day delivery. In-store shopping at the mall has turned into a virtual personal stylist sending recipients new outfits every month, tailored to their tastes and needs.
In other words, there's certainly been a lot of progress.
The relationship between innovation and expectation
Innovation, if done successfully, raises customer expectations.
For example: Today, I'd probably be annoyed if I have to find, and hail, a taxi from outside in the snow rather than from the comfort of my sofa on an app. I probably won't bother with a bank if it doesn't let me access my account online. I won't accept three week delivery on a small item.
All of these things were perfectly normal ten years ago; not anymore.
And this goes full circle. Higher customer expectations will force retailers to improve their unique selling propositions, leading to innovation, leading to even higher customer expectations and so on and so forth.
So, how can retailers satisfy customer expectations?
The expectation of one customer directly influences its judgment of the quality of a shopping experience.
As a retailer, if I deliver on my promise of same-day delivery, the customer will most likely not complain about the delivery aspect of the experience.
On the other hand, if I send the item in the wrong colour, there is a strong chance this customer won't buy from me again.
If I do send the right product, in the right colour, on the same day, and with a handwritten note offering an additional 25% off their next order, then the quality of the customer experience will instantly be enhanced.
This can all be understood through the Consumer Experience Formula: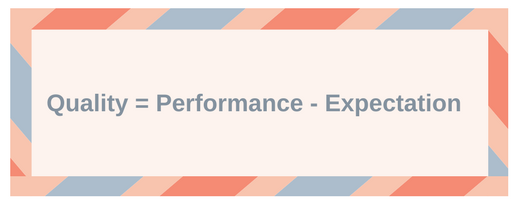 In short: to drive a high-quality shopping experience, the performance of your service needs to be higher than the customer's expectation of it.
A case in point
Take Zappos – one of the original behemoths of ecommerce.
The retailer started out selling shoes online – not the easiest item to sell outside of a physical retail store. However, Zappos's vision was to create the world's most customer centric ecommerce brand by constantly delivering above customer expectations.
Zappos applied the Customer Experience Formula: for any given order, customer expectations would be met by delivering the right product, in the right size and colour… But, in addition, customers would often also have the delightful surprise of receiving their order the next day instead of the expected standard 5-day shipping, advertised at checkout.
Expectations are met, but performance is even higher, creating a great shopping experience and turning first-time customers into repeat customers and brand advocates.
How ecommerce brands can apply this formula to their marketing efforts
First, consider two levels of expectations:
Level 1: Expectations from customers about shopping online, for example: clear product information, safe and secured transaction, trackable shipping, etc.
Level 2: Expectations from customers about your service, based on, for example, what they've heard (word of mouth) and what you've advertised (advertising, marketing, onsite).
Level 1 is directly correlated to the rise of customer expectations over the years. It sets the bar for retailers to deliver a 'minimum' level of service to meet these expectations. No brands can expect to survive for long if they don't meet this level.
Level 2 is entirely dependent on your unique selling proposition (USP).
For example: Bonobos's USP is better fitting clothes. Amazon Prime's is free same-day delivery. You'll no doubt have your own.
It is expected you advertise and market your brand around your USP – however, doing so will set customers' expectations to a certain height (which will usually convince them to buy from you in the first place).
Meeting the expectations of Level 1 & Level 2 will usually be enough to deliver a satisfactory experience to the customer, but (coming back to the customer experience formula) this is simply performance matching expectation.
To truly delight your customer, you need to over-deliver on the performance. Here are two tips on how to do just that:
Tip 1)  Personalise the experience
In a perfect world, all of your customers will make regular purchases from your store, until the end of time. However, today, most retail businesses have a repeat rate of less than 50%, so chances are most of your customers are only shopping with you once.
The best way to ensure your brand experiences this low level of retention is to over-message subscribers with generic offers and content. Conversely, if you want customers to keep shopping with your brand, you need to send personalised marketing messages at the right frequency and time, and on the best channel for each individual recipient.
Whether it's a handwritten thank you note, a birthday email (and discount), a follow-up courtesy call (to see how they like the item purchased) or an email recommending products to go with the purchased item(s), surprise a customer with your attention to detail. (For more real-life examples of retailers going the extra mile, check out this blog post.)
Personalising the experience doesn't necessary mean a human interview; with the right data and technology, tailored marketing messages can be automated.
For example, if a customer makes a purchase for the first time, acknowledge this in the content of your message:
'Thanks for making your first purchase with us, Abi!'
This is a simple but effective way of making a recipient feel special
Tip 2) Surprise in the delivery
Imagine if, alongside the brand-new pair of shoes you've just bought, you also receive a complimentary brush set? Likelihood is you'd be pleased, and end up purchasing from this brand again. 
There are so many untapped opportunities in improving the logistics around the delivery of a product with the customer in mind.
As well as the example above, this could be: an upgrade (medium to larger set), a branded tote bag with the customer's name, a printed tailored catalogue, faster delivery… the list goes on.
If you don't have the resources to do this for every customer, you could focus just on potential high spenders (identified through lifetime value and cohort analysis) or unhappy customers (identified through customer service ticket).
The foundation? Data
What do the above tips have in common?
They both rely on data.
In order to impress customers with a top-notch customer experience, you need to know who they are and what they want from your brand.
It's only once you have access to the right customer data, and have stored that data in one central place, that you can begin to draw on it to execute personalised, retention marketing at scale.
Ultimately, understanding your customers on an individual level will help you to rise above ever-growing customer expectations and consistently master the Customer Experience Formula.
You can read more about the single customer view, and how Ometria can help you access it, here.
Paul Boudet is an Ecommerce Marketing Consultant, currently moonlighting as a globe-trotter. You can get in touch with him via LinkedIn.