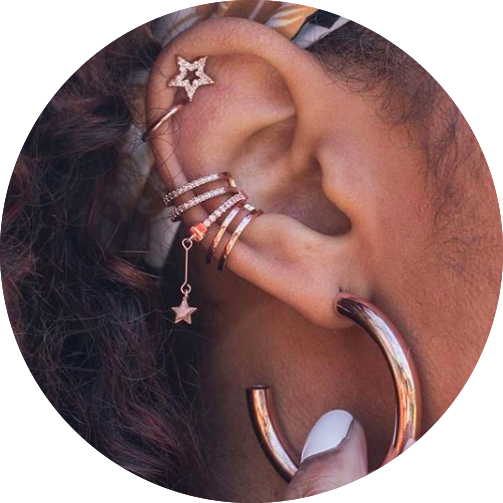 Started in 2012, contemporary jewellery brand Astrid & Miyu has built itself a cult status amongst influencers and celebrities alike. Specialising in "stackable" jewellery, the brand worn by the likes of model Chloe Lloyd, influencer Lydia Millen and reality tv host Alesha Dixon, invites shoppers to express their individuality and tastes through their eclectic ranges.
Encouraging a distinct personal style has become a signature of the brand and it wanted to make sure that this was reflecting in the marketing messages – with a particular focus on creating personalised experiences for shoppers at different stages of the customer lifecycle.
Astrid & Miyu's marketing team recognised that taking a more personalised approach to their marketing would reap rewards. But they were prevented from putting this into action by their ESP, which didn't give them any sort of meaningful customer insight or the means to segment or tailor their emails to the individual recipient. There was very little personalisation and an inability to dig into the data to truly learn about its customer.
Calling upon Ometria, the brand is now able to create more sophisticated campaigns – both newsletter and automated – that are individually personalised based on insights provided by the platform.
Shoppers at different stages of the customer journey receive emails campaigns that are specific to their interactions with the jeweller. This means they are able to create truly personalised experiences for their shoppers, increasing customer lifetime value and fostering loyalty.
"We can use the data to truly learn how the recipient wants to be engaged with, and change the layout of the campaign following insights on what is the most impactful" – Georgia Sheehan, Marketing Executive
This blog will explore three examples of eye-catching automated campaigns Astrid & Miyu have implemented. 
Ear piercing campaign 
With this two-part campaign, Astrid & Miyu wanted to continue the customer journey from its offline experience (in this case, in-store ear piercing services) to the online. This automated campaign encourages purchase from their ranges once their piercing has healed, and even to schedule another piercing appointment.
First email: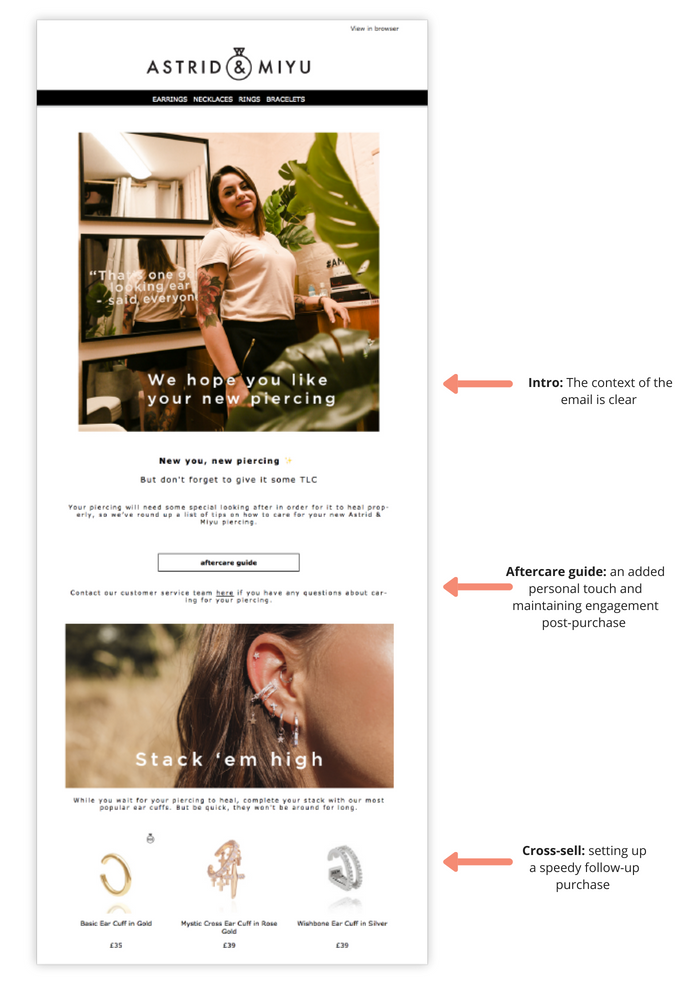 Second email: 
What we love about this campaign
Email following appointment with aftercare tips: the campaign feels personal and attentive as aftercare tips are provided along with a how-to guide for wearing the brands signature "stacked" cuff jewellery (which doesn't require a piercing) until their piercings heal. There is a follow-up email automated to send out a few weeks later if the shopper doesn't make a purchase with an incentive encouraging the first purchase for their brand new piercing.
The automated follow-ups are timely and relevant with each touchpoint encouraging purchase, shopper individuality and solidifying brand identity with the customer.
Ear cuff campaign 
The brand's signature piece is the stackable ear cuff.
To highlight the latest designs available, Astrid & Miyu sent an email to customers who had just purchased one from them. When the customer purchased an ear cuff (either online or in-store) Astrid & Miyu follows up with an email containing useful content, which also smartly cross-sells more cuffs that the shopper can add to their collection.
What we love about this campaign
A 'how-to' guide for applying the cuffs adds a personal and practical touch for first-time buyers to become accustomed with the signature piece.
The follow-up automated email with lifestyle hero images, a great way to encourage a speedy follow-up purchase and highlight your product range
Browse abandonment campaign (with a cross-channel twist)
Astrid and Miyu wanted to engage with shoppers who had browsed items but not purchased them and weren't engaging with their emails. The brand decided to go cross-channel, using Ometria's social custom audience targeting to serve up Instagram ads to disengaged recipients, nudging them back towards purchasing and to their inboxes.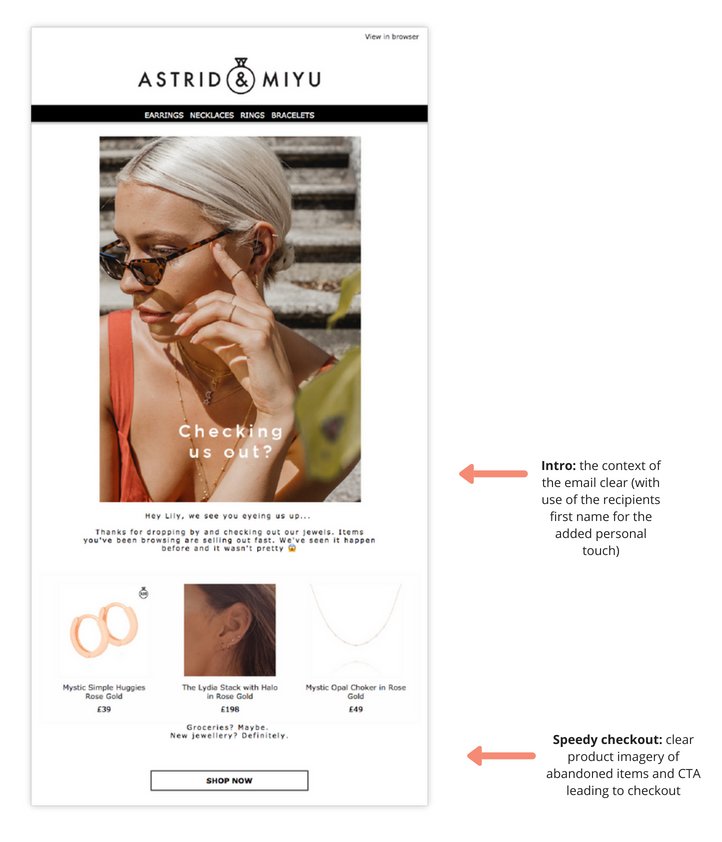 What we love about this campaign
First email
Clearly signposted incentive of free delivery and showcasing other items in the other collections
Highlighting the individual item browsed with the unique coupon code to encourage purchase with a clear CTA
Second email
Highlighting the individual item browsed with the unique coupon code to encourage purchase with a clear CTA
Summary 
These are just a few of the campaigns that can be used to create memorable marketing experiences throughout the customer lifecycle. Read our Advanced Guide to Automation to learn the essential campaigns every retail marketer should be sending.