If you're a retail marketer, when it comes to Valentine's Day, you're in one of two camps. The first camp includes florists, jewelers, chocolatiers or other gift categories where Valentine's Day is a central pillar of your campaign calendar. 
The second camp includes just about everyone else. Maybe Valentine's Day is not an obvious fit with your brand and perhaps you're worried about being lost in the noise when you push a campaign out.
What unites both camps is the need to be relevant to your customers, while also being relevant to the day itself. So what makes a good Valentine's Day campaign? Let's take a look at a couple of examples that you can take inspiration from, whatever camp you're in. 
Offer up a discount
If you are in the first camp where Valentine's Day is a big deal, then discounting can be an obvious way of acquiring new customers who may be discovering you for the first time. That's certainly what jewelry brand 77 Diamonds are doing with an introductory message to new subscribers. 
Adapting your automated emails to welcome new subscribers in early February with a relevant message to the time of year – in this case reaching out to new customers who most likely will be looking for jewelry for their significant other – is a great way to capture a new audience, and the discount could just seal the deal. 
It's difficult to offer too much further personalization with just an email address (though as it happens, I am in the market for an engagement ring. Don't worry, she knows!), but this is an ideal opportunity to offer something relevant to a customer's previous purchases or viewing habits. For example, if a customer had bought an engagement ring last year, offering a complementary ring or necklace would be a smart move. 

Offer social proof for the discerning consumer
For some people, Valentine's Day gift buying is a high-stakes game akin to poker. Only rather than gambling with money, you're gambling with emotions: both yours and the object of your affections. Get it right, and the results could be wonderful. Get it wrong, and all hell could break loose.
As a brand, offering social proof from previous gift-givers about a great gift for the occasion can take some of the heat out of the decision. That's exactly what Hotel Chocolat has done, offering quotes from previous customers delighted with their heart-shaped chocolate box from previous years. Turning those quotes into an animated gif makes the message all the more compelling.

Urgency and don't panic messages
Nothing focuses the mind more than a deadline. Reminding your customers of the last day they can order a meaningful gift online is an important service you can provide to ensure they are not disappointed. 
Given the current disruption caused by the global pandemic, it is important to plan enough time for delivery. This is even more relevant in the UK with further supply chain disruptions caused by Brexit teething issues.
To remind their customers to get their Valentine's gifts sorted in time, Biscuiteers sent an email about the upcoming shipping deadline, while advertising their range of Valentine's products.
Further, if customers don't see the email until after the shipping deadline, Biscuiteers includes a reminder about in-store pickup, offering a truly multi-channel experience.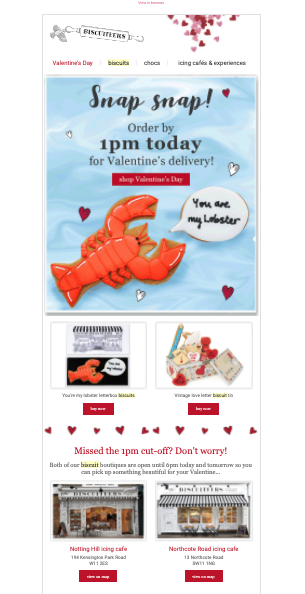 Spread the love – go beyond the traditional meanings of Valentine's Day
Valentine's Day doesn't have to be all about romantic love, but can be a celebration of all kinds of love. In Finland, for example, February 14 is known as Friendship Day and is a celebration of friendship. For some, family love is the order of the day with gifts given between siblings or from parents to their children. And, of course, who can forget the rise of Galentine's Day, made popular by the TV show Parks and Recreation. 
Expanding on this idea, stationery brand Papier created a great campaign called the "A-Z of love," with a range of gifts for, and related to, Valentine's Day. Including "U is for Us" for photo gifts, as well as of course G for Galentine's. 
Recognizing that Valentine's Day has more than just one meaning allows Papier to include more of their customers in their campaign and provides a great Valentine's experience for everyone.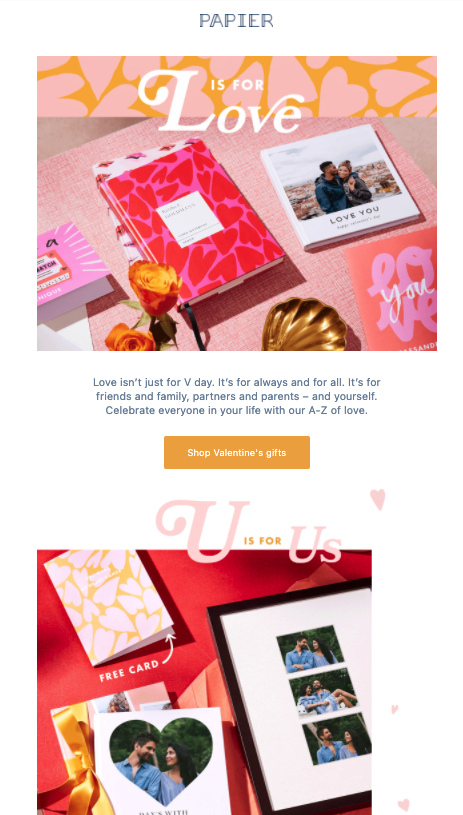 Cath Kidston has done something similar, in this case celebrating the love parents have for their children with a set of "Lovebug" gifts, enabling them to reach a wider audience. Connecting product ranges with customer data allows brands to understand what messages are going to land with different customer segments, and to act accordingly.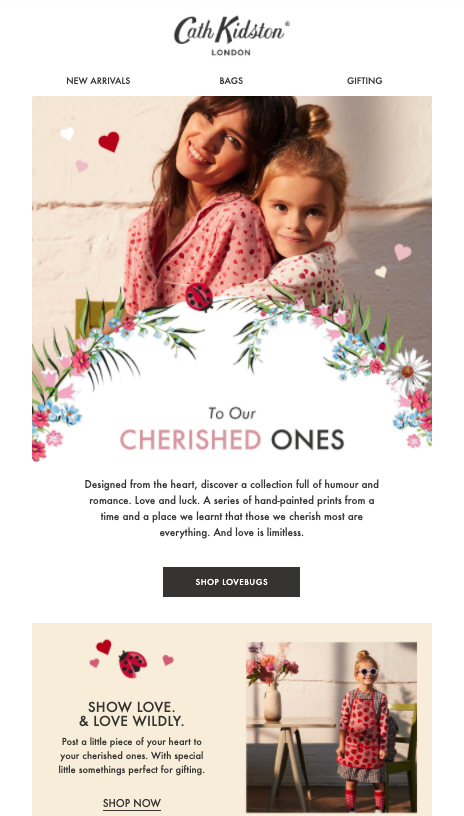 As an alternative that feels particularly appropriate for 2021, you can even command customers to love themselves this Valentine's Day, as Rockett St George did. This email has the subject line "Love Yourself, Your Home & Your Partner," and if you can segment your customers' recent shopping habits you could play around with which order you send to which customers, making a more relevant shopping experience. 

Choose love – involve charity
Well-being gifts are an important category at Valentine's Day, especially in the current global situation. In addition to indulging ourselves and those close to us, it's also important to help others and allow them a little bit of self-love.
Neom, the well-being brand, let their customers know that for every product sold, a portion of the money goes to a mental health charity. As well as featuring great skincare and perfume products that allow customers to look after themselves, they also have the opportunity to look after others with this unique Valentine's charity pledge.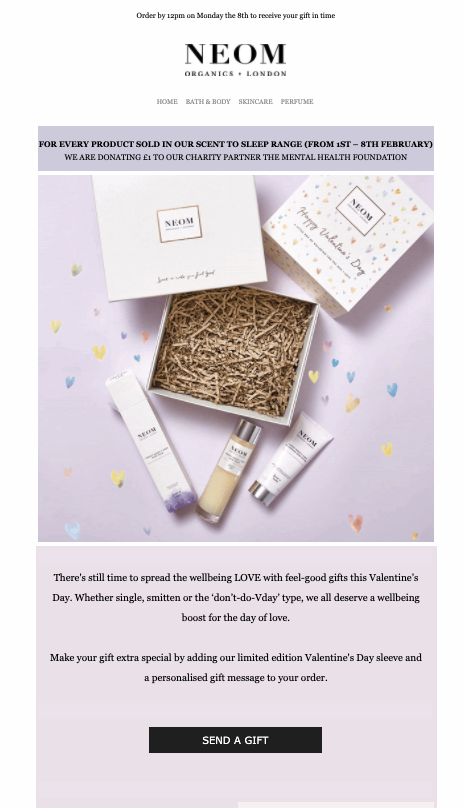 Our top tips for Valentine's Day
If Valentine's Day is a big deal on your calendar, this is your chance to shine. Whether it's alerting customers to your Valentine's Day range, offering them a special discount or giving them a chance to make people's lives better.
If it's not an obvious fit for your brand, there are still plenty of ways that you can capitalize on this time of year, and being creative can allow you to still be relevant to your customers. 
Whatever you do, make sure that you are focused on providing a highly-relevant and engaging offer that fits with your customers' expectations. 
All of the brands featured use Ometria to power their campaigns and help them create marketing experiences that their customers love. To find out more about how we can help you do the same, book a demo here.