Premium cycling brand Sigma Sports wanted to learn more about its returning customers to be able to provide an online experience that felt both well-thought out and personal.
Catering to triathletes, road cyclists, mountain bikers and enthusiasts alike, the cycling brand was struggling to collate its data – which was housed across multiple platforms – to both cement its growing brand identity and serve experiences that felt tailored to the needs of its shoppers.
Sigma Sports identified that having unified data as the foundation of their email and cross channel campaigns would be essential to truly innovating the way it communicated with its shoppers. This meant a step away from isolated batch-and-blast email tactics and a clear and data-led automated customer lifecycle campaign, starting from the very first welcome email. Calling upon Ometria, the brand is now able to have in-depth insight about its customers, learn their habits and behaviours and alter content to match and exceed expectations of a customer-focused online experience.
Returning customers, depending on their interests, received specific product recommendations; this was displayed using dynamic content lifestyle images which changed to suit the recipient. This worked to strengthen not only the relevance of the content to the customer, but the brand story and their alignment with Sigma Sports.
This added advanced touch worked to encourage loyalty amongst shoppers who were given an experience that reflected their tastes, interests and shopping habits. Sigma Sports also further segmented its campaign based on gender to ensure that all email marketing was hyper-personalised; male and female triathlete customers, for example, regardless of similar interest would receive marketing that reflects their specific online needs.
This blog will showcase two examples of Sigma Sports' innovative retention campaigns. To read the brand case study, click here.
Broadcast campaigns
When you think of broadcast campaigns, the thought is usually of a mass email sent to the majority of your contacts. Sigma Sports wanted to reach out to it customers on a large scale but not lose the single-customer focus of its previous campaigns.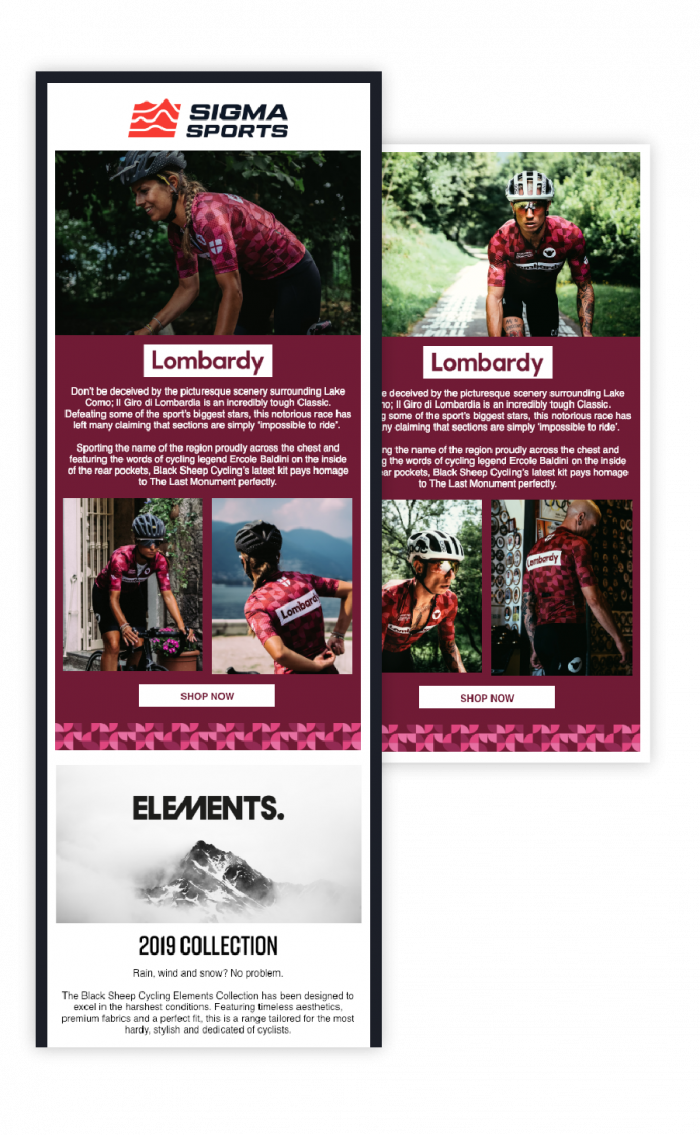 What we love about this campaign
Dynamic content has been used to personalise the newsletters based on gender, with little manual work required from the in-house marketing team. This addition makes the broadcast specific and relevant despite being sent out to various customers.
Incentives sent to specific customers groups – with offers that correspond with their spending habits – to encourage purchase and improve the online customer experience.
Cross-channel
With social media being favoured by over 40% of consumers as their primary form of preferred contact, it's imperative to diversify the capabilities of your campaign beyond email – and have a tool that can help you be channel agnostic – matching the preferences of your wide range of shoppers. Sigma Sports wanted to engage with returning customers who were not as responsive to emails and took its campaign to social media.
What we love about this campaign
The use of segmentation to target lapsed and 'at risk' shoppers using the Facebook audience features, with a clear incentive (the mid-season sale) to encourage purchase
Sigma Sports have consistent and clear branding, which is especially relevant on social platforms like Instagram – which both showcases the brand story and highlights the products available
For more stats and examples read the Sigma Sports case study here.