Lucrative, reliable and likely to recommend you to their mates, we all know how sacred loyal customers are.
… But do we know how important it is to recognise and reward them?
Because, according to Ometria's Consumer Census, the number one way for a retailer to make a customer feel understood is to reward them for their loyalty.
Fortunately, there are plenty of simple and cost-effective ways for today's retail marketers to do just that—three of which we explore below.
N.b. Although we cover loyalty programmes and how to market them, we also explore tips and tricks for brands that don't have a programme.
1) Loyalty programme marketing
Let's start with a classic: the loyalty programme—a retention marketing favourite based on the tried and tested belief that rewarding loyal customers makes them more likely to stay engaged.
Points or tier-based, inclusive or exclusive, there are so many different versions out there today; no one loyalty programme will look the same.
One thing's for sure, though: they have a lot of potential. According to a Nielsen survey, 84% of consumers are more likely to choose a retailer that has a loyalty programme.
As well as running a scheme in the first place, retailers can demonstrate to their best customers that they appreciate their loyalty by sending programme-related emails.
This could be achieved via:
A dedicated broadcast email that reminds a member of, let's say, how many points they have accrued, or any discounts they're currently eligible for. This is something Holland and Barrett does nicely in the email below:
Incorporating loyalty-related information into newsletters and automated emails using dynamic content. Sephora does this by reminding the recipient of the below newsletter how many points they currently have: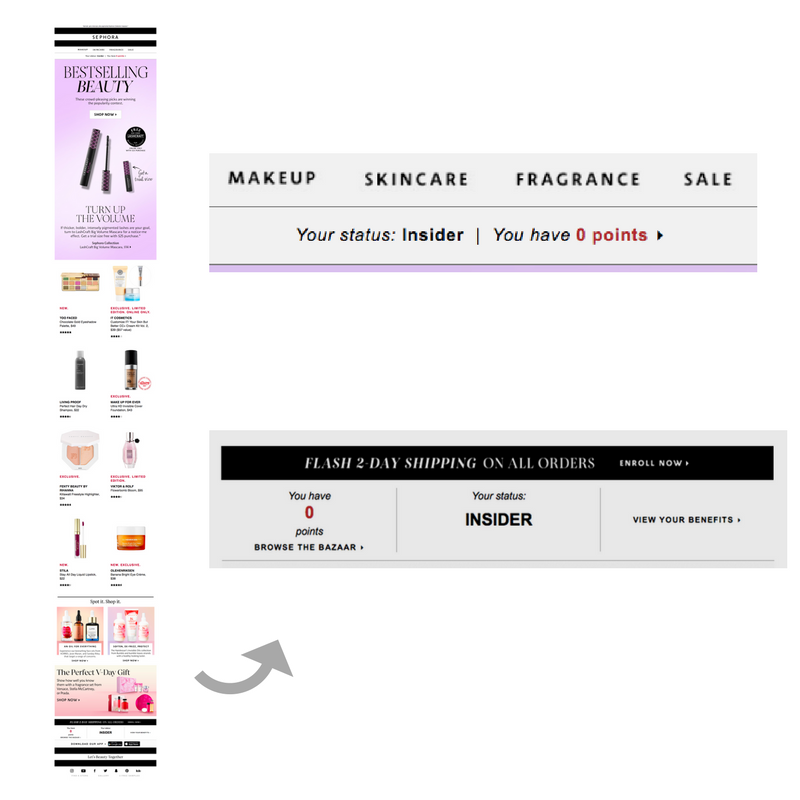 Available online and offline, loyalty programmes not only give retailers the chance to recognise customer loyalty, but, also, learn more about their best customers and in-turn send more relevant, bespoke marketing messages.
2) Customer journey marketing and personalisation 
If you have loyal customers that haven't joined your loyalty programme (perhaps because you don't even have one), there are plenty of other ways you can recognise their commitment to your brand.
How? By using customer journey marketing (aka customer lifecycle marketing/ CLM). 
As you probably already know, this refers to an approach to marketing that takes into consideration where a customer is in their journey with your brand (i.e. are they brand new, at risk of lapsing or VIP?). 
Customer journey marketing can only be achieved by having a single customer view (SCV)—in other words, a single place where all of a customer's data points are processed and centralised. 
Using the SCV, marketers can incorporate the loyalty status of a recipient into pretty much any email—broadcast or automated. 
For example, this could mean:
Vs


    N.b. Money-off-style offers aren't the optimal type of offer for VIP customers because they're likely to spend full price anyway. Consequently, it's better to offer perks that offer something a bit different, such as access to a sale, an invite to a private event or free next-day delivery. 
Vs
3) A quick note on cross-channel 
Personalising your marketing messages by loyalty status can also be achieved via the rest of your marketing channels, namely social media and direct mail.
Below is a sponsored Facebook post from ASOS, which recognises that the recipient is a loyal shopper who has signed up for premium next-day delivery: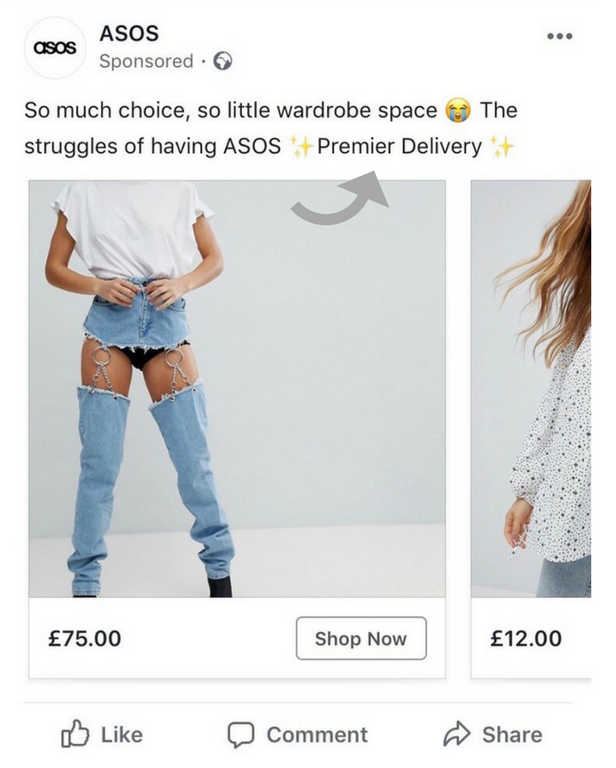 (P.s. Sorry about the crotchless jeans, they are a whole other story.)
So, the best way to recognise loyalty?
Personalisation.
All of the above points arrive at the same conclusion: by treating each and every loyal customer as an individual (and not just an email address on your list), you are recognising their loyalty to your brand.
Ultimately, by contacting customers on the right channel at the right time with the right message, you're showing you've taken note of who they are, what they want and how invested in they are in you.
Whether it's send-time optimisation, a handwritten Valentine's card or personalised copy, it's all about demonstrating the fact that you know who your best customers are and care about them.