Although not new to any savvy retail marketer, welcome emails are a vital part of lifecycle marketing – they set the tone of the interactions you have with your new subscriber and whether you're a brand they're excited to spend with.
As customers have more options to choose from, their inboxes swell with emails from retailers wanting to make sure they become a loyal customer. This means your first initial email is a deciding factor. Taking your welcome campaign to the next level is no longer an option – it's a necessity.
So, how can you ensure you are efficiently crafting truly personal and innovative campaigns on a, sometimes, pretty large scale?
The case for deeply personalised customer journey marketing
Making something as public as a welcome email feel personal can seem like a challenge; especially as they are being sent to new subscribers who may be yet to have shared enough about themselves for you to gain a huge amount of insight for personalisation. But with nearly 75% of customers expecting one, it is essential to get it right.
Every time a customer receives a marketing message they're not interested in, they lose a bit of respect for that brand, they are a little less likely to open their next message and are less likely to click through on the next offer, even if it is more relevant to their needs.
This means that the best way to ensure you are creating marketing material that hits home, you should start as you mean to go on – with a clear welcome strategy that prioritises the customer's experience and cements you as a brand favourite.
Common hurdles to creating welcome campaigns customers want to receive: 
Creating a welcome experience that it truly personalised is reliant on a combination of lots of different types of customer data – when they signed up to the newsletter, whether they opted-in online or in-store, any demographic data (such as gender or specific interests), their browsing/purchasing history with you (to name a few). Being able to bring these different types of data together to create a super-personalised first impression (that really makes customers feel like you 'get' them) may seem like a tall order, especially if your data is housed in silos.
The ability to set up and test campaigns can become difficult to implement if you're reliant on an agency or in-house team to build or make alterations. Without the freedom to tweak campaigns and optimise the most impactful changes, marketers are limited in their innovation – which can mean an inability to refresh current campaigns.
It can feel hard to personalise welcome experiences efficiently without a lot of manual work,  like creating multiple templates, but by using advanced tactics – such as dynamic content – you are able to create tailored experiences that change according to your segmented workflows.
Why welcome emails are essential
Although the name seems pretty self-explanatory, welcome emails perform a number of important functions (on top of being a friendly 'hello there!'):
Securing that all-important first purchase: it's important to harness a subscriber's initial enthusiasm for your brand before something else grabs their attention – including a strong 'shop now' call to action can help win a first purchase.
Setting subscriber expectations: Letting subscribers know how often you're going to be in contact will help reduce the chance of new prospects hitting unsubscribe and you losing them forever. Outline the kinds of emails you'll be sending subscribers, and how often.
Encouraging subscribers to connect on other channels: you can only send a certain number of emails before you start to seriously annoy subscribers – encouraging them to connect with you on other channels (most notably social) helps you market to them in a more holistic way.
Make a strong first impression: achieving subscriber 'buy in' to your brand story early on in the relationships is likely to keep them engaged and opening your emails.

Getting the basics right 
We've established that customer lifecycle marketing is all about planning campaigns that catch customers with the right message at the right time. The remainder of this blog post will be dedicated to offering some best practice advice about how to plan a welcome email strategy, when to send welcome emails, and what the contents of these emails should be. So before you start thinking about when and what to send new subscribers, it's important to get a broader welcome campaign strategy in place.
Things to do: 
Prioritise the key actions you want new subscribers to take
This is likely to be more than one! Here are some examples:
'Shop now!'
'Here's what to expect from our emails.'
'Follow our social accounts.'
'Learn about our brand story.'
'Use this coupon code or offer.'
'Update your subscription preferences' and/or 'Personalise the content you want to receive.'
'Whitelist our email address.'
'Read our latest piece of content.'
Instead of cramming too many calls to action in a single email, it may be worth splitting them up across multiple emails.
Decide on your campaign structure – single email vs welcome campaign 
It's important to create a coherent story with your welcome email(s). Decide how you can arrange your emails in a way that prioritises important calls to action (e.g. 'shop now!') over secondary ones (e.g. 'read our latest blog post') and makes sense to recipients.
In order to avoid information overload, many online retailers find it valuable to create a series of welcome emails rather than trying to cram everything into one message, as this enables them to control the delivery of key messages.
Consider creating context-sensitive versions of your welcome email campaign
There's often more than one way of making it onto an online retailer's mailing list – entering a competition, making a purchase, subscribing to newsletter updates, for example – and the messages that you convey to each of these groups may be different. This may look like:
– New newsletter subscribers (who have never received emails from you before and are likely to have limited exposure to your brand)
– First-time purchasers (who have never received emails from you prior to their purchase)
– First-time purchasers, who were already on your email list (and have already received your newsletter signup welcome series)
Create a smooth transition into your regular newsletters
Many retailers find it beneficial to only start sending subscribers these broadcast emails once they've completed the entire welcome series (though some choose to still send through major promotional emails during this period). Either way, don't leave too much of a gap between the final welcome email and the first newsletter that they receive.
Send your first email the second someone signs up
You want to engage with customers while their interest is high, this means making sure that your welcome emails are set up to be sent as soon as someone subscribes.
Make sure they know who is sending them
If you're looking to get new subscribers engaging with your first email, using the sender name 'no-reply' or 'Customer Service' is a sure route to low open rates. A surprising number of brands forget to identify themselves when they first make contact with a new subscriber – whether it's in the sender name or subject line.
Advanced tactics 
You may have the basics in place but as customer expectations about the experiences brands offer them grow, it's important to think beyond the basics: this next section will explore the ways you can advance your welcome campaigns.
Things to do:
Personalise the contents to suit the recipient
As we mentioned above, personalising the contents of the email to match what you know about the recipient is a sure-fire way of increasing the conversion rates on your campaigns. And while it may seem like a lot of resource, the results speak for themselves (read how Sigma Sports increased the conversion rate on their welcome series to 8% in our case study). Personalisation doesn't have to be resource-intensive (especially for automated campaigns, which tick along generating revenue for you in the background):
Just starting out – consider segmenting your campaign by demographic data, such as gender / geography / interests. You might want to create tailored hero images to make the first impression most relevant (see the Sigma Sports example below). Personalised product recommendations (that are tailored to the items your new subscriber has been browsing) are another relatively simple way of creating a more relevant experience.
Personalisation pro – consider segmenting your campaign in further ways (perhaps drawing upon dynamic content to help you out, instead of creating many different templates). You may also want to consider segmenting based on the source of the signup (for example, if they signed up in-store, changing the copy to say 'Thanks for visiting our Oxford Street store') or whether they've joined your mailing list as the result of a first purchase (e.g. 'thanks for making your first purchase – and welcome to the club').
Set up smart email workflows
Creating campaigns that are reactive to recipient behaviour is important if you want your emails to be relevant to individual customers. A simple example might be turning off a welcome series that revolves around the recipient using a promo code. If they make a purchase, make sure they don't receive any emails reminding them to claim their discount.
A more complex example might be creating a workflow that reacts to whether a new subscriber opens or clicks through from the first email, and what content in the email they engage with.
Take your campaigns cross channel 
Don't just limit your engagement to email. With 42% of consumers preferring to be contacted via social media, your welcome email can campaign can also extend itself to custom audiences like Facebook and Instagram. By syncing your new subscribers customer segment with social media, you can target them with ads, that may have an incentive, such as a discount off on a first purchase alongside a welcome message.
Because these ads tend to be more costly than sending an email, it's worth being smart about the way you set your campaign up – only targeting those who aren't engaging with your welcome emails, for example – to make your campaigns cost effective.
Advanced welcome emails in action: Sigma Sports 
Sigma Sports, the premium bike retailer wanted to create a memorable experience for its newest subscribers. As the brand caters to customers of varying levels and cycling interest a generic welcome email would fail to appeal to all recipients.
By personalising the welcome emails based on the gender and specific interests of the subscriber (whether road cycling, mountain biking or triathlon) Sigma Sports is able to create a truly tailored experience for the recipient – aligning them more with the brand and increasing the likelihood of them making a purchase.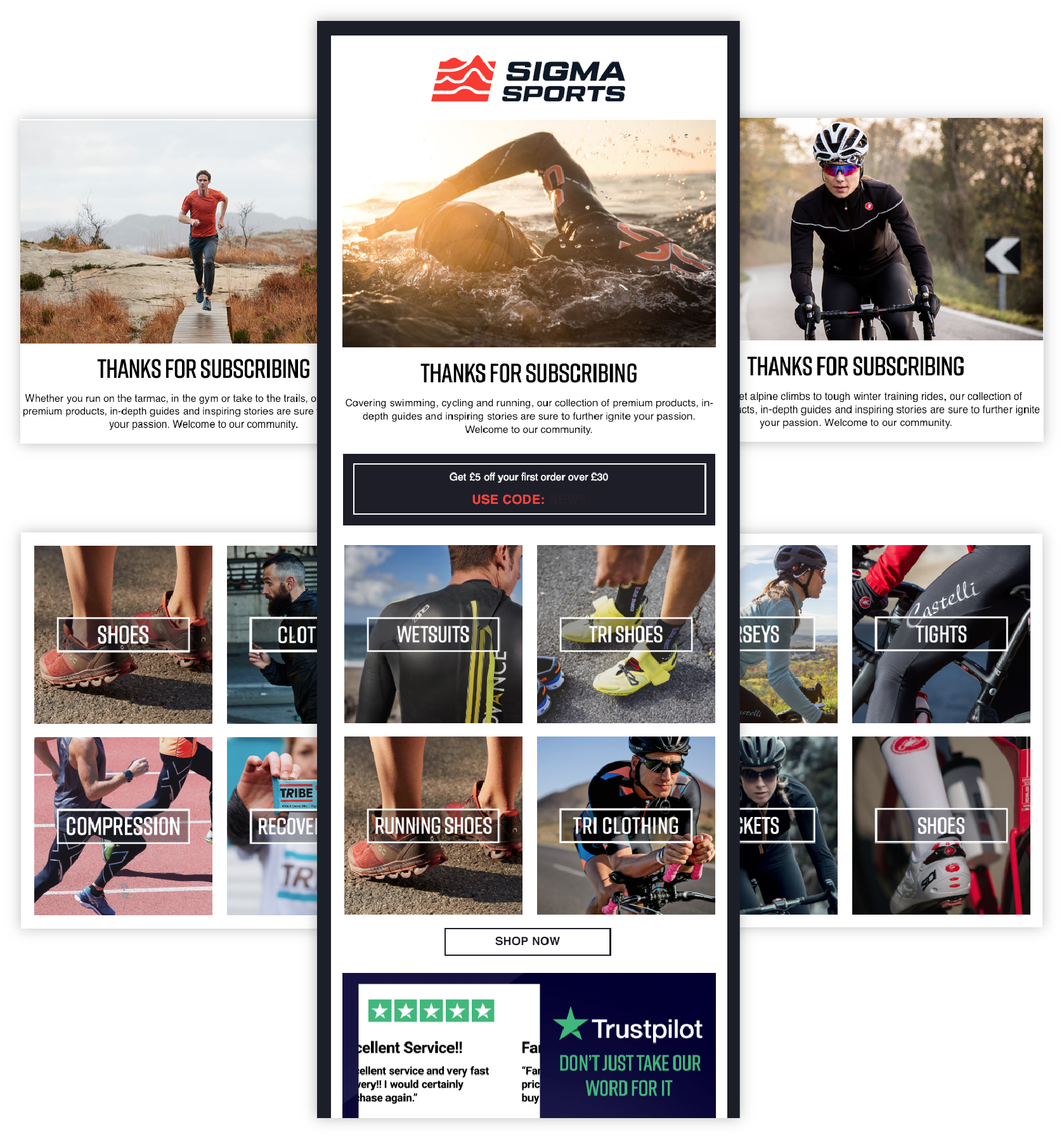 What we love about this campaign: 
Brand images that match the tastes and gender of the subscriber, making the newsletter more specific and personal
Product recommendations change based on the interest and gender of the recipient
A clearly signposted incentive encouraging customers to explore the displayed products and make a discounted purchase
Consistent branding with a strong brand story that customers will grow to recognise, as well as highlighting the quality of the products overall using lifestyle images.
Including third party reviews for extra social proof to kick off the relationship.
Conclusion  
Welcome emails may not be groundbreaking but they are the foundation of a strong lifecycle marketing campaign. This is the opportunity to cement yourself as a brand favourite and deep-dive to provide a personalised experience to a traditionally generic email. With 75% of consumers feeling misunderstood by retailers, this email serves as the beginning of understanding and relating to your customers in a way that feels advanced and purposeful.