As a retail marketer you want to provide your customers with "great" experiences. This much is obvious,but lies behind amazing customer experiences?  We spoke to 4,000 consumers about their expectations, likes and dislikes in our latest piece of research, which you can download from the Ometria Academy. Here are the top 3 takeaways.
Less is more: A great experience may come from them hearing less from us
When we spoke with consumers about their biggest annoyances, at the top was, "Too many emails", with 74% of customers noting it as annoying. And it doesn't stop here.
As noted in his 'Making Time' keynote at Lifecycle19, our CEO Ivan Mazour says consumers spend a significant amount of time on their phones, the equivalent of 24 hours a week, which means they are being bombarded with notifications and marketing messages.
The worrying impact of this is highlighted in the number of consumers (70%) saying they regularly feel overwhelmed with emails from retailers, and young people especially (46%), who say that overwhelm spills over into their everyday lives, affecting their wellbeing and stress levels.
This may sound counterintuitive, as many equate more emails with more revenue. But with a focus on creating great customer experiences, fewer but more relevant marketing messages is better.
Make each message count: tailored messaging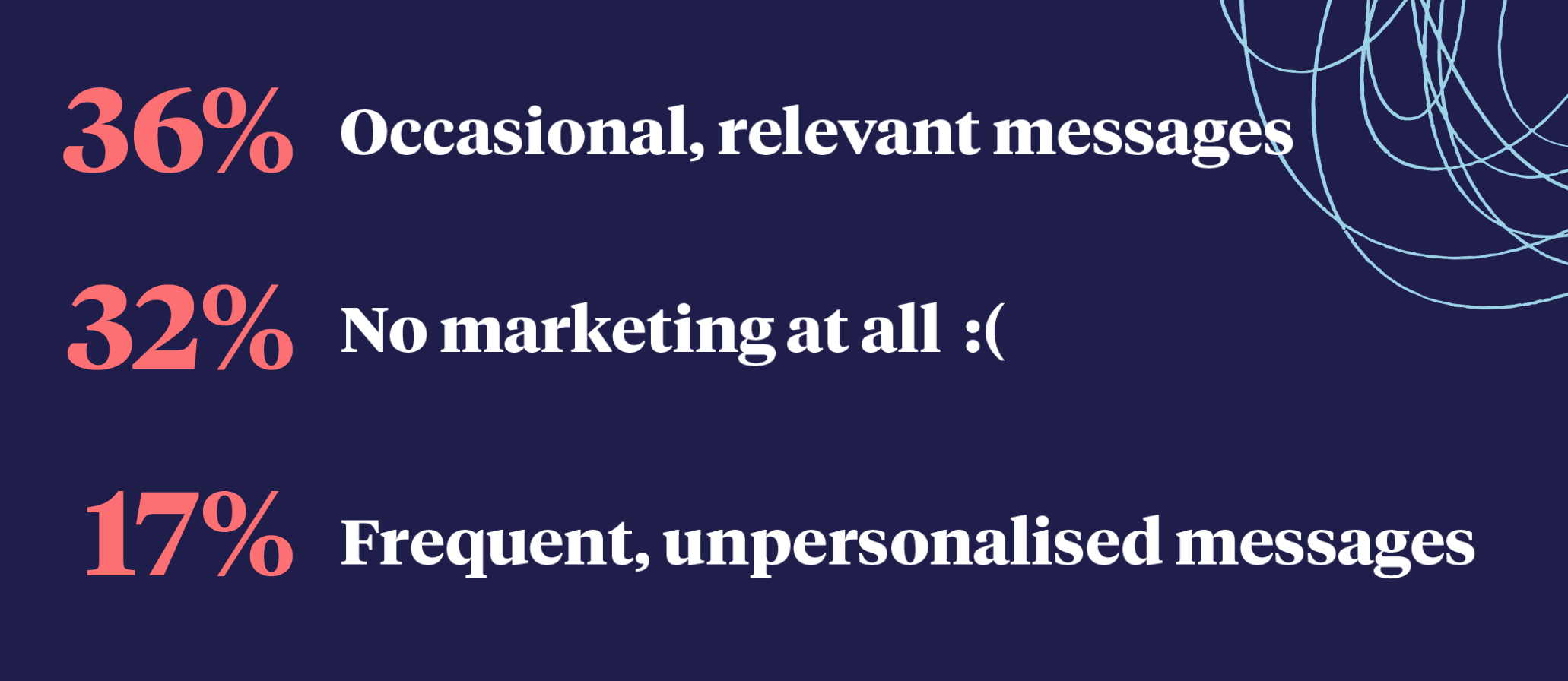 One interesting (if not slightly depressing) stat that came out of the census was that when asked about marketing message frequency and personalisation, consumers would rather receive no marketing at all from brands at all (32%) than frequent, unpersonalised emails (17%).
And fewer, personalised emails came out as the winner, but only just with 36%.
Which says that retailers still have to fight to demonstrate the value of why they're turning up in peoples' inboxes all the time.
So what do consumers want from retailers?
As retailers it's important to demonstrate the value of your messages in consumers' inboxes. Customers want to feel good when they receive emails from you. Some noted way to make sure they do are:
Recognising loyalty with promos and perks
Sending follow-up emails post-purchase
Personalised product recommendations
A key thing to remember is relevance, and this comes from knowing you customers; which is possible with a foundation in data and tools that provide actionable insight and learning from the numbers.
Customers are more accepting* of AI: Asterisk included.
Customers are feeling more wary about what's happening with their data. Given Netflix series like The Great Hack, GDPR breaches and political scandals, it's little surprise that 61% of consumers are feeling more nervous about how their data is used, compared with this time last year.
However, despite the high figure, customers are aware that AI means their messages are more tailored and therefore more relevant to them.
68% of consumers aren't uncomfortable with AI and young people being the least uncomfortable, given the accessibility to phones and many growing up with them.
This tells us that while consumers know that AI is essential to creating those "great" experiences, they want to be empowered to decide how much data you use to market to them and trust that the data they hand over to brands is being looked after.
So what does this all add up to?
Customer feeling seen, being valued and respected. Whether showcasing your appreciation for their loyalty or maintaining trust with their data, customers want to feel important to your overall brand and their individualism treated as priority. Read some of downloads to see how you can create experiences that your customers will love
For more stats, download a copy of our 2019 Consumer Census.