Five years ago, four friends—Pedro, Asi, Tal and David—put their heads together to figure out how they could create a perfectly personalised children's book using cutting-edge technology.
Combining code with copy, automation with imaginative illustration, the boys worked around the clock until they eventually had a (pretty awesome) finished product.
After launching as Lost My Name (named after their first picture book, The Little Boy Who Lost His Name), the four founders were met with instant success—an unprecedented number of copies were sold, followed by lots of positive feedback.
Fast forward to 2017 and the retailer, now called Wonderbly, has gone from being a fun passion project to an award-winning ecommerce business with customers dotted across the globe.
To find out how Wonderbly manages to simultaneously grow and retain its customer base, we caught up with its global CRM manager Becky Percival—whose main aim is to build a relationship with the company's customers to "keep them coming back".
From making the most of customer data to celebrating national events like World Book Day, here are six things we learned:
1) It all starts with customer data 
Wonderbly's products themselves are built around personalisation, so data really is key to its overall success.
"For us, it's about using the information available to make assumptions about (e.g.) the occasion a customer has bought for, or their relationship to that person, so we can show them relevant products in the future," she says.
Part of Becky's job as CRM manager is to gather and consolidate customer data, and then use that data to create different customer segments—each defined by their respective needs.  She then figures out the best time, channel and message to reach out to each segment and demonstrate how Wonderbly's products can fit those needs.
For example, Becky spends a lot of time thinking up and testing new campaigns to target groups according to the point they're at in the customer lifecycle, as well as monitoring any movement between customer groups.
"I stay really close to results and spend a lot of time testing; whether that's thinking of ways to personalise a product launch email based on what we know about a customer, or trying out new winback offers," she says, adding: "Anything to help work out which content resonates best with each customer so that we can be more relevant to them."
Data is also important for Wonderbly when the team are thinking up new products. "We want customers to love products as much as the last so we make an effort to gather quantitative and qualitative data to figure out which to launch," Becky explains. "This means we can make sure we're bringing out products our customers want, and that boosts their experience."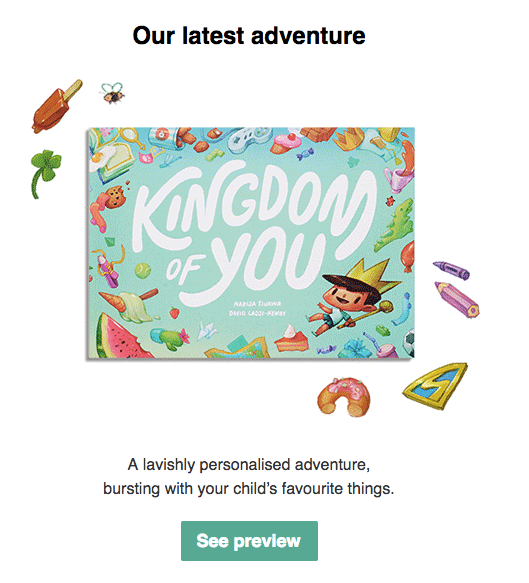 2) Cross-channel marketing is about finding the right channels, for the right customer
Wonderbly covers a lot of paid marketing channels, but from a CRM perspective, email is the favourite.
"It's still the least expensive," Becky says. "It's so easy to segment your customers, test and gain quick results, and use dynamic content so you can be really relevant on a 1:1 basis."
The most important thing, however, is to figure out the right channels to use for each customer.
"The key is to start with the customer, rather than the channel," she says. "You work out who they are, map out their journey and work out the desired behaviour at each point. Then the channels come after that; they become part of your strategy for that customer group, to help you achieve that desired behaviour."
In other words:
Start with the customer
Establish the message you want to give them
Figure out the best channel or sequence of channels to deliver that message
According to Becky, it's also important to build a channel hierarchy for each customer group or campaign. Becky offers the following example:
"You could have a lapsed high value segment, with 50/50 opt in and out. If channels are siloed, they might go after that group with varying tactics, and in the end you lose out on money as a whole. For opt ins, you could send an email incentivising repurchase, and re-target opt outs via syncing a list to Facebook.
"If after a few days your email group have not opened, add them to the Facebook list or send them a push notification. For the openers, send a reminder with a different angle."
3) Different teams, same goals
In order for the company's cross-channel strategy to really work, the different teams making up Wonderbly all have aligned goals.
"Having customer-level goals, rather than just individual channel targets, is really important," explains Becky. "Every channel wants a sale, but you have to work as a team and put the customer first."
For Becky, cross-team collaboration is all about communication, clarity, and automating as much as you can.
4) Always measure your results 
On the back of the above point, Becky advises testing the incrementality of each channel, so you can be extra clever about which you use and when.
She adds that it's worth keeping it it simple and trackable. "If you haven't got an attribution model yet, then consider it because it'll help you with accurate reporting," she says.
The team at Wonderbly sets up various tests to monitor the incrementality of each channel if they're using more than one for a particular campaign or group.
For retention marketing in general, the company focuses on: repeat purchase rate, the usual frequency and recency measure and customer health—so how many new customers they've acquired or won back versus how many are at risk of lapsing or have lapsed.
5) Find new sources of inspiration by speaking to people
… whether that's colleagues, other teams, customers or their kids.
"In the office we're surrounded by writers, creatives, and product creators and everyone talks to each other," Becky says.
"We have a culture of sharing, if you see an advert you like, or a piece of software you think looks interesting, you post it on slack and start a discussion."
6) Always find an angle that sits well with your brand 
Some of Wonderbly's best campaigns are those that are commercial but also genuinely interesting and helpful to customers.
For example, the brand ran a campaign supporting World Book Day recently which, according to Becky, "incentivised purchase but was supported with editorial content around inspiring children to conquer more books".
The company also delivered a 'National Space Day' campaign, promoting the book 'The Incredible Intergalactic Journey Home', which tells the story of a child's journey from space all the way back to their actual home address.
Want to learn more? ✏️
If you found this post useful, there will be a Wonderbly case study (looking specifically at the brand's lifecycle marketing) at this year's Lifecycle conference (17th October).
For the full lineup and ticket information, just click here.