Ecommerce marketers like yourselves have become accustomed to discussing cool ways to wish your subscriber base a happy birthday; but how often does conversation venture into the topic of shouting about your own, company-based milestones? 
In most cases, the answer is: hardly ever. But why is this?
Celebrating your brand's birthday is a brilliant opportunity to connect with your customers and say thank you for the part they've played in your journey so far.
… And do you know what else is great about anniversary emails?
They're straightforward to implement. All you need to do is set up a broadcast campaign using a customer marketing platform (like Ometria), and send to all of the contacts on your list that you think will be most interested (based on their interaction with your marketing messages in the past).
️ N.b. You can also factor anniversary messages into your automated campaigns, using a spot of dynamic content.
Below, we've listed five examples of brands already marketing their milestones—focusing on:
why we think they're worth celebrating
how they could be made even better
Subject: take 20% off any order (it's our birthday)

Why we're celebrating:
The short and sweet headline 'We're six!' immediately communicates the purpose of the email and generates excitement
By including the parenthesis '(we couldn't have done it without you)', Leif reminds a recipient that, without them, they would not be where they are today, and therefore automatically makes them feel part of the celebration
To mark their 6th year in style, the brand treats a recipient to a generous discount that can be used on 'any order'
This email could be taken up a notch by… 
Including dynamic product recommendations (i.e. product recommendations tailored to each recipient based on their purchase history, likes and dislikes), which can give time-starved recipients inspiration on how they can use their discount without having to do the browsing themselves
Changing the discount amount or type of incentive according to where a customer is in their journey with the brand. For example, a loyal customer who spends with you regularly might benefit more from free delivery for [x] weeks, whereas a new lead might just fancy a small discount and/or a freebie
Subject:
It's our birthday! Enjoy 4 days of AMAZING deals! 
Why we're celebrating:
To make the celebration feel extra special and unique, the campaign is designed in a way that specifically reflects a) how old the brand is and b) what it offers customers (i.e. 'free patterns')
A recipient is invited to sign into their account over the four days to view what's on offer, therefore making the celebration an interactive one that involves checking-in every day
The email template itself is structured in a way that hints at the treats on offer over the four day period, without revealing everything too soon
Clear and creative calls-to-action (CTAs) are used throughout—from 'Let's go!' to 'Sneak peek'—found further down the email when promoting its 'extra special surprise'

Subject: 10% off Mini! Because it's our birthday…
Why we're celebrating:
The design of the email is the perfect combination of artistic and cool, but also clear and simple. It shows off its design-conscious side via the cute GIFs, whilst still managing to keep the template easy to read and not too busy
The copy is conversational and warm, appealing directly to a recipient by asking 'where has the time gone?'
Clear CTAs are used to promote the different ranges, and the navigation bar at the bottom makes it easy for a recipient to find their way around the store
This email could be taken up a notch by… 
Using taste profiling to build a list of people most likely to be interested in childrenswear and only sending the message to them. This is likely to increase the level of engagement the email receives and show recipients you know what they're most interested in
Subject: A birthday treat from us to you!
Why we're celebrating:
The multilingual GIF in the header image (shown above the email template) reinforces the fact that this is a global celebration that unites all of Papier's customers
The design of the template is colourful, chic and consistent (all of Papier's emails are consistently on-brand, making them instantly recognisable)
By offering a recipient a discount, Papier invites all of its subscribers to join in on the birthday celebrations
The CTA to 'start shopping' is active and to-the-point, reminding a recipient that they only have until midnight to use the discount on offer
Subject: It's our 7th birthday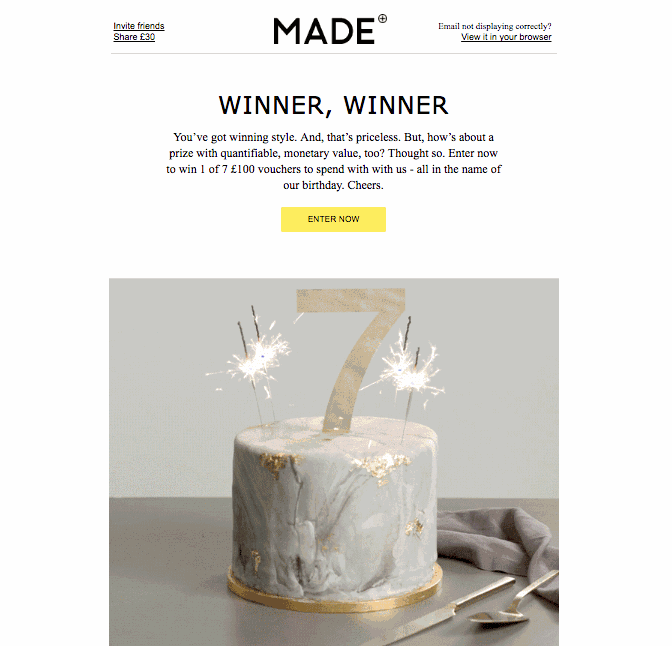 Why we're celebrating:
MADE opts for a slightly different approach with its anniversary campaign, running a competition for subscribers to win a voucher rather than offering a discount to everyone
The copy is animated and succinct, successfully creating a sense of excitement
The GIF reinforces the purpose of the email, which is to celebrate the brand's 7th birthday
This email could be taken up a notch by… 
Including a section underneath the GIF giving each recipient ideas on how they could spend a £100 voucher, with each suggestion based on their purchase history and behavioural data
To summarise  
Anniversary emails are an easy win, not matter how old your brand is, so we recommend implementing them pronto if you haven't already.
Easy to set up and applicable to pretty much everyone, they don't have to depend on having access to a wealth of subscriber data. That said, to take your anniversary emails up a notch, we always recommend tailoring your messages where possible.
To recap, ways you can personalise anniversary emails include:
Using simple demographic information (such as name, age, location) to make the messaging more relevant. For example, including a recipient's name in a hero image, or displaying the weather forecast for a recipient's country of residence and tailoring the messaging accordingly (e.g. 'We're celebrating on this bright sunny morning in LA!')
Looking at the timezone for each recipient to ensure your brand's birthday is celebrated at the right moment for each country (i.e. not sending a recipient in Los Angeles an excitable email at 2.36am…)
Using what you know about each recipient, such as their purchase history, likes and dislikes to dynamically recommend products they can use their discount on (e.g. handbags for the handbag shopper, or rucksacks for the explorers)
Using dynamic content to display unique offers and incentives for each recipient based on where they are in their journey with your brand (e.g. a loyal customer who spends on a regular basis may prefer free shipping for a month opposed to an [x]% off)
Featuring examples of customised products (if that's a service your brand offers). For example, recommending a scarf you think your recipient will like with their name stitched onto it