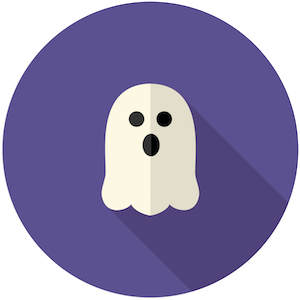 Halloween. The only time of year when it's possible to wear a zombie outfit to Waitrose (without raising too many eyebrows). To eat pumpkin pie and ghost shaped cookies whilst watching Hocus Pocus on repeat. To finally be able to fly a broomstick around your kitchen, pretending you're the seeker for Gryffindor – about to catch the golden snitch!
…anyway.
It's also a time of year when it's acceptable – in fact, positively encouraged – for all you marketers to take a trip to the dark side and release your inner Tim Burton with ghostly gifs, spooky Snapchats and eerie emails.
So, which brands rose to the challenge and managed to conjure up some magical marketing campaigns in 2016? We spent October 31st haunting email accounts, social media and ecommerce sites to find out.
Thirsty to hear more? Read on…
Hallowee-mail
Spell-binding subject lines
Who? Accessorize

Arguably the darkhorse of Halloween marketing, Accessorize took us by surprise with its super witty subject line: "Bow down, witches – it's 3 for 2 on Halloween!"
Referencing Beyonce's cult hit "Bow Down", it had us cackling with delight over in the marketing corner at Ometria HQ.
Winning at after- life, Accessorize, winning at after-life.
Who? Mara Hoffman

If there was a retail version of Beetlejuice's Lydia Deetz, we think it would be Mara Hoffman. Kick-ass attitude? Check. Kooky style? Check.
It's no wonder, then, that Mara Hoffman was one brand that really jumped out from the swamp of Halloween emails with its tongue-in-cheek subject line, referring to Halloween as "the most wonderful time of the year".
(In our opinion, Christmas will always champion Halloween, but we love the twist.)
Here are some more of our favourites
ASOS – 'No basic witches here…'
Jack Wills (they're on a roll!) – 'Look great, not ghastly this Halloween'
Missguided – 'Squad ghouls'
Evans – 'No tricks, just treats'
ModCloth – 'Ghouls just wanna have fun'
Devilishly good design
Who? Jack Wills
This was one of our favourite emails this Halloween, and it's easy to see why. From the eerie GIF to the awesome headline "If you've got it, haunt it", Jack Wills ticks all of the ecommerce marketing boxes and more with this email.
Extra points for the personalisation ("Jessie"), product recommendations and dangerously tempting offer "the more you spend, the more you save".
Who? Monki
Funky fashion brand Monki also went for a Halloween gif – although, as you can see, it's anything but gruesome (fangs have never looked so stylish!). We love the attention-grabbing, snappy caption, which cleverly draws a reader in, inviting them to scroll down and absorb the point of the email: a call-to-action (CTA) for subscribers to shop Monki's first Halloween dedicated category.
Who? ModCloth
Whilst this email is gif-less, we commend it for its snazzy and easy-to-read layout and pun-tastic copy. Bonus points for the clear and simple CTAs.
Content that gives you the chills
Who? Little Black Dress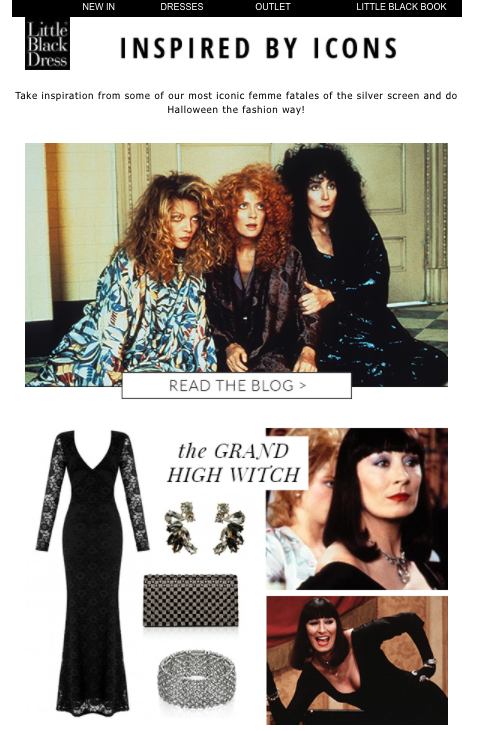 Always after a good read, we found ourselves bewitched by Little Black Dress' email "Inspired by icons", which linked to a more detailed blog post on how to do Halloween "the fashion way".
From Witches of Eastwick to legendary Morticia Addams, the post takes a look at some of the best dressed witches in film whilst offering readers advice on how to emulate the look.
To have a read for yourselves, click here.
Who? M&S
Unearthing its digital wizardry, M&S created a series of short videos for online this Halloween, including this corker – spotted on Instagram.
In short, Colin the Caterpillar – but not as you know him.
Similar to Little Black Dress' email mentioned above, the video is part of a longer blog post – found on the retail giant's website – which offers actionable ways on how to pimp Colin out this Halloween.
Check out the post here.
Who? Topshop
Another retailer to have nailed content marketing this Halloween was Topshop. The brand published three make-up tutorials on its website: "Victoriana goth", "Intergalactic" and "Full fright night". As well as the how-to clips, the brand also provided advice on what to wear with a reader's chosen look, and tips on the sort of event each look was suitable for.
Who? Lost My Name
You can always rely on independent publishing business Lost My Name to deliver the goods when it comes to celebrating big dates in the calendar. This year, the company produced a special edition of Blinkies – aka the app that "brings Halloween drawings to life".
As the tagline suggests,  the app works by drawing "something spooky on paper", "play a Blinkies animation on your phone" and "slide it under the paper".
Supernatural social
Who: M&Ms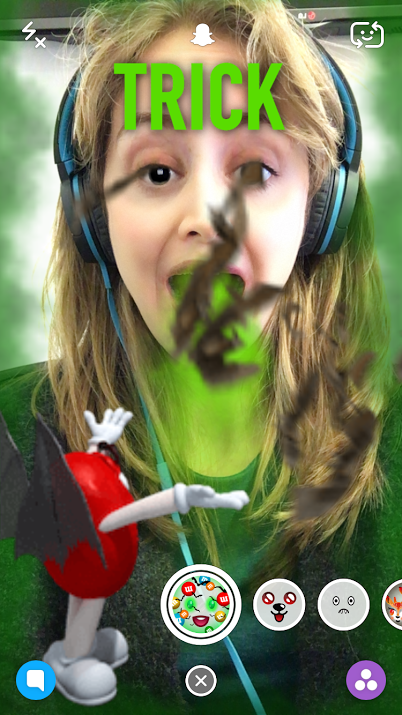 Those developers over at Snapchat having been working their magic this Halloween, offering users new things to try out every day.
Thanks to Snapchat, last week saw the marketing team at Ometria moonlighting as an evil dog, the grim reaper and a bat.
Above is a screengrab from M&Ms "Trick or Treat" sponsored lens, which was available to use on the 31st itself.
Who? Happy Socks
Whilst the competition was definitely tough on Instagram this Halloween, one retailer that really stood out for us was Happy Socks.
In keeping with its usual clean, chic and minimalistic style, the brand published a series of enchanting pictures featuring pumpkins, black cats and – of course – socks.
Many of the account's pictures are user generated, making the posts all the more interesting.
Who? ASOS
If, like this year, Halloween takes place on a Monday, it's worth bearing in mind that any really big campaign will be pushed out during the weekend. Consequently, by the 31st itself, Halloween references may have started to grow tiresome.
However, in this situation, you can take a leaf from ASOS' book and continue to make Halloween references on social media, but in a more subtle way.
We love how ASOS embelleshed its Facebook retargeting in the example above with a Halloween message, as well as promoting its frightfully good offer.
The secret potion | 
So, what does one throw into the cauldron to create a the perfect marketing campaign for Halloween?
1) Plenty of time
If you look at the above examples, the majority of them have clearly  been carefully planned, curated and published to reach consumers at the perfect time. For example, those promoting costumes publishes their campaigns early enough to give people time to buy online and receive the delivery, where as the more fun, spontaneous posts were shared on Halloween itself.
2) A sprinkle of Hallowen puns
Trawl through gothic literature, classic horror films, legendary plays and famous folklore to find the best Halloween references you can use in your email subject line, copy or blog posts. As shown in Accessorize's example, more modern references also work a treat.
3) A pinch of hair-raising design
The 31st October is all about crossing the line; venturing into the unknown. Be brave and set yourself the challenge of creating a cool gif, short how-to video (for example, if you're a homeware brand, how to create a cat-themed jack-o-lantern) or sponsored lens for your brand's social.
4) A drop of brand identity
Even though it's Halloween and you're allowed to stray from your usual ecommerce marketing, it's important to stay true to your brand and always keep in mind your tone of voice and product offering.
The key is to stand out from the crowd but still be easily recognisable so that your brand is remembered, not just your campaign.