Following the news that ecommerce powerhouse ASOS may soon have a bigger market value than British centenarian Marks & Spencer, we decided it was time to take a closer look at what the two retailers are up to with their email marketing.
Here are four things we found.
1) Both M&S and ASOS are using some form of lifecycle marketing
Lifecycle marketing is an approach to marketing that focuses on where a customer is in their journey with your brand, and tailoring messages accordingly.
You can remind yourself of the different stages of the customer lifecycle here, but for now let's focus on "leads": those who've signed up to your newsletter, but are yet to make a purchase.
There are many ways marketers can go about encouraging leads to become active customers, the most obvious of which being the welcome series.
After signing up to M&S, we received the following email.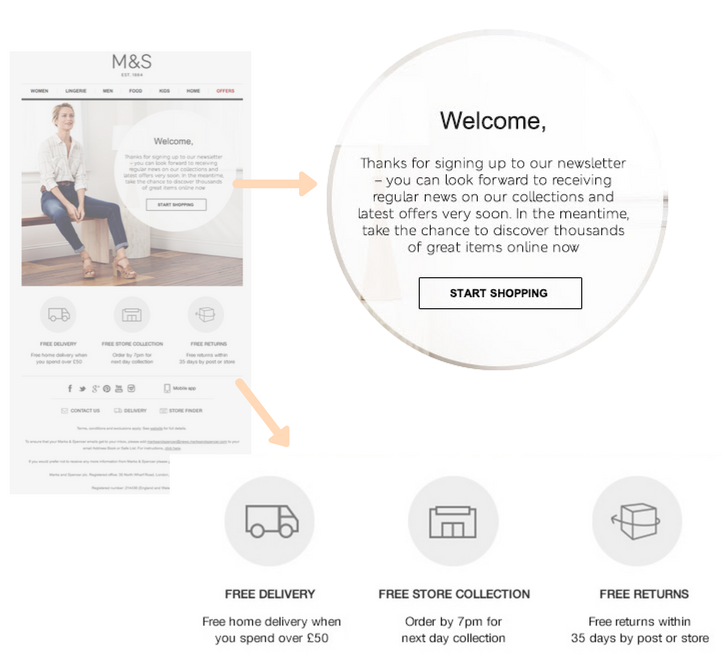 As you can see, this is a solid welcome message that:
thanks a recipient for signing up
reaffirms what they can expect from the M&S newsletter
includes a CTA to encourage the recipient to make a first purchase
clearly lists the benefits of shopping with M&S
ASOS's welcome email, on the other hand, has a slightly more informal approach, kicking off with a salutation any fan of Ryan Gosling memes will know well: "Hey Girl…"
As a welcome email, this works because it:
adopts a cool, friendly and excitable tone (likely to resonate with ASOS's target demographic of stylish twenty-somethings)
includes a strong CTA ("Explore ASOS")
lists the perks of shopping with ASOS
promote its "ASOS A-List" loyalty scheme (but more on this in the next point)
N.b. The discount dilemma: Often, welcome emails will include discounts. Whether or not you choose to do so for your brand's welcome email will depend on the type of brand you are (as well as your target audience). 
Some retailers choose not to include a discount in their very first email, but do send one down the line. Others (usually luxury brands), choose not to offer a discount at all, as they don't want to devalue their product and are confident it won't make a huge difference to conversion rate anyway.
2) M&S and ASOS both have stellar loyalty programmes, with M&S even using geolocation data  
Next up is loyalty programmes: something both M&S and ASOS rock at.
The M&S Sparks loyalty card provides "tailor-made offers", "exciting money-can't-buy events and experiences", "priority access to M&S seasonal previews" and… wonderfully bespoke emails. 
Here are a two examples, sent to seasoned M&S shopper Hannah:
a) An email personalised by food taste
Subject line:
Body of email:
This email, sent specifically to loyal shoppers like Hannah, is particularly good because:
it addresses the recipient directly, and asks them to "choose" from a variety of food offers. This not only helps Sparks card shoppers see what deals are out there, but also might be a pretty clever way of learning more about a customer and the sort of food or deal they prefer 

from a copywriting perspective, the "plate me up" CTA is genius
the "tailor-made offers" section is based on what a marketer already knows about this recipient e.g. she regularly shops for curry paste and there are no meat dishes offered, as Hannah is a vegetarian
the imagery is vibrant, eye-catching and of a high quality
the Sparks app is promoted (see last box in offers section, reading: "View all offers in the Sparks app")
b) An email personalised by location
Subject line:
Body of email:
…How cool is this?
M&S has used offline store data to tailor its email marketing, and ensure its email content is relevant, helpful and welcoming.
Other reasons we like this email include:
the personal note from the store manager
the fact it acknowledges that the recipient is a loyal shopper, and says thank you!
Another thing we like about this email is its focus on the local community.
This is significant because, unlike ASOS, M&S will be used to having local shoppers that visit their nearest store regularly. Also, with a logo reading "Your M&S", anything that shows customers how much they care, even at a local level, is likely to go a long way.
Now let's take a look at ASOS. As we know, this is a pure play retailer with no physical store, so to send something similar to the above would be virtually impossible. However, thanks to some seriously savvy ecommerce marketing, it's managing to send recipients equally as cool stuff about its loyalty programme.
Going back to our first point in this post (lifecycle marketing), ASOS sends new customers the following email to introduce them to the "ASOS A-List":
ASOS manages to break down how the A-list works in a small amount of copy and a handful or quirky gifs. Impressive stuff.
Once a customer has reached enough points to move up in the (ASOS) world, they receive the following email to let them know they've been upgraded:
In between these dedicated loyalty updates, the brand still manages to personalise its email marketing by lifecycle stage and/or loyalty points…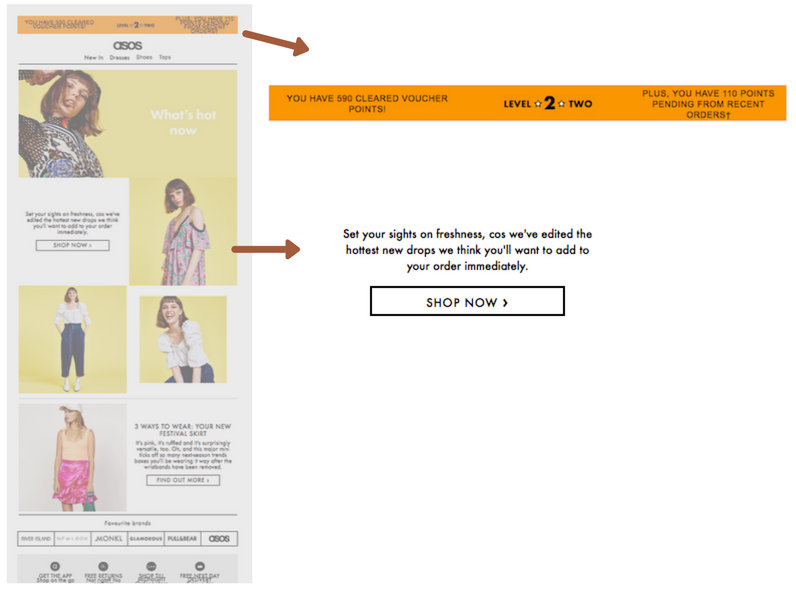 How can we tell this email has been sent to an A-lister?
the dynamic header (and footer, although you can't see it in this screengrab) changes in real-time to show the number of points the recipient has collected and the level they are currently on
the copy in the email is clearly for an existing shopper, with the words "add to your order immediately" preceding the "shop now" CTA
3) Both retailers are sending automated emails, but ASOS' birthday mail outs deserve a special mention 
Triggered by a specific action taken by a customer, examples of automated emails include:
Welcome (explored in the first point of this post)
Browse abandonment
Cart abandonment
Post purchase
Win-back
Lapsed
Milestone emails
Triggered emails are becoming an increasingly popular tactic used by the retail world, but are ASOS and M&S making the most of them? They certainly are. Here are three recent examples we received:
M&S cart abandonment
M&S sends the following email to new customers who've abandoned something in their basket whilst browsing online: 
As this email has been sent to a brand new customer, it makes sense that there's no mention of a Sparks card, and there's a CTA inviting the recipient to check out their nearest store. It would be interesting to see whether this would change if a loyal customer abandoned their basket.
M&S birthday 
M&S Sparks card members receive a friendly birthday message and generous discount on their special day:
ASOS birthday
ASOS personalises its birthday emails by lifecycle stage. Below are two examples; the first sent to an entry level shopper, and the second sent to a level 2 shopper:
Entry level example:
Level 2 email example: 
These two emails differ by:
4) M&S's newsletters are wonderfully creative, but could do with adding that extra "spark" of personalisation that we saw in their loyalty emails
Last but not least comes broadcast email (aka mass email).
Whilst M&S's Sparks emails are super-duper personalised, it's interesting to see that its newsletters – whilst creative and engaging – are less impressively targeted. For example, here's one sent to the aforementioned seasoned shopper Hannah.
Despite the lack of personalisation, this newsletter earns brownie points for:
punchy headline
witty copy
well structured (numerical lists are often a hit)
extra content for the recipient to read (found at the bottom of the email)
What about ASOS? Here's an example of a newsletter sent to a relatively new customer:
ASOS manages to personalise its broadcast emails by:
lifecycle stage: Like all of its other emails, ASOS includes a dynamic header and footer displaying the amount of points a recipient has and the level they are at
product recommendations: ASOS promoted these winter woolies after we spent the afternoon browsing for something to keep us warm this autumn
In conclusion…
This post never set out to be a "M&S vs ASOS: which one wins?" because, ultimately, the two are not comparable. With an entirely different target audience and business model, there's little point in trying to weigh one against the other. It would be like trying to compare ASOS's kick ass Insiders scheme on social media with M&S's legendary Christmas ads on TV. Just don't do it.
That said, it has been interesting to see whether the two retailers are doing anything vastly different in terms of their email marketing.
..And the verdict? Not really. Both retailers are embracing personalisation and dynamic content, just in very different ways. And whilst both are leading the way with super cool email initiatives, both can also learn from one another about how they could improve even more.