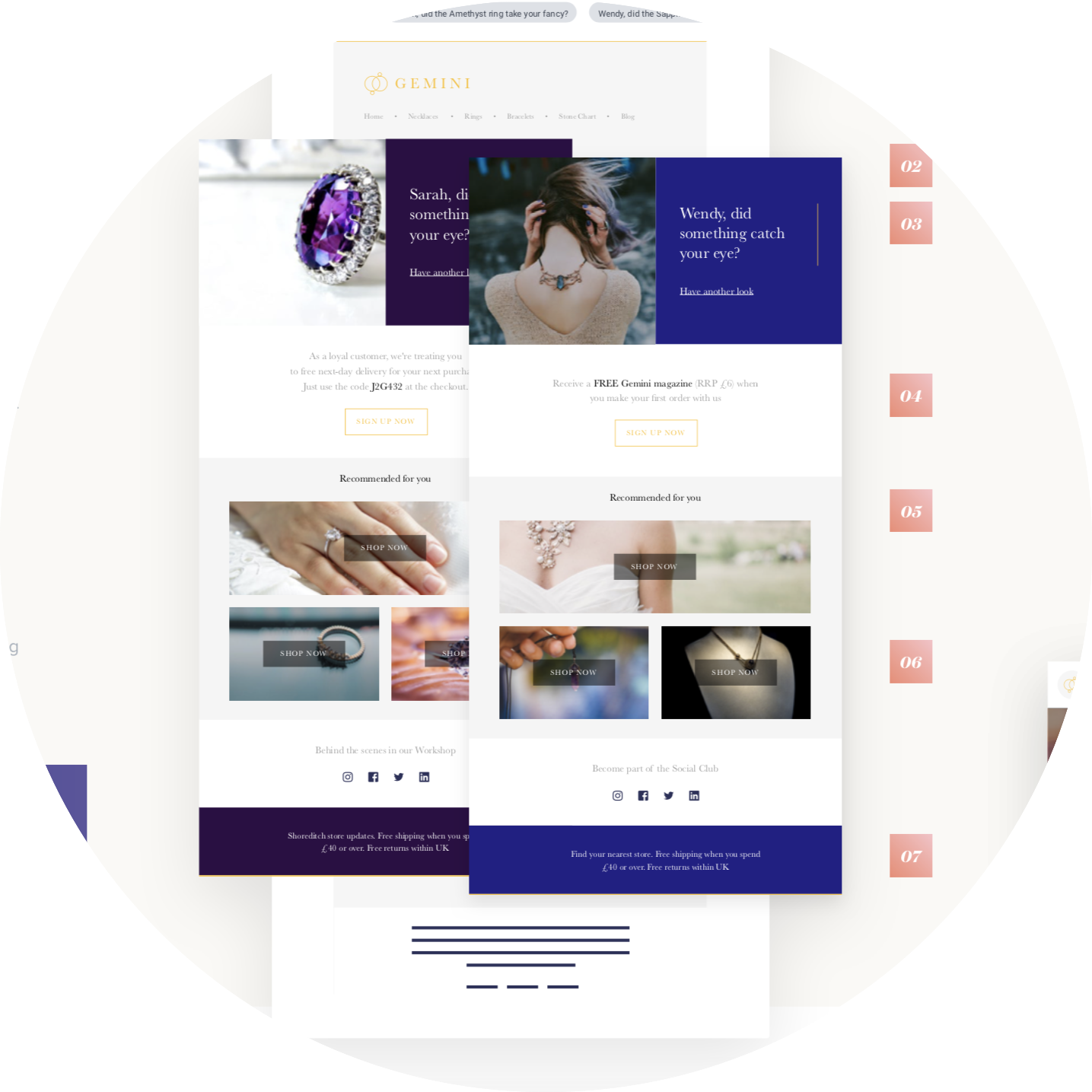 Marketing automation in retail is nothing new.
From cart abandonment to welcome campaigns, customers are becoming more accustomed to receiving automated messages from retailers as they work through their online shopping journey.
But as the likes of
Uber
and
Deliveroo
continue to push the boundaries of offering tailored and personalised customer experiences, the finer details of those expectations are slowly but surely growing. Simple automation is no longer enough; if retailers don't want to be left behind it is essential that they advance their execution to meet customer-first campaign standards.
According to our own research, 46% of consumers would "consider not shopping again with a company if they keep sending them marketing emails with products they're not interested in or aren't tailored for them. The keyword here is tailored. Do the automated messages feel relevant? Are they reflective of a customer's buying habits, or do they seem generic? In order to stand out you need to take your automation strategy a step further.
You can take a deep-dive into the methodology of executing a great strategy in our latest download 'An Advanced Guide to Marketing Automation in Retail'. In this blog we will address the three top-line elements required to cement your strategy.
Why basic automation doesn't cut it any more
As noted by our CEO Ivan, the more generic messages a customers receives, the less likely you are to retain them. We've established the need for retailers to up their automation game – but what exactly defines a 'basic' automation campaign? Here are a few tell-tale signs:
✖️No single customer view
Customer data existing in silos across multiple platforms is one of the biggest barriers to data-driven marketing, and one of the main hurdles for marketers creating truly personalised campaigns. Without a SCV in place, automated messages can only be sent in response to a customer's behaviour during one visit to the website, not based on a comprehensive customer view that takes into account all of their shopping activity with you.
✖️No in-depth personalisation
The contents of the messages that you send are not truly tailored to the recipient. It may mention their name or an image of the item they have abandoned or purchased, but the content of the email is the same for everyone who receives it.
✖️Offline activity not taken into consideration
A customer's offline shopping habits are not taking into consideration. Common mistakes that arise from this include sending a 'win-back campaign' saying 'We miss you!' to a customer who hasn't shopped online in months, when in actual fact they regularly shop in-store.
✖️Messages focus on a single marketing channel
Email is a great first port-of-call but what of your customers who prefer to be engaged with via other channels? Many retailers make the mistake of not supplementing their automated emails with further channels, like social custom audiences and direct mail.
Let's delve into the 3 elements:
In this post we'll discuss the three core ways marketers can ahead of the competition when it comes to their marketing automation strategies:
Dynamic content
Campaign segmentation
Cross-channel

1) Dynamic content: personalising the content of your emails
In order for your automation campaigns to be truly relevant to each person who receives them, they need to incorporate an element of personalisation.
In responding to customer behaviours – like abandoning a basket or making a purchase – automated campaigns by their very nature are somewhat personalised. However, many retailers stop short at offering more personalisation, still sending the same email and contents to everyone. Sound familiar? The opportunity to really connect with your customers and encourage them to come back to you is being missed due to a lack of dynamic content.
What does an advanced campaign look like?
With dynamic content, common elements like product recommendations, incentives and other content blocks will change to match the profile of the individual customer, adding to their customer experience; ensuring all messages they encounter feels relevant to them and their online shopping journey.
Some of the criteria you may use to power this dynamic content include:
Demographic data: gender, location, age, whether they're a student or not
Browsing behaviour: products and categories browsed or abandoned
Taste profile: the types of products and categories they are likely to be interested in
Lifecycle stage: whether they're yet to purchase; a one-off customer; repeat shopper; VIP etc.
While basic demographic personalisation is possible without access to the single customer view, the latter more advanced tactics require both a single customer view and the means of extracting detailed insights from it.
Below is an example of a welcome campaign (taken from our advanced guide to automation) demonstrating some of they key elements that a retailer might want to use dynamic content for.
2) Campaign segmentation: segmenting your campaign flows
Not all customers are equal, and the ability to tailor the automation experience for different customer segments is a key facet of an advanced campaign. Campaign segmentation refers to the ability to offer different campaign experiences to different groups of customers, depending on their profile.
Above is a demonstration of a segmented campaign workflow for a 'win back' campaign, which is segmented by recency of visit and lifecycle stage
You may want to segment your campaign based on any (or a combination) of the below factors:
Lifecycle stage: you can segment customers based on where they are in the customer journey. So, you may wish to target those who are 'at risk of lapsing' with more messages than those who are active shoppers, in order to win them back. if you have a customer who may be at risk of lapsing, you can create tailored messages to engage with them based on their needs or encouraging them to return.

Customer lifetime value (CLV)

: you can separate you high value spenders or VIP customers from your low-spend, less frequent customers and have messaging that suits their habits.
Recency of shopping: adjust the number of messages to customers based on how recently they last shopped with you, or visited your store.

Orders

: creating separate campaign flows depending on a customer's order status; for example, whether they kept the item they purchased or returned it.
Category segmentation: customers can be segmented based on an item or category they browsed, purchased or abandoned. This means bespoke campaigns can be made for specific niche items to its direct audience.
3) Cross-channel: consistent messaging beyond email
Although email is still a firm favourite form of communication, it's important to recognise your customers may engage with you better on other channels.
If automated emails fail to engage customers, adding cross-channel elements to your campaigns can mean the difference between achieving a campaign goal – like converting an abandoned basket- and not.
Common channels to build into your campaigns include:
Social custom audiences
SMS
Direct mail
Push notifications
Customer service calls
Investing in a platform that can enable sophisticated cross-channel marketing has a number of benefits including:
Targeting non-email lovers

: creating an opportunity to engage with customers who do not prioritise email or have stopped engaging with your emails.
Increasing brand awareness: ensuring that your brand stays front-of-mind by appearing across multiple touchpoints, not just in their inbox.
Optimising your paid social strategy: giving you the opportunity to engage customers on cheaper channels (like email) before you roll out more expensive paid channels.
When executing a cross-channel automated campaign, it's important to remember that, ultimately, you want each channel to work cohesively and not add odds to ensure the best experience for the customer. Ideally, this means being able to execute a campaign all from within a single, consolidated solution, rather than relying on multiple technologies to fit the bill.
Conclusion
All of the advanced automation tactics noted above have the same foundation: that of insight into the customer and personalising their experience based on that insight. If you want to increase retention and create marketing experiences your customers will love, you need to make them memorable.
Want some amazing and actionable examples of these elements in practice? Read our latest download and truly advance your automation strategy.