Pottery brand Emma Bridgewater, with its various collections and customisable items, has established itself as a firm favourite amongst customers who want personalised and beautiful crockery to adorn their homes or gift to friends.
Based at the same location, Stoke, since its conception in 1985, Emma Bridgewater adds a special touch as a gift or purchase for its shoppers. With more customers on-the-go and its expansion into water bottles and seasonal gifts, the pottery brand is a long-lasting purchase in an age of multiple choice.
Customers want to know that their decision to remain shopping with you, when they have a myriad of choices, is being recognised and appreciated. Emma Bridgewater recognised that it needed to make its most loyal shoppers, dubbed by the brand as "collectors", feel valued and important to save them from lapsing. But limited by an ill-fitting ESP and inability to deep-dive and gain insight to recognise its high value shoppers, Emma Bridgewater called upon Ometria.
Now with the insight to recognise customer lifecycle stage, purchase amounts and the ability to create sophisticated automated campaigns the brand can create marketing messages that note when a customer has become a "collector" and celebrate it accordingly; but also enable touchpoint when it appears that a collector may be lapsing.
This blog will look at three examples of the brand's campaigns.
Collector welcome email
Emma Bridgewater wanted to notify its customers when they become "collectors". Those who fall under this category have a high basket value and consistently shop with the brand. As a thank you for their choosing Emma Bridgewater, this automated email is sent to customers as soon as they reach these criteria. This is a simple but effective way of making customers feel valued and part of an exclusive club which has benefits attributed to it.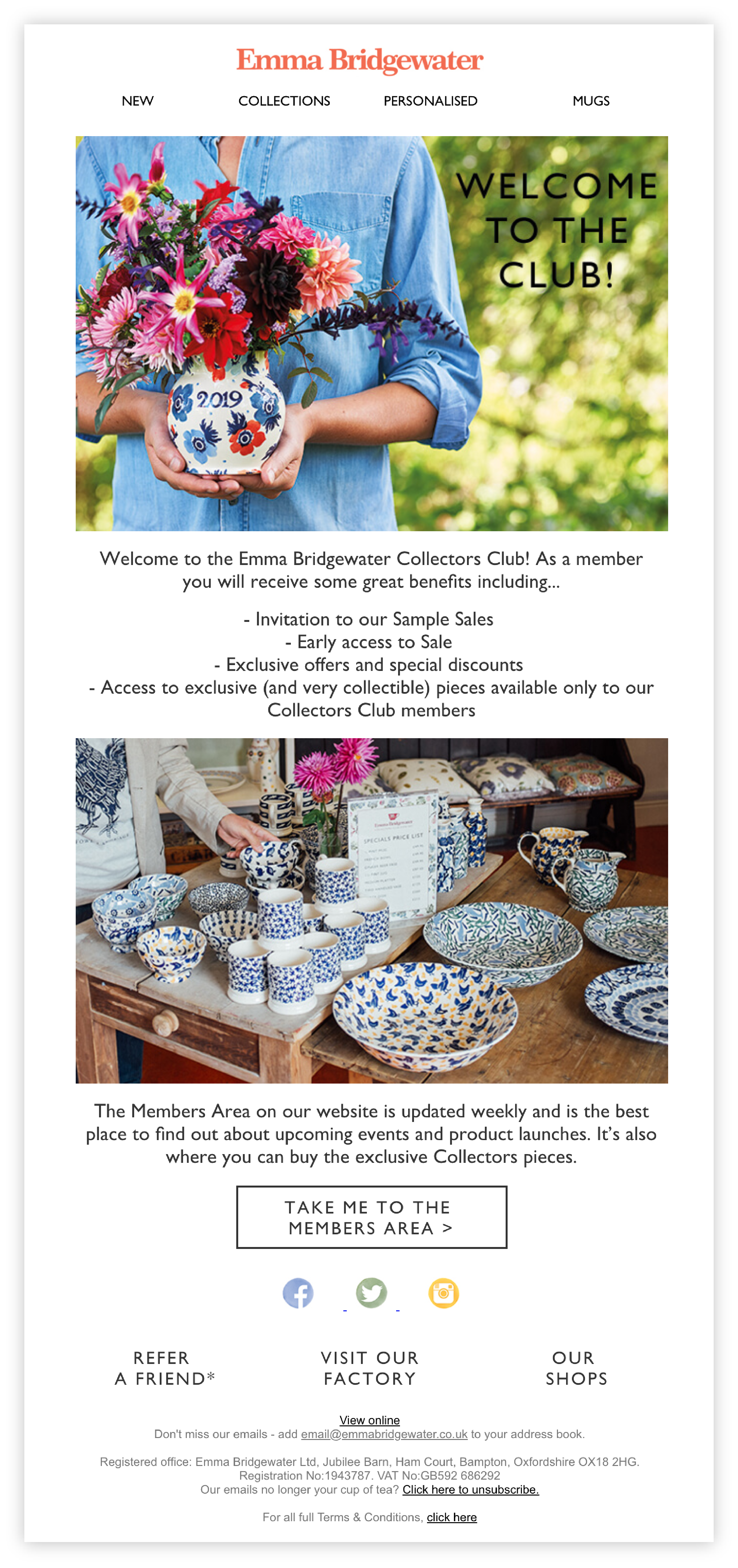 What we love about this campaign
Clear message, the shopper knows right away what the email is about
Benefits are listed out to highlight the emails
Direct CTA to the member's area
Dedicated anti-lapse emails for collectors
Losing a VIP customer is a worry for any brand. Emma Bridgewater created a triggered campaign that reached out to its collectors when they showed signs of lapsing after a few weeks and then again after a significantly longer period. The first email offers an incentive to coax the lapsed customers back.
What we love about these campaigns
Products used as a focal point of the email, a reminder of the quality of items available
Clear incentive (15% and 20% discounts) as a "thank you" for being a collector
Encouraging customers to look at new collections with a further incentive to spend
Emotive messaging "we miss you", "thank you for shopping" which makes customers feel seen and valued
A unique code for each campaign, furthering the customer feeling special
Clear CTAs to products to encourage browsing and purchase
First purchase anniversary
A great way to foster loyalty is reminding customers of how long they have been shopping with you and celebrating it. Emma Bridgewater created an anniversary campaign triggered on the year anniversary of the first purchase shoppers made with them. This email worked to add an additional personal touch to their overall customer experience.
What we love about this campaign
Clear incentive/reward at the top of the email
Copy highlights the purpose of the email and adds a personal touch "…it means a lot to us and we want to celebrate with you".
An additional nudge about the free ½ pint mug above the CTA to encourage purchase
Emma Bridgewater's campaigns highlight that showing value to, and appreciation for, your most loyal customers can be simple but effective. Using insights to learn who your most engaged valuable are, you can create specific campaigns to celebrate and reward them. The key message throughout is making the experience feel personal and tailored to where the customer is on their journey with your brand. These small tweaks can make a significant difference and foster an even deeper loyalty with shoppers.